I'll admit that the recent resurrections of Green Mountain Coffee (NASDAQ:GMCR), First Solar (NASDAQ:FSLR), and Netflix (NASDAQ:NFLX) have led me to search for other, similarly beaten-down former bubble stocks that might actually start to become once-again loved by the market as earnings for these names slowly but surely claw their way back up to finally make the formerly bubble share prices seem somewhat realistic. In this article, I'd like to take a look at Mellanox (NASDAQ:MLNX), the former hedge-fund-hotel and Wall Street darling that saw its share price collapse as it turned out that its immense sales/profit growth was a temporary artifact of the Intel (NASDAQ:INTC) Romley refresh cycle. Is there a play here?
Remembering Mellanox
While I was recently told by a fellow SA author that there is no such thing as a "bubble," I don't buy this; momentum, technical, and sentiment related factors can very often overshoot the underlying fundamentals of any business, and bubbles are actually quite common. Just ask anybody who bought a "dot com" stock back in 1999/2000 that bubbles don't exist!
Anyway, so this is what the chart of a bubble (and, not coincidentally, Mellanox's chart) looks like: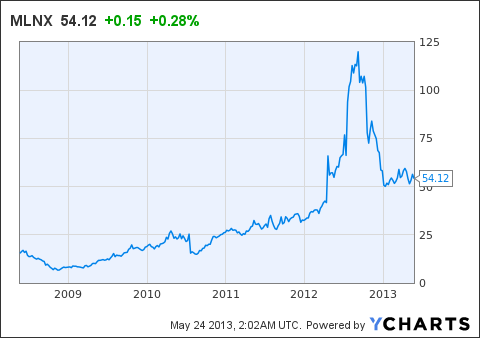 Notice the huge gap up after a massive earnings beat, followed by sell-side upgrades and even a bogus buyout rumor? This is why buying into these momentum fads when they're "hot" is usually inadvisable if you're an "investor;" you will, more often than not, get burned.
But now Mellanox is pretty unloved by everyone, the former sell-side cheerleaders included. So, is there any value to be had here?
Valuation And Estimate Puts And Takes
Mellanox trades for 37x FY2013e EPS estimates, and 20x FY2014e estimates. Should the 2014 estimates actually materialize, then Mellanox isn't actually particularly expensive. Now, I expect that the sell-side expects that FY2014e will be particularly good as Intel is expected to roll-out its next generation "Grantley" platform, which should drive demand in a similar fashion to 2012's massive uptick in demand with the "Romley" platform ramp.
The problem here is that at the recent Atom S1200 launch, I actually asked Intel's Diane Bryant about whether Intel had plans to start really integrating fabric into its future server micro-processors, and got the following answer (so, Seeking Alpha, you can change the name of the questioner from "Unidentified Analyst" to my name if you'd like):
Q: Will integration of things such as fabric switches be a focus at the high end Xeon line as well?

A: Yes. We have committed to integrate fabric across our entire product line over time. Integration of fabric is the next obvious step. Intel's beat rate has been innovate and integrate, so we have more slot thanks for our ability to integrate additional capabilities in the fabric and from a overall performance elimination of that I/O bottleneck is the next step across our product lines.
So it's pretty clear that since Intel owns the majority of the HPC market, and given further that Intel will be using its own fabric/technologies, Mellanox will - sooner or later - see a massive drop in its business. How does Mellanox survive, then?
Potential Options
Run Faster Than Intel
Well, the first and probably most obvious answer is that Mellanox is able to run faster than Intel in high speed interconnect technologies, and with the acquisition of Kotura for its silicon photonics interconnect technologies, and offers a compelling enough solution at the high end (where performance usually trumps almost every other dimension aside assuming cost is not completely prohibitive) that Mellanox is able to continue to win, despite Intel's efforts to integrate potentially inferior solutions within its own silicon. I do not know how feasible this will be in the long term.
Partner Up With Nvidia
Nvidia is currently a major player in the high performance compute space, and with its upcoming, custom-designed "Project Denver" core, is looking to sell the entire platform into the HPC space rather than simply selling accelerators that piggy-back onto Intel's solutions (Intel's entry into this space with Xeon Phi may further drive these efforts). So, I could see a situation in which Mellanox either supplies discrete InfiniBand solutions to Nvidia for an upcoming "Denver" platform, or it could collaborate more closely with the company to integrate such HPC fabric onto the graphics giant's chips.
I would suggest that Nvidia may actually want to purchase Mellanox, but given that this would eliminate the remainder of Nvidia's cash (and most of it is overseas, which means Nvidia would likely take on significant debt to fund the acquisition), and - if the integration efforts don't work out as planned/Nvidia does not gain major share with this play - this could potentially cripple Nvidia much in the same way as the ATI purchase crippled Advanced Micro Devices (NYSE:AMD).
Become An ARM Licensee, Build Custom Platform
This is probably the most interesting scenario; Mellanox becomes an ARM (NASDAQ:ARMH) licensee and builds its own HPC platform which integrates its own interconnect technology. This would be exceptionally difficult, as it would be tough for Mellanox to compete on a performance-per-watt-per-dollar metric given Intel's process lead, massive scale, architectural superiority, and integration experience. Further, Mellanox would likely have to develop its own processor core as the off-the-shelf Cortex "A" series chips will be no match for the heavy-duty Xeon parts.
Conclusion
Mellanox is in a tough spot from a long-term perspective, and it will be very interesting to see how the company manages to prevent the walls from closing in on them. Perhaps it may be worth going long ahead of what is bound to be some interesting M&A speculation, but realistically, it is tough to recommend Mellanox as an investment that allows one to sleep at night.
Disclosure: I am long INTC, NVDA, AMD. I wrote this article myself, and it expresses my own opinions. I am not receiving compensation for it (other than from Seeking Alpha). I have no business relationship with any company whose stock is mentioned in this article.
Additional disclosure: I may go short ARMH at any time.