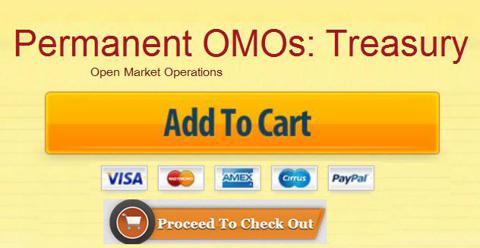 On Wednesday the Fed seemed to lose control of the message and markets. On Thursday they rounded up their colleagues to set things straight. Fed Governor Bullard tried to add some clarity by saying: "The Fed can increase bond buying while tapering at the same time." Er, pardon me? The late comic George Carlin liked to mock flight attendant commands: "Put your seat backs forward." Bullard echoes this confusing distortion.
Thursday the Fed also tossed-in another $3.65 billion of POMO, which was at the top range of expectations. Most Fed comments even from Bernanke's Wednesday testimony are focused on stock market prices. They believe, incorrectly in my view, that QE will create the wealth effect, which is believed to stimulate consumer spending and the economy.
The Fed got some help Thursday as economic data was positive for a change. Jobless Claims were lower (340K vs. 345K expected but prior revised higher to 363K from 360K); PMI Mfg Flash Index was unchanged (51.9 vs. 50.8 exp & prior 52); FHFA Home Prices climbed (1.3% vs. 0.9% exp & prior .9%); and New Home Sales rose (454K vs. 425K exp & prior revised higher from 417K to 444K). Other U.S. data isn't so stimulating but reflects a negative long-term trend. Delinquent Student Loans are now at 30% for 20-24 year olds while many are still unemployed.
Perhaps more significant were two overseas events. China's PMI report missed, coming in at 49.6 vs. 50.4 expected, and prior, 50.4. The miss could indicate that the economy there is headed to a recessionary climate. Worse still was a "crash" in Japanese markets as the Nikkei Index dropped 7.3% or over 1K points. This shows how fragile and over owned some market sectors have become. With so many investors leaning to one side of what became a dramatic trend higher, any reaction would be equally dramatic and much more abrupt. We highlighted this amazing bullish rise and collapse in a short public trading video this morning.
During the trading day Wednesday, several of our trading stops were hit and more were hit Thursday. There's very little you can do to protect yourself beyond doing what we've been doing - selling a small portion of a long position into an overbought rally then raising stops. Our members have a hundred or so monthly DeMark 9s to contemplate currently, and they've been mostly effective in calling trend exhaustion. But the size of QE can steamroll these and other indicators as investors have few alternative choices.
Leading sectors Thursday were mostly in bonds (NYSEARCA:TLT) along with homebuilders (NYSEARCA:ITB). Declining sectors were widespread and too numerous to mention, but the largest declines were in financials (NYSEARCA:XLF) and REITs (NYSEARCA:IYR). Gold (NYSEARCA:GLD) rebounded as the dollar (NYSEARCA:UUP) lost its previous momentum as the yen (NYSEARCA:FXY) rallied. Commodity tracking sector (NYSEARCA:DBC) was flat helped by precious metals but hurt by base metals (NYSEARCA:DBB). Oil (NYSEARCA:USO) prices were only slightly higher.
Volume was still elevated with most of it early in the session. Breadth per the WSJ was negative.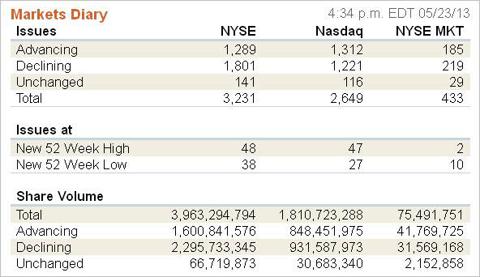 NYMO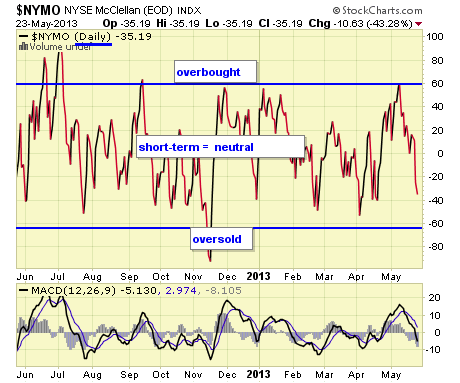 The NYMO is a market breadth indicator that is based on the difference between the number of advancing and declining issues on the NYSE. When readings are +60/-60 markets are extended short-term.
NYSI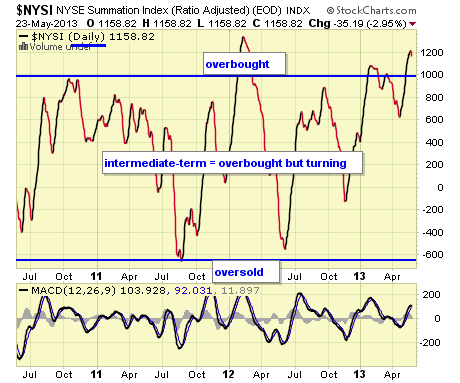 The McClellan Summation Index is a long-term version of the McClellan Oscillator. It is a market breadth indicator, and interpretation is similar to that of the McClellan Oscillator, except that it is more suited to major trends. I believe readings of +1000/-1000 reveal markets as much extended.
VIX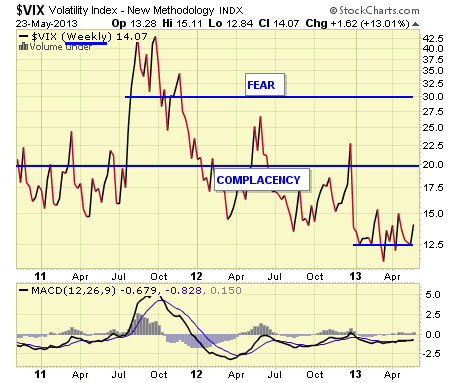 The VIX is a widely used measure of market risk and is often referred to as the "investor fear gauge." Our own interpretation is highlighted in the chart above. The VIX measures the level of put option activity over a 30-day period. Greater buying of put options (protection) causes the index to rise.
SPY 5 MINUTE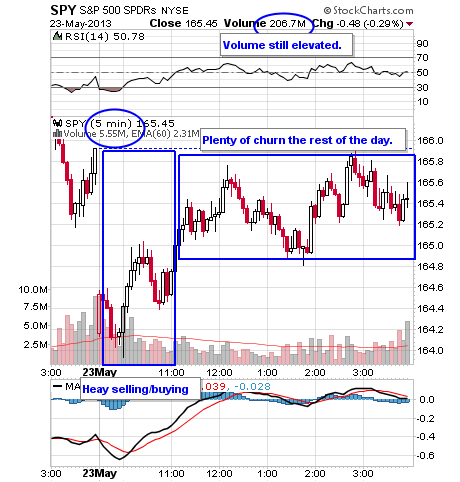 .SPX WEEKLY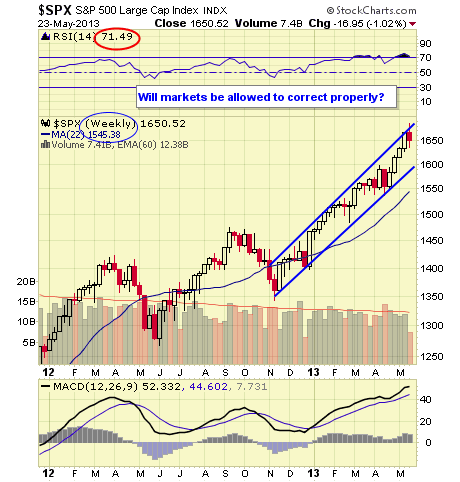 INDU WEEKLY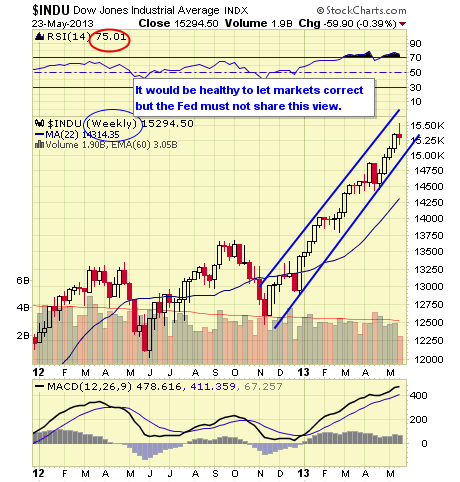 RUT WEEKLY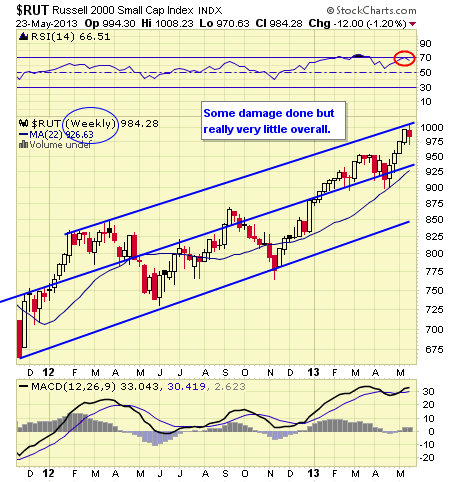 QQQ WEEKLY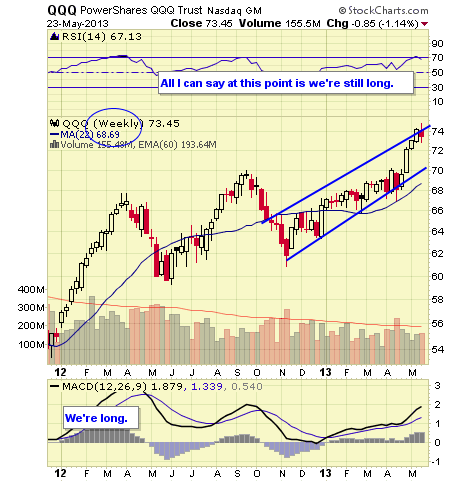 ITB WEEKLY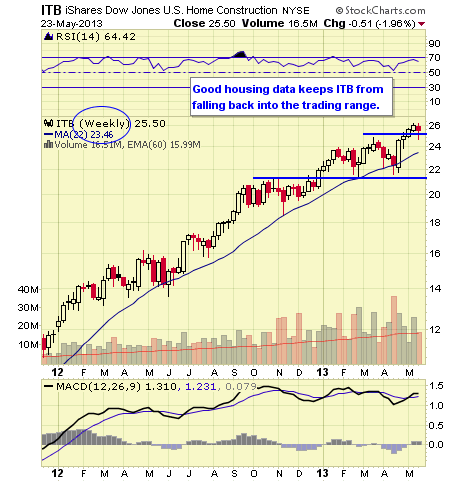 IGV WEEKLY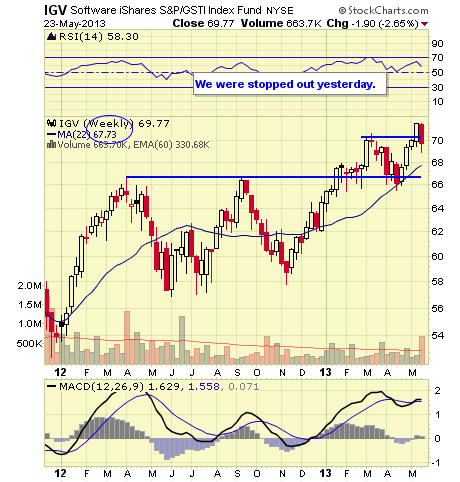 XLV WEEKLY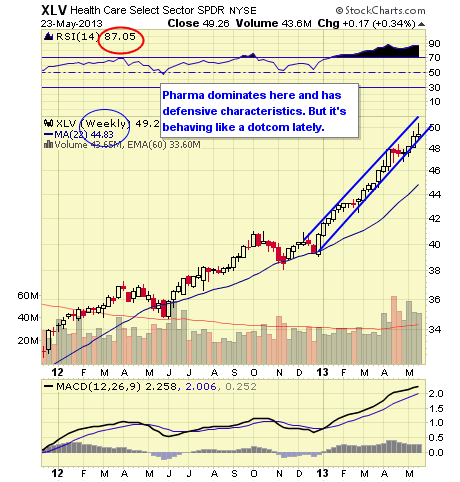 XLB WEEKLY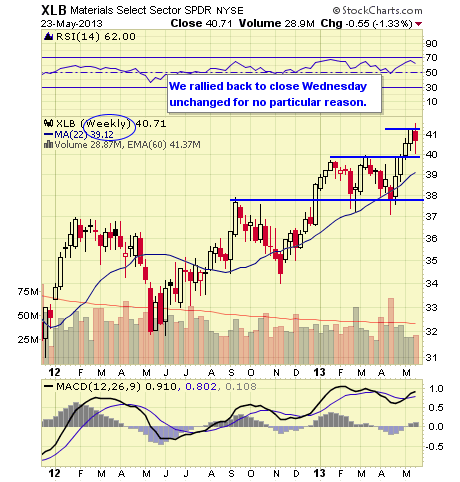 XLF WEEKLY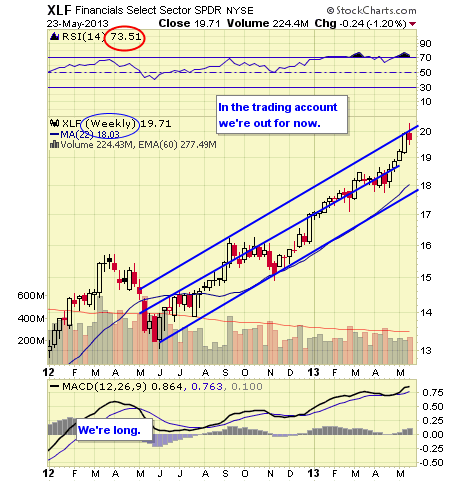 XLI WEEKLY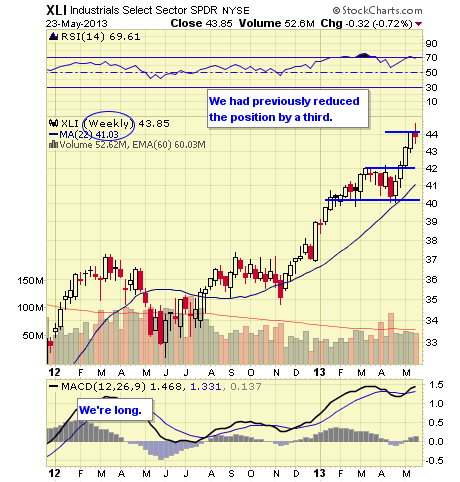 IYR WEEKLY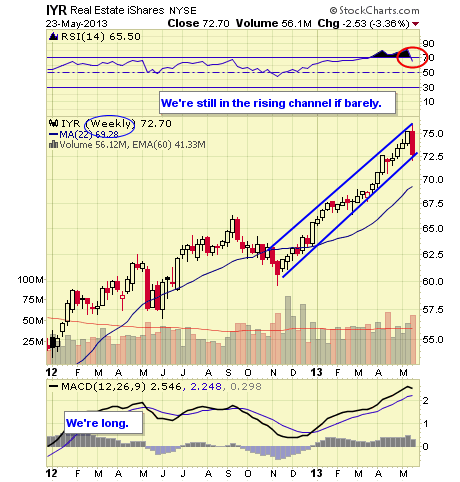 TLT WEEKLY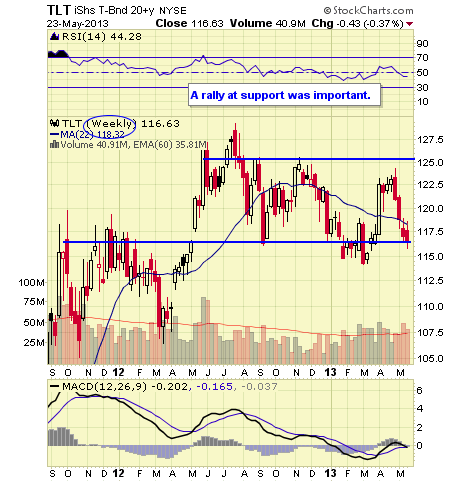 GLD WEEKLY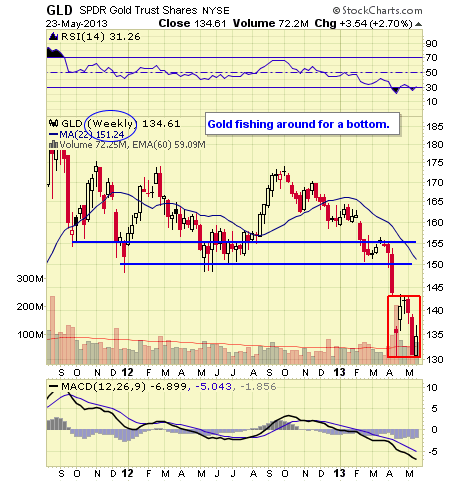 SLV WEEKLY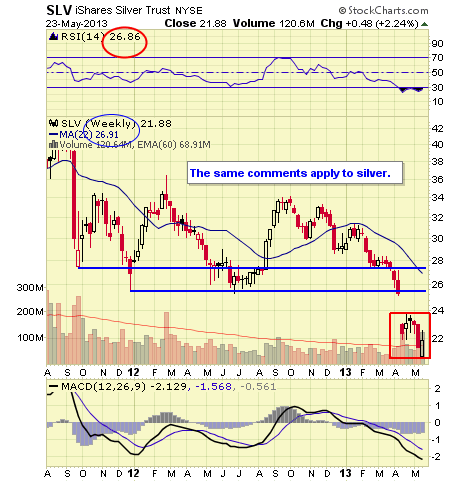 DBB WEEKLY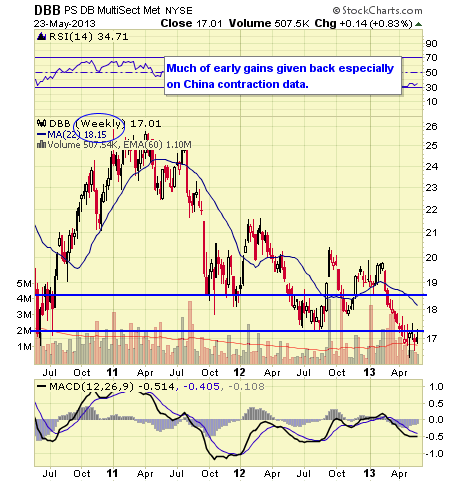 DBC WEEKLY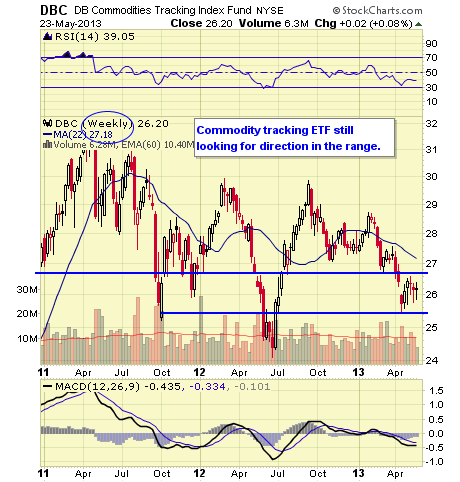 USO WEEKLY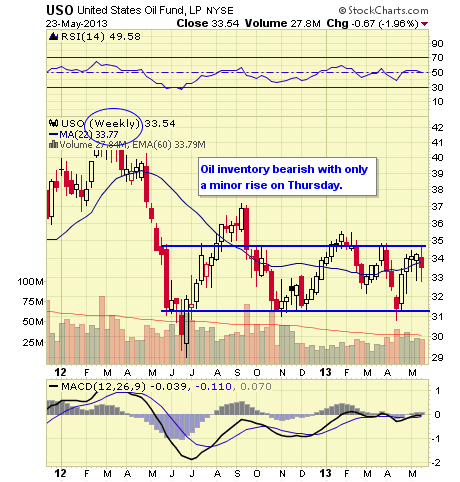 XLE WEEKLY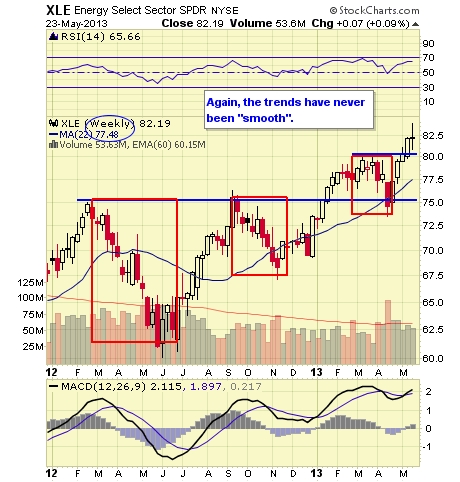 DBA WEEKLY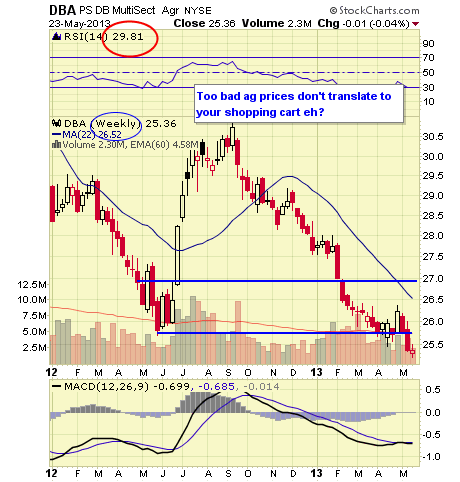 IEV WEEKLY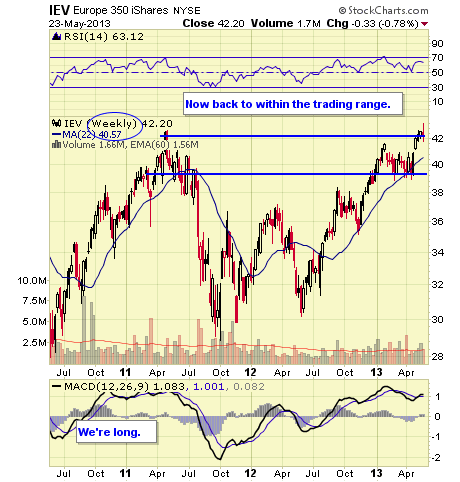 EEM WEEKLY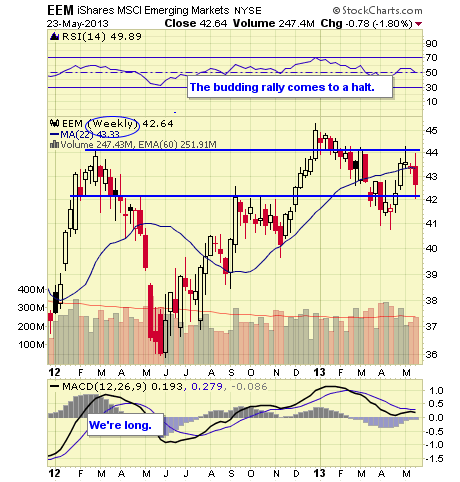 EFA WEEKLY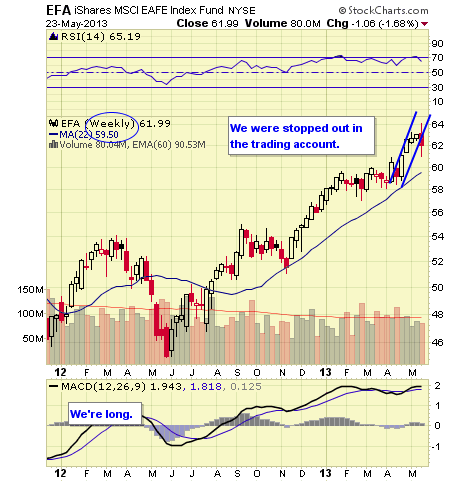 EWJ WEEKLY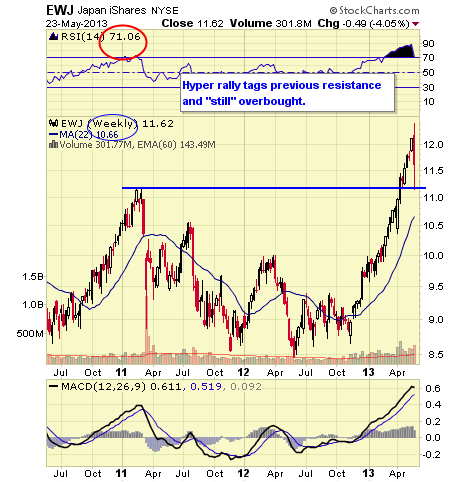 EWA WEEKLY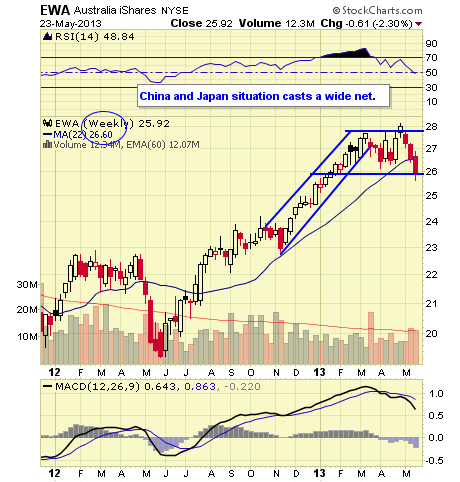 EWG WEEKLY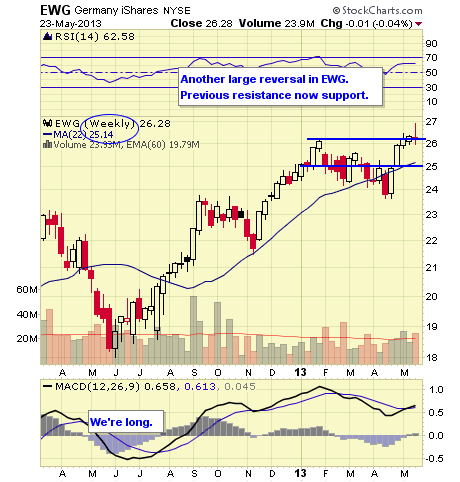 EWU WEEKLY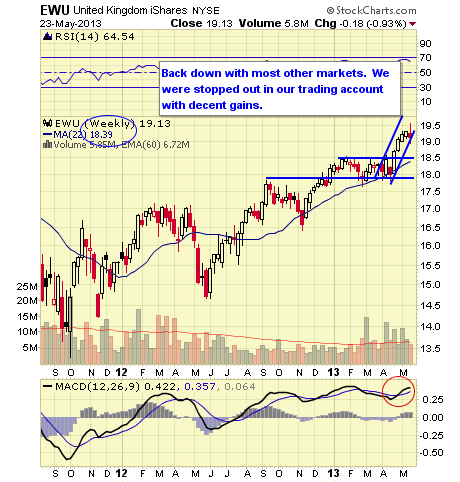 EWZ WEEKLY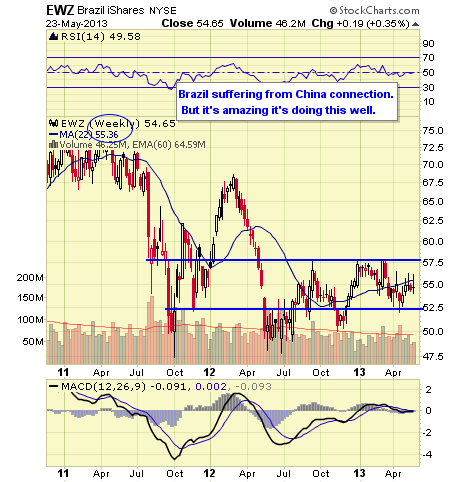 EPI WEEKLY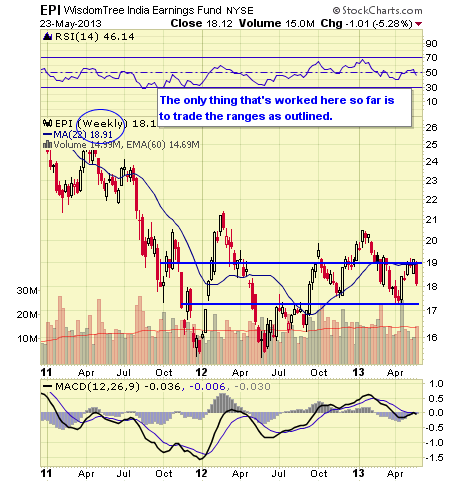 GXC WEEKLY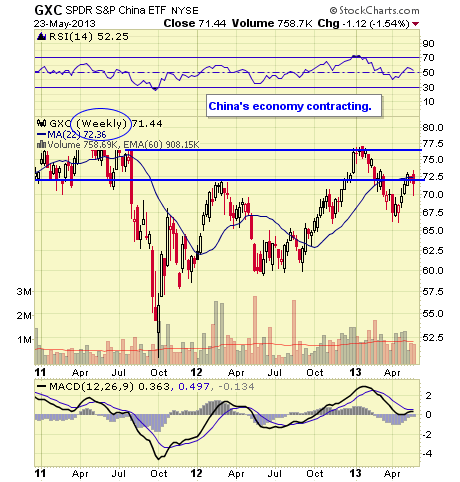 ...
This is what can happen when markets persistently melt-up on light volume until they're so overbought, they become accident prone. Wednesday's mega-volume reflects how tenuous and shaky bulls are at this point in the rally/melt-up. The hint of a halt to QE from the Fed Minutes trumped Bernanke's QEInfinity congressional testimony.
You can be sure all this will be walked back. After all, Jobless Claims may beat, PMI Flash Mfg Index, Home Price Index and New Home Sales could bring the bulls quickly back to the fore.
Let's see what happens.
Disclosure: I am long QQQ, XLF, XLI, IYR. I wrote this article myself, and it expresses my own opinions. I am not receiving compensation for it. I have no business relationship with any company whose stock is mentioned in this article.