One of the most difficult elements of being a frequent contributor to Seeking Alpha is that the readers of your articles have unique investment plans. Each reader has a different risk tolerance, investment horizon, and current portfolio composition. The large income investing community on Seeking Alpha has a portfolio tilted toward bonds and dividend stocks, and is typically at or approaching retirement age. Younger investors, or those with a higher risk tolerance, might eschew these asset classes for higher beta stocks and trade more tactically. Both approaches might be appropriate for each respective group, even in the same market environment.
Over the last week I have published articles about the outperformance of low volatility stocks and a dividend fund that features low volatility, high dividend stocks. Low volatility stocks are an important part of my long-run strategic allocation, and I believe that they should be of great interest to the income investing community on this site. I am a believer in the academic research (I, II, III) that supports the long-run alpha generation of this asset class. These stocks also suit my personal financial situation well. As an investment professional, my household income is in part a function of the performance of financial markets, and I hold a larger proportion of lower beta and lower correlated assets accordingly. A portion of my long-term allocation is in this asset class; the stability has served me well, and I will not be realizing capital gains to reposition this portfolio any time soon.
While I do have a more tactical portion of my investment portfolio that I more actively re-position as market opportunities present themselves, there are readers on Seeking Alpha who are younger, have a higher risk tolerance, and trade their personal account more frequently than me. For these readers who trade with this mindset and believe that domestic economic growth is going to surprise to the upside, I recommend two classes of stocks that I will cover in a pair of articles. The idea is simple. If the economy surprises to the upside, then stocks with high financial leverage or high operating leverage will outperform.
The Goldman Sachs Weak Balance Sheet Basket was constructed by screening the S&P 500 (NYSEARCA:SPY) constituents for companies with a low Altman Z-Score. This formulaic scoring methodology combines five ratios - working capital/total assets, retained earnings/total assets, earnings before interest and taxes/total assets, market value of equity/book value of total liabilities, and sales/total assets - in a linear combination weighted by coefficients derived from a sample of firms that had declared bankruptcy. The basket excludes financials and utilities.
While this Goldman Sachs (NYSE:GS) index has only been around since 2006, the dramatic market moves through the Great Recession gives us an idea about its return profile. As one might expect, these stocks were punished in the market sell-off and outperformed in the subsequent bounce back. Like applying external financial leverage to a pool of assets, buying companies with high embedded financial leverage will magnify returns. If readers believe that the market rally will continue to broaden, these stocks should outperform on an absolute basis for the remainder of 2013. Below the Goldman Sachs Weak Balance Sheet Basket is graphed against the S&P 500.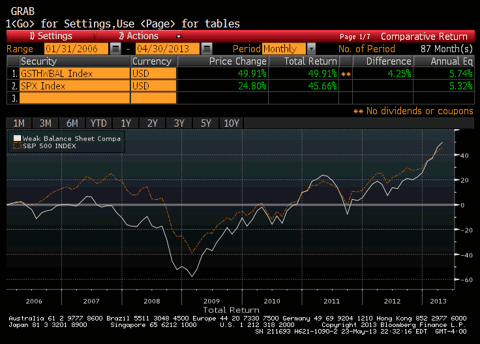 Click to enlarge
Source: Bloomberg, Standard and Poor's, Goldman Sachs
So what is held in the Goldman Sachs Weak Balance Sheet Basket? Below is a listing the constituents. As seen by the leverage levels listed below, these stocks have more debt than the market on average. From the balance sheet view that assets equal liabilities plus shareholder's equity, asset values rise in economic expansions, and liabilities are easier to service as top line growth improves interest coverage ratios. Higher asset values and lower debt levels both increase the equity value of the firm. In economic expansions, credit spreads for highly levered companies also typically fall, allowing highly indebted companies to lower their interest costs, further improving earnings.
As seen in the year-to-date total return column, these stocks collectively have done well year-to-date, but there are a number of laggards especially in the coal and materials sectors. Further gains could be ahead for this group broadly if the economy strengthens.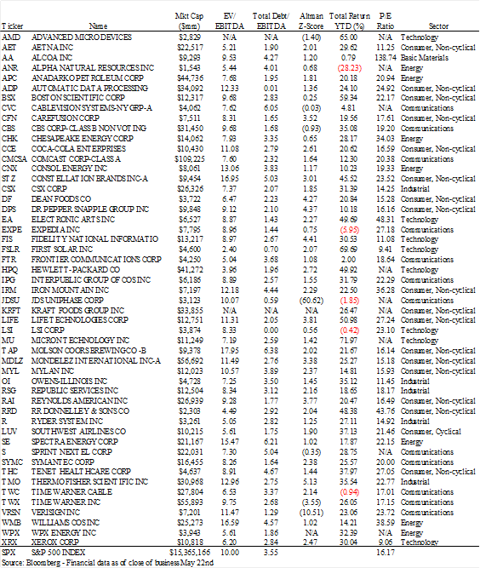 Click to enlarge
For tactical traders, a momentum strategy featuring this high risk basket and the aforementioned S&P Low Volatility Index (NYSEARCA:SPLV) might be worth examining. While the highly levered stocks in the Goldman Sachs Weak Balance Sheet Basket produced cumulative returns in-line with the market from 2006-2012 before modestly outperforming in 2013, these stocks drastically underperformed a momentum portfolio that traded between low volatility stocks and weak balance sheet stocks over the same time period. As readers of my momentum series understand, for trades with two imperfectly correlated legs, buying the leg of the trade that outperformed in the trailing one month and holding this leg forward for the next month has historically generated meaningful alpha. The summary statistics and cumulative return profile of such a strategy are tabled and graphed below.

Click to enlarge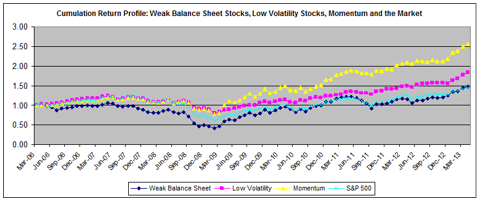 Click to enlarge
Seeking Alpha readers who trade tactically should take note of the momentum strategy between Low Volatility stocks and Weak Balance Sheet stocks. From 1Q06 - April 2013, the momentum strategy that toggled between these two classes of stocks trounced the S&P 500 with variability of returns that were not meaningfully different than the broader market.
While I will occasionally heed momentum for a portion of my tactical portfolio, I remain committed to low volatility stocks as a meaningful part of my long-run strategic asset allocation. I believe investors will continue to move out the risk curve from cash, Treasuries, and high quality fixed income, and that these dollars will land in high quality, low volatility equities before they chase cyclicals and highly levered companies. At some point, we might bemoan stratospheric multiples in low volatility equities like fixed income investors ponder where the "high" in high yield disappeared to. I do not believe that we are there yet.
Of course, as I wrote earlier, investment plans are unique. For investors with a higher risk tolerance, buying the aforementioned companies with high financial leverage could be a solid move if domestic economic growth surpasses current market expectations. Your investment plan should be tailored to your unique financial situation, but I hope that this article provides more active traders a list of stocks to examine more fully and a tool to locate potential outperforming stocks based on their own economic forecast.
Appendix
Returns of the previously graphed indices and my custom momentum portfolio are below. As an example, in April 2013, the momentum strategy owned the Weak Balance Sheet Index because of its outperformance in March relative to the Low Volatility Index.

Disclosure: I am long SPY, SPLV. I wrote this article myself, and it expresses my own opinions. I am not receiving compensation for it (other than from Seeking Alpha). I have no business relationship with any company whose stock is mentioned in this article.