Agnico Eagle (NYSE:AEM) is a gold mining company advertising low exposure to country risk and operating five mines in Canada, Finland and Mexico. In 2012 the company achieved production of more than 1M ounces for the first time and have been among the stronger performers in a difficult market segment of late. The market capitalization is currently listed just over $5B and the forward P/E is given as 17.05 at Yahoo.com. Agnico Eagle has been paying a dividend for over 30 years which presently yields 3%. The table below gives the 2012 numbers for production, reserves and resources at each of Agnico Eagle's mines and projects. We used a silver-to-gold ratio of 50 to compute gold-equivalent ounces and only considered precious metal content.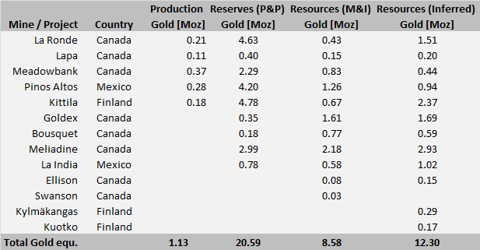 Click to enlarge
In a series of recent articles we collated country risk ratings for numerous countries from eight different sources and averaged these ratings into compounded country risk scores. The most recent results from this work can be found in this article. Most definitions of country risk include factors such as political risk, exchange rate risk, economic risk, sovereign risk, transfer risk, socio-economic risk and others. Depending on the source, various contributing factors of country risk are weighted differently. Readers interested in the specific definitions are encouraged to follow the links to our sources given in this article. We used our compounded country risk score to evaluate country risk exposure for selected gold and silver mining companies using 2011 production results and reserve statements. In these articles Agnico Eagle turned out to be the gold mining company with the lowest exposure to country risk.
Consolidating the 2012 production, reserve and resource data from the first table and showing summations for each country of exposure results in the second table below. The data is already calculated in percentages of gold-equivalent ounces. Country risk ratings as documented here are also shown in the central column of the table. Country risk ratings range from 0 to 100 with low numbers indicating low risk and high numbers indicating high risk. The right side of the table shows the weighted risk contributions for each country separately for production, reserves and resources with summarized scores in the bottom line. The individual ratings can be interpreted as ratings going from present risk (production) into the future (inferred resource).

Click to enlarge
Observations
As advertised by Agnico Eagle the computed country risk ratings between 17.39 and 19.48 indicate low country risk exposure for the company. All mines and projects are situated in mining-friendly and low-risk jurisdictions. Compared to last year the ratings have even improved slightly owing mostly to improved country risk ratings for Canada as illustrated by the diagram below. Similarly low ratings were only computed for one other company, namely for AuRico (NYSE:AUQ) after completion of their 2012 transitions.
Agnico Eagle has taken advantage of recent difficulties of gold explorers and developers in obtaining funding and have acquired interests in three exploration companies and one development stage company. In doing so the company has gained exposure to a new jurisdiction through an equity stake in Sulliden Gold (SDDF.PK) and the Shahuindo heap leach project in Peru. It will be interesting to observe whether that is a precursor to further forays into this particular jurisdiction.
Note: last year's statistics did not differentiate between different resource classes.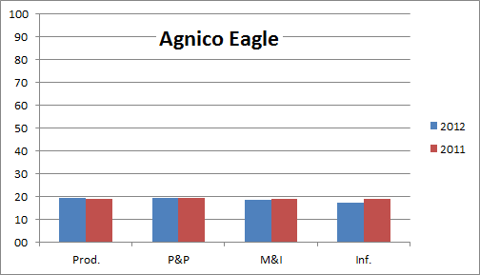 Click to enlarge
Disclosure: I am long AEM. I wrote this article myself, and it expresses my own opinions. I am not receiving compensation for it (other than from Seeking Alpha). I have no business relationship with any company whose stock is mentioned in this article.