Well we pretty much called it yesterday saying weakness was a buying opportunity in this market, but in all honesty we had no idea that the market would do a complete turnaround during yesterday's session. It was quite impressive to watch and quite indicative of what is going on behind the scenes. The market wants to go up and investors want to get exposure to equities by purchasing on pullbacks, which is precisely what happened yesterday. Take the action from yesterday as a lesson, and recognize the sheer size of capital on the sideline waiting to be deployed.
Chart of the Day:
Yesterday's chart of the Dow Jones Industrial Average shows just how bad it could have been looking at the early morning and the futures and then how buyers pushed the market higher throughout the session. Only bullish can adequately describe this.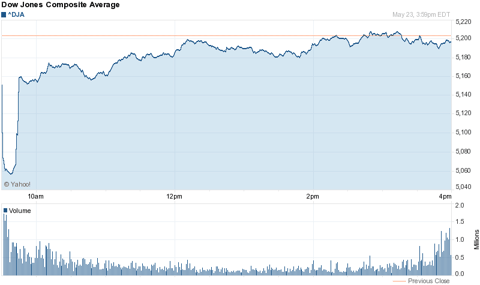 Click to enlarge
Chart courtesy of Yahoo Finance.
We have economic news due out today, and it is as follows:
Durable Orders (8:30 a.m. ET): 1.6%
Durable Goods - Ex Transportation (8:30 a.m. ET): 0.5%
Asian markets finished mixed today:
All Ordinaries -- down 1.52%
Shanghai Composite -- up 0.57%
Nikkei 225 -- up 0.89%
NZSE 50 -- down 1.36%
Seoul Composite -- up 0.22%
In Europe, markets are mixed this morning:
CAC 40 -- up 0.04%
DAX -- down 0.83%
FTSE 100 -- down 0.66%
OSE -- up 0.35%
Retailers
Gap (NYSE:GPS) reported their earnings last night (see news release here) and they had a strong quarter with EPS coming in at $0.71/share with revenues rising 7% (comps were +2%). The company had a strong quarter as we figured they would, however they reaffirmed their previous guidance (see conference call transcript here for more) which spooked investors in after hours trading and sent shares lower because the company's numbers were below the Street's consensus. This is one of the best run retailers at this time and one of the few names actually delivering on their guidance and investors' expectations. With that said we would continue to be bullish here and view any pullback as a buying opportunity in order to build up positions ahead of the back to school and fall season.
A pullback at these levels might not be a bad thing, especially if management's conservatism is setting the table for a surprise in the coming quarters.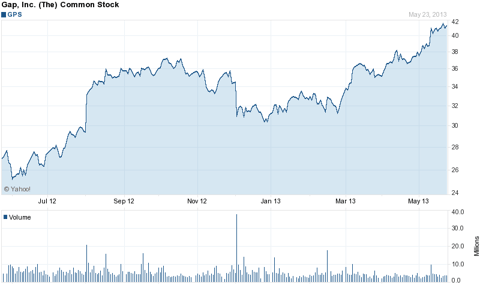 Click to enlarge
Chart courtesy of Yahoo Finance.
Technology
Let us go with crushed to describe what happened to Cirrus Logic (NASDAQ:CRUS) shares yesterday. The company's CEO, Jason Rhode, stated that the company would be inline this quarter with their previously guided revenue figures and added that long-term the company's gross margins would decline to the 40% level as pricing pressures mount. This spooked investors, rightfully so, and will force analysts to adjust their outlook on the company as well. One analyst already adjusted their price target and lowered their rating on Cirrus Logic as well. Stifel Nicolaus moved the company to a 'Hold' from a 'Buy' and that shall just be the first in what we expect to be a long line of downgrades in the next week or two. The shares did close at $17.76/share, the precise price where we have never lost money buying shares in anything (fun fact), after falling $4.31 (19.53%) on volume of 24.9 million shares during Thursday's session. Even with shares at that 'lucky' level we are not buyers here, if one was so inclined we would instead recommend looking at Apple shares.
Back down to the lows the stock recently bounced back from. This is really starting to get ugly.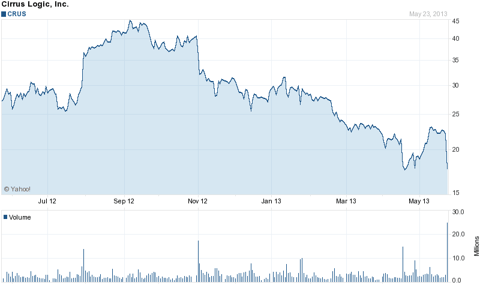 Click to enlarge
Chart courtesy of Yahoo Finance.
Automobiles
Shares in Tesla (NASDAQ:TSLA) have been on fire lately and the rise has continued even after a secondary offering because Eli Musk is actually going to purchase more shares and in a big way. Yesterday the shares rose $5.49 (6.29%) to close at $92.73/share with volume coming in strong at 12.04 million shares. The fact that the shares broke through $90/share is significant because it now puts the focus on $100/share as this is a common momentum trend that we have seen time and time again. Long-term we think that this is a bubble of sorts and either plays out with a crash lower (most probable) or a multiple compression where the stock moves sideways for a long period of time or even lower as they grow into the current price. For traders this is intriguing, for investors looking at holding for any meaningful timeframe it is very much less so.
Solar
Another name benefiting from the Eli Musk touch of gold is SolarCity (NASDAQ:SCTY) which is a solar name where he serves as Chairman. As his name is becoming more widely known in circles of retail investors they are beginning to track down other names the serial inventor is tied to. With the Eli Musk effect and the recent rally in solar stocks, SolarCity has performed quite well as of late. Shares actually were up yesterday by $2.49 (5.62%) to close at $46.79/share on volume of 3.7 million shares. We are not fans of solar stocks, but this story does have our interest.
Financials
Fidelity National Financial (NYSE:FNF) rose $1.38 (5.66%) to close at $25.75/share on above average volume of 12.6 million shares after news broke that the company was in talks along with Thomas H. Lee Partners to purchase its former subsidiary Lender Processing Services for $2.9 billion. According to the source of The New York Times (see story here) Thomas H. Lee would own 20% of the entity once the transaction closes. We are bullish of all things housing, and that of course includes the title insurance companies and support service ones as well. We like the deal, and so too did the market.
Disclosure: I have no positions in any stocks mentioned, and no plans to initiate any positions within the next 72 hours. I wrote this article myself, and it expresses my own opinions. I am not receiving compensation for it (other than from Seeking Alpha). I have no business relationship with any company whose stock is mentioned in this article.