United Therapeutics (NASDAQ:UTHR) is a biopharmaceutical company which develops and markets products for patients suffering from pulmonary arterial hypertension (NYSE:PAH) and other vascular diseases. Currently, the company has three commercially successful products and a series of potential product candidates in the pipeline. However, United's profitability depends on the clinical trial outcome, regulatory approval and commercial launch of new products, as well as the effect of generic competition in the coming years. This article highlights United's products portfolio and their potential in the market in the future.
Product lines:
United has three FDA approved marketed products including Remodulin, Tyvaso and Adcirca tablets; all are primarily used for the treatment of PAH. PAH is a life-threatening disease caused by increased blood pressure in the arteries which supply blood from the lungs to the heart. Remodulin/Tyvaso operate as Prostacyclin analogues that bring back the blood vessels into normal condition while maintaining the level of prostacyclin. Prostacyclin is a naturally produced substance which manages the pressure and inhibits proliferation of smooth muscles within the blood vessels. On the other hand, Adcirca is a PDE-5 inhibitor that maintains the enzyme function responsible for production of a natural muscle relaxant called NO.
Table1:
| | | |
| --- | --- | --- |
| Products | Indications | Mechanism of action |
| Remodulin (treprostinil) Injection | PAH | Prostacyclin analogues |
| Tyvaso (treprostinil) Inhalation Solution | PAH | |
| Adcirca (tadalafil) Tablets | PAH | PDE-5 inhibitor |
Source: Annual report
Pipeline studies:
Most advanced products of United's are in development stages to treat patients suffering from PAH, either in single or in combination therapies.
The company is working primarily in three categories: cardiopulmonary disease, neurological disorders and anti-viral agents. The company does have potential products in the pipeline, and a few of them are in advanced stages of clinical trial: Remodulin via Implantable pump, Oral Treprostinil for PAH and ch14.18MAb for Neuroblastoma.
Table2:
| | | | |
| --- | --- | --- | --- |
| Category | Products / Drug Candidate | Indications | Development stage |
| Cardiopulmonary | UT-15C (Oral Treprostinil- Combined Therapy) | PAH | Phase III |
| | Remodulin via Implantable pump | PAH | Phase III |
| | Beraprost 314d | PAH | Phase II |
| | PLX Cells | PAH | Pre-clinical |
| | TransCon Treprostinil | PAH | Pre-clinical |
| | TransCon Beraprost | PAH | Pre-clinical |
| Neurological disorders | ch14.18MAb | Neuroblastoma | Phase III |
| | 8H9 Mab | Metastatic Brain Cancer | Phase I |
| Others | Glycobiology Antiviral Agents | Antiviral | Pre-clinical |
| | Engineered Lungs for Transplantation | End-stage lung disease | Pre-clinical |
Source: Annual report
Competitive landscape:
Currently, United is competing with both branded and generic products available in the market for the treatment of PAH. In addition, many companies are focusing on life-threatening diseases while developing new products with greater efficacy, or entering into different geographies through marketing rights for products. United competes with PAH treatment products from Actelion (NYSE:ACN), Gilead (NYSEARCA:GLD), Pfizer (NYSE:PFE) and GlaxoSmithKline (NYSE:GSK) in both injection and oral therapy.
Table3:
Products

Company

Mechanism of action

Available forms

Flolan (epoprostenol)

Gilead Sciences,
GSK retained its marketing rights

Prostacyclin analogue

Injection (IV)

Ventavis (iloprost)

Actelion and Bayer

Prostacyclin analogue

Injection (IV)

Tracleer (bosentan)

Actelion

Endothelin receptor antagonist ((ERA))

Oral

Letairis (ambrisentan)

Gilead Sciences

Endothelin receptor antagonist ((ERA))

Oral

Revatio (sildenafil citrate)

Pfizer

PDE-5 inhibitor

Oral

Generic epoprostenol (Veletri)

Actelion

Prostacyclin analogue

Injection (IV)
Source: Annual report
Market overview:
In 1Q13, United reported total revenues of $245.1 million compared to $204.2 million in 1Q12. The 20% YoY rise was due to significant growth in sales of the three commercial products Remodulin, Tyvaso and Adcirca.
Figure1: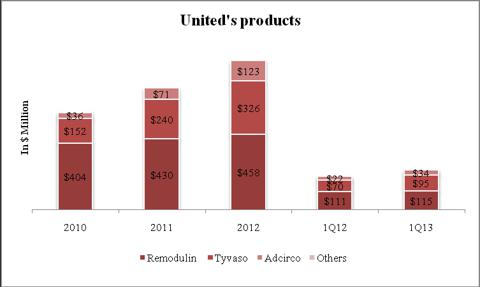 It is also evident that the three commercial products showed an upward trend for the last three years, due to increased volume resulting from a continuous rise in patients' needs.
During 1Q13, the company experienced a decline in its operating income due to increased SG&A and R&D costs. It is expected that the R&D costs will go up in the near term due to more focus on the approval of Phase III trial products.
Figure2: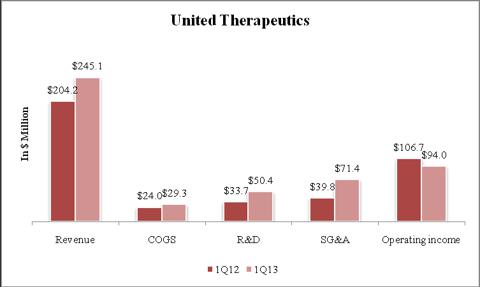 United reported a net income of $62.3 million in 1Q13 compared to $70.8 million in the same period last year. This in turn affects the basic EPS of $1.24, a decline of 6% compared to $1.32 in 1Q12.
Figure3: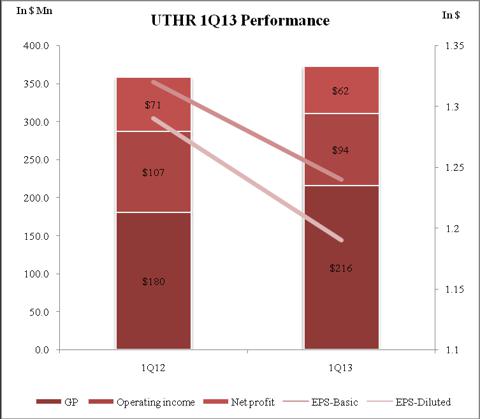 Conclusion:
In the near to medium term, I believe that the commercial success of the three products will provide a top line growth to United Therapeutics. In addition, the expected approval and launch of oral prostacyclin analogues for both single and combined therapies and commercial launch and sale of anti-viral drugs is likely to sustain growth. Furthermore, United focuses on supplementary therapies by introducing transplantable cells, tissues and organs for the treatment for PAH and other end-stage lung diseases in the long run. This can become a sustainable source of income.
Disclosure: I have no positions in any stocks mentioned, and no plans to initiate any positions within the next 72 hours.
Business relationship disclosure: StockRiters is a team of analysts. This article was written by Chiranjeeb Baral, B. Pharm, MBA, 10 years work-ex associated with US/European biosector MNCs - one of our analysts, and edited by Shas, StockRiters' Editor-in-Chief. We did not receive compensation for this article (other than from Seeking Alpha), and we have no business relationship with any company whose stock is mentioned in this article.