Through the '90s, Cisco Systems (NASDAQ:CSCO) was known as one of the "4 Horsemen of IT" and was even the largest company by market cap ($500 B) at the peak of the tech bubble in early 2000. The web is the driver of all information worldwide over the past two decades, thus all recent tech trends revolve around the internet: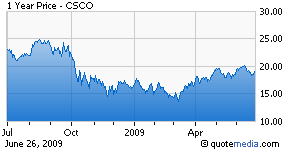 mobilization, cloud computing, virtualization, social networking and much more. Consequently, Cisco is the dominant provider of the networking gear that runs the internet. More specifically, Cisco's bread and butter has been the ethernet switches and overall router markets with approximately 70% and 50% of the market share, respectively. To sustain revenue growth, companies like CSCO must adapt to tech trends and enter new markets outside of its core business.
Breaking Ties
On March 16th, CSCO unveiled its two-year secret project: the Unified Computing System (UCS). This new blade server capitalizes on two key trends in IT that deliver more for less: virtualization and cloud computing. The UCS harnesses the power of virtualization by combining computing, networking and data storing into a single energy efficient system that can power web-based apps of cloud computing. With this courageous move, CSCO has chosen to sever the ties with longtime partners like IBM (NYSE:IBM), Hewlett-Packard (NYSE:HPQ) and Dell (NASDAQ:DELL) in order to compete in the server market. This trio sells (or DID sell) billions in Cisco gear each year as they helped tech companies build out its IT infrastructure; IBM alone accounts for $3 billion (per analysts' estimates).
HP's relationship with CSCO began to crumble when CEO Mark Hurd began aggressively pushing the ProCurve segment that makes LAN, WAN and wireless gear for powering networks. However, the Big Blue relationship first went sour when CSCO stole internet conferencing company Webex Communications right from IBM's hands in 2007. This acquisition has been resilient in this recession as companies cut traveling expenses and adopt CSCO's Telepresence resulting in y-o-y growth of 70% in orders and 130% in revenues. The UCS debut has recently led IBM to jump ship to Juniper Networks (NYSE:JNPR) for possible future partnerships to resell JNPR's equipment as part of its family of products.
New Markets
Cisco CEO John Chambers told BusinessWeek's Aaron Ricadela that the company will likely be in 50 fresh markets within a year, mainly in adjacent markets to its core business so it can integrate its diverse product offerings.
"We're moving into new [areas] with a speed nobody has ever attempted," Cisco CEO John Chambers stated.
This includes in-house developments like the UCS, but also acquisitions such as Flip video recorder maker Pure Digital. In addition to its Linksys offerings and TV set-top boxes, Flip will help Cisco further penetrate the $50 billion global market for consumer electronics. They also bought out Tidal Software as an easy tuck-in company to enhance its data center business. Furthermore, CSCO has made a push into the energy business by offering smart grid solutions that take advantage of secure IP-infrastructure to reduce energy storage, transmission and distribution costs for a more sustainable environment. Cisco has struck an "alliance" to provide Clearwire's wireless IP infrastructure along with plans to build new mobile WiMax supporting devices. The Silicon Valley company has also made moves in virtual healthcare, sports and entertainment (with its StadiumVision) and much more.
With $33 billion in its wallet, second in the S&P 500 to Exxon Mobil (NYSE:XOM), Cisco is gearing up for acquisitions. This comes as no surprise as CSCO has acquired 175 businesses since 1993. However, of the $33 billion in cash, the majority of it (approximately $26 billion) remains offshore and deferred from income taxes indefinitely until the profits are repatriated. The Obama Administration aims to change this rule (or loophole). Even with that controversy, Cisco still stands strong in the M&A world:
"First, the exciting part about today's market is just about everybody's for sale. And the second most exciting part is the prices are pretty reasonable. In fact, if I were betting, it would not surprise me to see us move on the consumer side before you see us even move on some of the other areas," exclaimed Chambers in the January 2009 conference call.
Despite its already large cash position, Cisco easily raised $4 billion in debt on Feb 9th, 2009, further substantiating the fact that Cisco is on the acquisition prowl. Companies rumored to be in the crosshairs are EMC Corporation (EMC), virtualization software company VMWare (NYSE:VMW), Red Hat (NYSE:RHT), NetApp (NASDAQ:NTAP) and BMC Software (NASDAQ:BMC).
Conclusion
Despite recent economic indicators beating estimates, the economy is still contracting, albeit at a slower rate than before. This has indicated signs of stabilization in the near future but the jury is still out on just when that will be. Even after the recent market rally, P/E ratios are still relatively low historically speaking; cheap valuations are still present as market consolidation continues to occur. Cisco has the fundamentals, management and courage to innovate to survive this cyclical downturn. With $33 billion in its pocket, Cisco will be making acquisitions, buying back stock or pouring it into R&D. All this boils down to one thing: maximizing shareholder value. I believe CSCO is a great buy at current levels and so does the Dow Jones Industrial Average.
- Jake Kimble
Disclosure: The fund the author is associated with is long CSCO and IBM.