Elevator Pitch
Michael Kors (NYSE:KORS) has consistently exceeded market expectations since its IPO in December 2011, but the story is far from over. As the company looks to continue its strong momentum in the U.S., expand globally, and over e-commerce, it is set to continue pleasing investors and fashionistas around the world. Below are a combination of five qualitative and quantitative reasons of why KORS remains a strong BUY ahead of its earnings report next week.
Five Qualitative/Quantitative Bullish Reasons for KORS
1) All Recent Analyst Reports Have Been Bullish
We all know analysts usually lag behind the market in updating their target prices, but I do like looking at recent reports since those reports are more in line with current company conditions and supply chain checks.
Earlier this week, Canaccord Genuity initiated their coverage of KORS with a buy rating and a target price of $82, the highest on the street. Canaccord Genuity sees the company growing double globally by F2015. See below other price targets for the company. The average price target on the street is $73.

As you can see above, Barclays has continued to up their price target as KORS continues to grow, with plenty of room for expansion remaining. Additionally, there have been bullish comments made by other analysts in the past few days regarding KORS.
Earlier this month, Morgan Stanley (NYSE:MS) added KORS to its best ideas list, and called the company "retail's best growth story" and says now is the time to buy ahead of KORS report on May 29. Current valuation versus calendar-2014 EPS estimates "represents compelling value for a company that we think has the highest EPS achievability in retail," said Morgan.
Piper Jaffray also expects Michael Kors to post a solid Q4 earnings beat on May 29th and said it would continue adding positions reiterating a $77 price target.
2) KORS Has Beaten Wall Street Expectations Last 5 Quarters
Michael Kors has surprised the street for the last five quarters.

The chart above speaks for itself, and with current expectations of $0.39 below last 2 quarters reported EPS, there is much reason to believe KORS beats this quarter by a sizeable margin given the company's continued growth.
3) Growth in the U.S., Europe, and E-Commerce
- The company has fewer than 250 stores in the U.S. currently, and has the potential to double its domestic store base over the next five years.
- The company has around 45 stores in Europe currently, compared to Burberry and Louis Vuitton's 100+ stores.
- The company's e-commerce website generates, oh wait, Michael Kors currently does not control/operate its own e-commerce business. The company's website is currently run by Neiman Marcus, and KORS recognizes a wholesale sale when it sells inventory to Neiman. Michael Kors plans to bring their website in-house in 2014.
4) P/E Ratios - TTM P/E and Forward P/E

Michael Kors, arguably the fastest growing retail brand since its IPO and as evidenced by the table above, trades at a Forward P/E of 25.1 which is around its industry peers Forward P/E of 27.5, while clearly outperforming in EPS growth by a huge margin.
Additionally, KORS is currently trading at attractive P/E levels compared to other high growth "buzz" retail stocks, Under Armour (NYSE:UA) and Lululemon (NASDAQ:LULU), while outperfoming both of these companies in EPS growth.
5) KORS Chart Looks Ready For a Breakout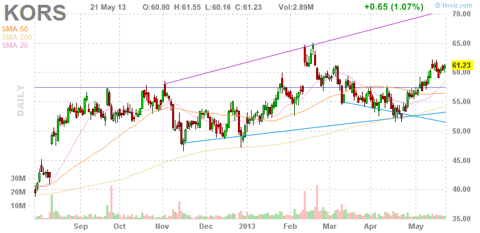 Source: Finviz.com
The chart above is as of Tuesday, May 21, 2013. The stock has built a cup and handle pattern, and looks ripe for a breakout as it consolidates around the $60 mark ahead of its earnings next week.
The stock is currently trading below its 52-week high of $65.10, but per the looks of the chart, could very well be headed back into 52-week high territory in the coming days.
Conclusion
Michael Kors has had triple digit growth since its IPO, both in earnings and stock price appreciation, and this may just be the beginning. The stock is attractively valued relative to its peers, has tremendous upside growth potential, and looks to be a sure buy qualitatively and quantitatively ahead of its quarterly earnings report on Wednesday, May 29th.
Disclosure: I am long KORS. I wrote this article myself, and it expresses my own opinions. I am not receiving compensation for it (other than from Seeking Alpha). I have no business relationship with any company whose stock is mentioned in this article.