This article is about the cherry on the top of a sundae. I invested in MGT Capital Investments (NYSEMKT:MGT) because it is the only stock for exposure to the daily fantasy sports sector, and I agree with a billion-dollar fund manager's prediction that daily fantasy sports will grow 2,000% by 2020. Daily fantasy sports is the "meat and potatoes" of my investment, but I have already written about that. I want to talk about dessert.
Coincidentally, MGT is suing five casino companies for up to billions of dollars in patent infringement. I want to analyze this lawsuit- the maraschino cherry. Again, I believe MGT's daily fantasy sports business - by itself - is cause enough for shares to hit $6 per share this year. The lawsuit is a bonus, an unnecessary but pleasant topping to an otherwise satisfying meal.
In my full report on MGT last weekend (which is already slightly dated... I am working on updates now due to a higher share price and new 10-Q filing), I illustrated how 62% of MGT was spoken for; the remaining 38% was the actual enterprise value. In other words, for every share of stock I owned at $4.48 per share, I paid only $1.71 for an actual business. The rest was cash and assets. As a risk-averse investor, I loved this situation.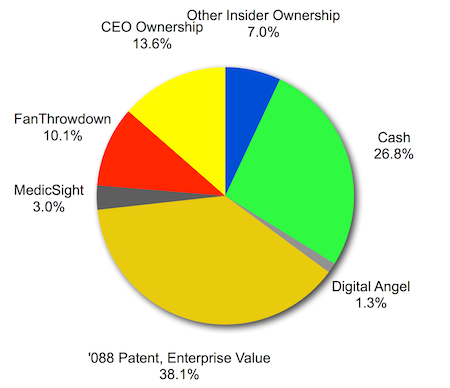 In the above chart, I invested because of the red sector: FanThrowdown.com. I think the red portion is reason enough for shares to hit $6 per share this year. So I am unconcerned about the ultimate outcome of MGT's lawsuit- the subject of this article. Of course, it never hurts to have free lottery ticket if you love the investment anyway, and there is a lot of interest in this lawsuit, so here we go. Let's talk about dessert.
Summary of MGT's Lawsuit
MGT has a 55% stake in a 20-year patent No. 7,892,088 entitled "Gaming Device Having a Second Separate Bonusing Event" ("the '088 patent"). Here is one drawing of the patent from the U.S. Patent and Trademark Office (USPTO).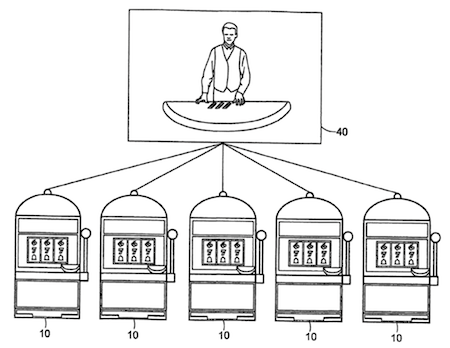 Here is a simplified explanation of the depicted process.
Users play on individual machines.
Once users have played by themselves for a while, a bonus round commences on an overhead screen.
Users play the bonus round together.
Bonus round winnings are paid, and users return to playing on individual machines.
Here is a picture of alleged infringement in a real casino. Note (1) the overhead screen for competitive bonus rounds and (2) the linked row of individual slot machines.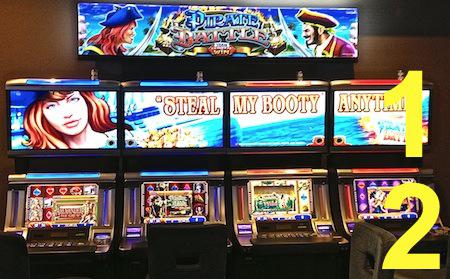 It is a very simple idea. The entire '088 patent is the process of intermittent bonus rounds on an overhead screen with nearby users while otherwise playing slots individually. That is the patented process.
There are at least three games that allegedly use this process: "Pirate Battle," "Battleship," and one or more of "Clue," "Monopoly," "Amazon Fishing Competition," "Massive Fishing Competition," "Big Game Competition," "Jackpot Battle Royal" and/or "Paradise Fishing."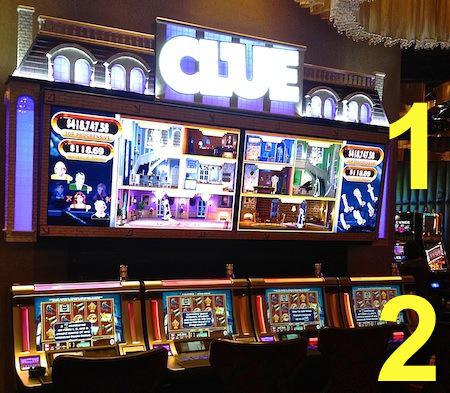 MGT names five defendants that operate or manufacture these games.
WMS Gaming, a subsidiary of WMS Industries (NYSE:WMS-OLD)
MGM Resorts International (NYSE:MGM)
Caesars Entertainment (NASDAQ:CZR)
Penn National Gaming (NASDAQ:PENN)
Aruze Gaming America (private)
WMS is the primary defendant, manufacturing most of the games named in the lawsuit. On May 10, WMS shareholders approved a merger with Scientific Games that will finalize by the end of 2013. Scientific Games will be the surviving company and has hundreds of millions in free cash. Because Scientific Games might want to limit this potentially disastrous liability before finalizing its merger, several authors have predicted that WMS or Scientific Games will settle this year.
If MGT receives a settlement or wins the lawsuit outright, the formula for calculating its payout is: [total amount] - [approximately 30% to Nixon & Vanderhye, the law firm working on contingency] - [45% of the remaining 70% to J&S Gaming]. Note that the exact fee schedule for Nixon & Vanderhye is confidential, so 30% is a very rough estimate and will vary based on the dollar amount. Also note that MGT Capital Investments has $18.7 million in federal tax loss carry-forwards and $2.3 million in state tax loss carry-forwards, so up to $21 million of its take-home winnings will be tax-free. After $21 million, normal taxes will be assessed.
Timeline
It is too early to accurately outline the schedule for this lawsuit. Although I would like to give precise dates, we are still awaiting the judge's decision on defendants' motions to change venue, sever, and stay. After those decisions, the court will then decide on a preliminary schedule for the next few months. Because so much is up in the air, I can only provide estimates for the entire lawsuit based on national averages.
According to the most closely related court to the U.S. District Court of the Southern District of Mississippi, the Eastern Court of Texas, the average time from complaint to trial in 2008 was 18 months and in 2009 was 25 months. In contrast, the fastest court in the nation - the "rocket docket" in Virginia - averages 10 months from filing to trial. As of 2012, the broad average for most federal courts is two years from filing to the first day of trial. Using this range as a guide for the current case, the following could be a rough timeline for MGT's lawsuit.
| | |
| --- | --- |
| Dec 2012 | Original complaint filed (completed 12/17) |
| May 2013 | Case management conference (completed 5/9), judge rulings |
| Aug 2013 | MGT's preliminary infringement contentions, infringement claim chart and asserted claims |
| Oct 2013 | Defendants' preliminary non-infringement and invalidity contentions, invalidity claim charts, schematics, formulas |
| Nov 2013 | MGT's response to invalidity contentions |
| Dec 2013 | Simultaneous exchange of preliminary claim constructions |
| Jan 2014 | Joint claim construction, joint claim term limitations |
| Feb 2014 | Completion of claim construction discovery |
| March 2014 | Responsive claim construction briefs, Markman hearing |
| Mid 2014 | Summary judgment motions |
| Late 2014 | Pre-trial briefings |
| Late 2014 | Pre-trial conference with judge |
| Dec 2014 | Jury trial lasting two weeks |
Again, until MGT receives the case management order from the court, it is impossible to accurately schedule dates for this lawsuit. The preceding is a possible outline, but it could be half as long or twice as long, there is just not enough information to know for sure. Also, it is important to note that less than 5% of patent infringement lawsuits actually make it to a jury trial. The vast majority are resolved during earlier phases.
Motion to Stay
On March 8, 2013, MGT filed a request for oral argument with respect to the pending motions for venue, sever, stay and dismissal. The motion to stay is a request to delay the actions against MGM, CZR and PENN until the actions against WMS and Aruze are resolved.
All of the attorneys I consulted agreed that the court is motivated to expedite this lawsuit. By allowing the case to move forward against the manufacturers (WMS and Aruze) alongside the casino operators (MGM, CZR and PENN), the court will still resolve the whole matter while killing two birds with one stone. Logically, if the manufacturers are found to have infringed, then the operation of infringing machines on casino floors is probably also infringement. In parallel fashion, if the machines are found to not infringe, this would eliminate any need for action against the casino operators.
During my research, I discovered that it is customary for defendants to "deny everything" at the beginning of a patent lawsuit, and defendants do this in an almost scripted fashion. This has become a serious problem for several jurisdictions, and courts are quick to deny superfluous requests. Personally, I think MGT has a strong case against the motion to stay, and all of the attorneys I consulted agreed.
Motion to Dismiss
A customary motion to dismiss the entire '088 lawsuit has been filed. If Mississippi finds the venue improper or finds another reason to completely dismiss the lawsuit, MGT would be forced to file a new complaint in a different venue entirely. All of the attorneys I consulted agreed that the motion to dismiss is rote and unlikely to gain approval, but nothing is guaranteed.
Motion to Sever
Defendants have requested that the court sever the claims against all defendants into separate actions. This motion is also rote and, as above, is unlikely to be granted due to court efficiency. "Since the manufacturer and casinos often split the revenues from the games in an ongoing arrangement," as noted in MGT's supporting documents, the court could easily assess damages and liability for all five defendants at once based on established revenue and license agreements. This process would be much more efficient then repeating a trial five times.
Motion to Change Venue
There are separate motions to change venue to Illinois and Nevada. The current venue, Mississippi, is one of the biggest gaming states, and each of the defendants gain revenue from and have a registered agent in Mississippi. This is especially true for the casino operators that operate physical casinos on Mississippi land. Because of this, the judge will likely deny their requests to transfer venue. The manufacturers MGT and Aruze have a slightly better argument than the casino operators in that their offices and some manufacturing facilities are located out of the state, but MGT and Aruze still have offices and employees in Mississippi. In summary, it is unlikely that motions to change venue will be granted, but I am not an expert in these matters.
It is worth noting that if the case stays in Mississippi, this will benefit MGT by preventing delays from transfer formalities, and it will also tip the human/juror scale in favor of MGT. In general, southern courts such as Texas and Mississippi are famously friendly toward plaintiffs and, in the case of gaming lawsuits, are more likely to offer a true "jury of peers" comprising actual casino employees due to the large number of casinos in these states. In the unlikely event that the motion to change venue is granted, this would tip the human/juror scale in favor of the defendants, especially if the venue were to transfer to Nevada, the defendants' "home turf."
Possible Defenses Against MGT
The defendants have many options for presenting a defense against MGT's complaint. Although I list them as bullet points here, each defense deserves a dedicated section requiring dozens or hundreds of hours per section, and this task is simply beyond the scope of this article.
laches: unreasonable, negligent delay in the duties of the patent owner
estoppel: one cannot assert something contrary to a previous judicial ruling
misuse: patentee has impermissibly and anticompetitively broadened the patent's scope
non-infringement: the gaming machines and/or their operation does not infringe patented claims
unenforceability: the patent cannot be enforced due to technical or formal limitations
invalidity: the patent was not novel, useful or non-obvious at the time of filing
To illustrate the complexity of these defenses, I will discuss invalidity in greater detail.
It might sound odd to ask if a patent is valid. After all, why would the USPTO award a patent if it was invalid in the first place? Well, the USPTO is like most government offices: overworked, understaffed and underfunded. Most patents only receive a few of hours of actual human review, and many things can be overlooked during the approval process.
This is not to say that patents are tenuous, flimsy awards. Patents are prestigious, costly and very difficult to obtain. Furthermore, patents are presumed valid under 35 U.S.C. § 282, such that the party asserting invalidity (not the owner) carries the burden of proof by clear and convincing evidence. Nonetheless, 1,449 requests for USPTO re-exam were filed last year and 917 were re-examined. For perspective, 917 represents less than 0.5% of the patents issued during the year.
Validity Concern #1: Re-Exam
Unfortunately, re-exam is a risk for MGT's lawsuit. Any of the five defendants could request a re-exam if they find evidence of the patent's invalidity based on prior art and are willing to pay up to $27,200 in fees. Fees are not a major deterrent to wealthy defendants like WMS or MGM, so the only question is whether or not they can craft a compelling argument.
prior art: all public knowledge and creative works that predate a patent
After speaking with several attorneys who looked at the '088 patent, all of them said that patent is very old and cites a good amount of prior art already. Although possible, they doubted defendants would be able to unearth new prior art that existed in 2001. The attorneys agreed that a re-exam request, if a defendant submits one at all, would most likely be on merits basis from cited prior art, not freshly unearthed prior art.
Re-exam is a bullying tactic. Despite its $7 million in cash, MGT is poor in comparison to giant defendants like WMS or MGM. If a defendant can convince the USPTO to accept a re-exam request, the lawsuit is pushed back for months or even years. They have deep pockets and want to do everything possible to frustrate the courts and coax MGT into a tiny settlement or outright surrender.
In order to request a re-exam, the defendants will have to present a strong argument that the USPTO's approval should be reconsidered due to some overlooked prior art or procedural error.
Validity Concern #2: Obviousness
Possible argument: Recall that all patents must be (1) novel, (2) useful and (3) non-obvious. This patent was obvious. Sure, large displays were expensive and not common at the time, but that does not mean that it was not obvious to hang a big screen over slot machines for competitive bonus rounds. The general idea of having an interactive bonus game played on a large video monitor for all to see would have been obvious to one skilled in the art at the time the invention was contemplated.
Possible rebuttal: During the approval process, the USPTO addressed this exact argument on August 23, 2004 ("the general idea of having an interactive bonus game played on a large video monitor for all to see would be obvious to one skilled in the art at the time the invention was contemplated") and after years of further review, the office ruled that the patent was, indeed, non-obvious and valid. Among other things, because large screens were not common and competitive video games between patrons were not displayed on overhead screens at the time, it was not obvious to structure bonusing events in 2001 as the patent describes. Although the concept might be obvious in 2013, it was not obvious in 2001.
Recall that Cole Kepro has a very broad patent on a gaming machine system wherein a display is mounted on a door. Although extremely broad and obvious to someone today, the concept was not obvious at the time the invention was contemplated, and that patent has been very lucrative from an enforcement and licensing standpoint.
Validity Concern #3: Procedural Error
Possible argument: This patent application was passed between many examiners over its nine years of approval. There was [alleged error] in considering the patent's (1) novelty, (2) usefulness or (3) non-obviousness by one of its examiners: Michael O'Neill, Xuan M. Thai, Scott Jones, Sean Sprigg, Frank M. Leiva, Peter D. Vo. or Dmitry Suhol.
Possible rebuttal: (Honestly, I do not understand USPTO procedure to outline a quality argument or rebuttal on this issue. I list procedural error only so that it is counted as a real risk, because it is.)
... and that is just three validity concerns out of dozens of possibilities.
Conclusion
Even nearing 3,000 written words in this article, I am still barely presenting an introductory overview. If readers are looking for more detail, someone could spend countless hours analyzing this lawsuit. To aid the curious, I am happy to provide a PDF download link to the the complete USPTO File Wrapper as of May 5, 2013 (file size: 18MB).
However, as I mentioned at the beginning, I am a MGT investor because of its daily fantasy sports division, not this high-profile lawsuit. I am also an investor because MGT has a simple, low-risk capital structure that eliminates my fears of being diluted to death. I certainly appreciate the tremendous upside possibility of MGT's lawsuit, but even if it fails entirely, my investment thesis is unfolding properly and, I must say, I could not be happier with how the stock has been performing recently. I hope the links provided in this article are helpful for people wanting to know more about this important, complex lawsuit.
Disclosure: I am long MGT. I wrote this article myself, and it expresses my own opinions. I am not receiving compensation for it. I have no business relationship with any company whose stock is mentioned in this article.