Optimer Pharmaceuticals (NASDAQ:OPTR) recently announced results from the phase III clinical study of fidaxomicin in patients with Clostridium difficile-associated diarrhea (CDAD) at the Digestive Disease Week 2009 conference in Chicago.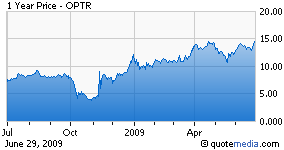 The data presented dealt with patient risk factors related to recurrence of CDAD following treatment. These risk factors include serum albumin levels, white blood cell (WBC) count and temperature, and non-BI (NAP1/027) strains. The data showed that overall, fidaxomicin demonstrated a lower recurrence rate compared to oral vancomycin (Vancocin (R), the only FDA approved drug for CDAD produced by Viro Pharma (VPHM) ) regardless of albumin levels, WBC count and temperature, as well as for patients with non-BI (NAP1/027) strains.
The analysis shows that fidaxomicin is more effective than oral vancomycin in reducing recurrence, even in high risk patient populations such as those older than 65, hospitalized patients, and patients with very low albumin levels.
The positive results from the second phase III trial coupled with additional safety and efficacy data will enable Optimer to file an NDA by 2H09. We expect approval of Fidaxomicin in middle or 2H10.
Another late-stage drug candidate Optimer is developing is Prulifloxacin for the treatment of infectious diarrhea. The phase III trial conducted in 2008 met the study objective of superiority to placebo in the resolution of diarrhea. We expect OPTR to submit NDA for Prulifloxacin in 2H09; approval is likely in 2H10.
Although Fidaxomicin and Prulifloxacin in terms of their clinical trial results and FDA approval are positive signs, the downside is intense competition from big pharmaceutical companies such as Pfizer and Bayer as well as smaller biotech companies like Viropharma and Salix Pharma.
We maintain our Hold rating on Optimer as we expect the stock to trend sideways in the next few months.