There is a war on between bulls and bears for the fate of biotech startup Amarin (NASDAQ:AMRN). The next piece of the puzzle will fill itself in on Sunday this weekend, and it's going to be extremely important to investors. Bulls want to shut bears up; shorts are hoping for a second unimpressive week in a row.
Amarin, right now, seems to have three very simple factors that are going to determine whether it's a success story or not:
Weekly total prescription data continuing to increase
Approval of ANCHOR indication in December, which would essentially increase Vascepa's patient population by about 36 million people with mixed dyslipidemia
Managing its cash
It's turning out to have been a less than stellar week for Amarin stock this week, with the price barely touching $7.30 at one point, but finishing the week trading in the $6.80 region. Like prescription data, Amarin longs are hoping that the stock price moves in a cyclical fashion, otherwise we could just be looking at a downward trend for both metrics.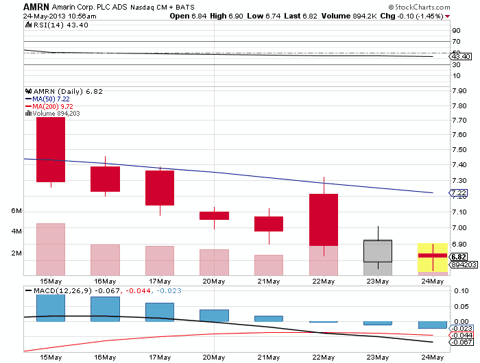 Click to enlarge
(Click to enlarge)
Subsequent to my last article, biotech writer Adam Feuerstein also happened to come out and launch what could be a massive bomb on Amarin, claiming on Twitter that "FDA will not approve Vascepa for the ANCHOR indication in December". Say what you want about Feuerstein, with whom I disagree with on some items, but he's got a general knack for being right. He slammed Amarin on Friday morning:
Right now, Amarin has zero data proving these patients benefit from taking a prescription-grade fish oil like Vascepa. The company's FDA submission is based on a phase III study dubbed "Anchor" showing reductions in measurements of triglycerides and "bad" cholesterol. That's not enough. FDA has no incentive and is under no pressure to approve Amarin's application without data demonstrating real clinical benefit. A Special Protocol Assessment (SPA) agreement between Amarin and FDA for the "Anchor" study does not compel the agency to approve Vascepa.
Aside from that, Feuerstein cites yet another pesky doctor's opinion on ANCHOR, who contests it shouldn't be looked at until after Amarin's Reduce-It study concludes in 2016. This, on the heels of a recent study contending that fish oil has no effect on high-risk patients.
A failure to have the ANCHOR indication approved drastically cuts back on potential uses for Vascepa prescriptions. ANCHOR has been touted by longs to be the "home run" that longs have been waiting for; one that will drastically increase prescriptions and sales, and ultimately bring the share price back to where it was the last time insiders sold off shares.
I brought up exactly how important I think prescription data is in an article earlier this week:
Moving along with the launch, prescriptions had been growing adequately, picking up 10-15% each week. For the week ended last week, IMS reported a staggering pullback, with a very small 1.54% growth. Total prescriptions for the week ended 5/10 came in at 3,035, up from 2,989.

The concern here lies not so much this week, but what will happen if Amarin finds itself having several weeks of this paltry growth, or worse, regression. With Amarin holding a lofty $1 bil market cap, there's a chance slowing prescription data could be a catalyst for some investors to head towards the exits.
So, the Amarin pressure cooker continues will all eyes on prescription data this Sunday. Bulls can temporarily shut the bears down by posting another 10-15% increase week over week, indicating what we think we already know: growing prescriptions is cyclical. Bulls will be looking for bolstered data, which could help Amarin open next week's short trading up in the right direction. Bears will be looking for growth between 1% and 5%, indicating a sustained slowdown, which could ultimately start to wear badly on Amarin's stock price as unamused longs that have been holding the whole way down from $14 are shook out.
Whichever side of the Amarin debate you're on, I wish you the best of luck.
Disclosure: I am short AMRN. I wrote this article myself, and it expresses my own opinions. I am not receiving compensation for it (other than from Seeking Alpha). I have no business relationship with any company whose stock is mentioned in this article. I hold 3:1 puts to calls.