In the previous article on Chesapeake Energy (NYSE:CHK), I discussed the energy outlook in consideration of the shale gas trends and the shift made by the company to diversify its production from natural gas-only to NGL (natural gas liquids) and crude oil. Furthermore, we looked at the natural gas plays where the company concentrates its production and what these assets are bringing to the table.
The last part of this article will discuss the unconventional liquid plays owned by Chesapeake and its most important subsidiaries to have a better idea of how the company is structured. After examining the newest financial highlights of the company, we will finally look into its future outlook.
Unconventional Liquid Plays
Utica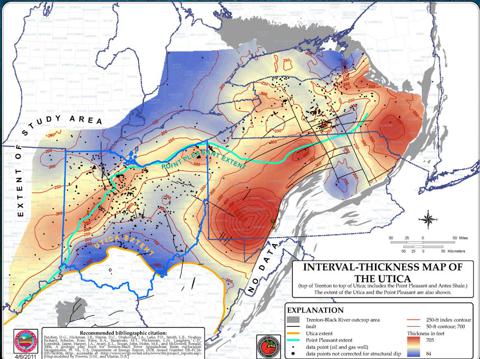 Source: Ohio Department of Natural Resources
The company holds the industry's largest position in the Ohio's Utica shale with about 1 million net acres of leasehold. Production growth is expected to accelerate this year as midstream constraints are reduced and the natural gas processing plants of two new third-parties come online. Recently, the company drilled the Coe 1H with a peak rate of 2,225Boe/d.
Chesapeake will count by mid 2013 on three processing plants for the Utica play. The Hastings processing plant has a capacity of 180Mmcf/d. The Natrium plant is projected to be online in Q2 2013 with a capacity of 200Mmcf/d with its first phase and the future system capacity is expected to reach an average of 600Mmcf/d. The first phase of the Kensington processing plant is projected to be online in mid-year 2013 with the same processing capacities of those of Natrium.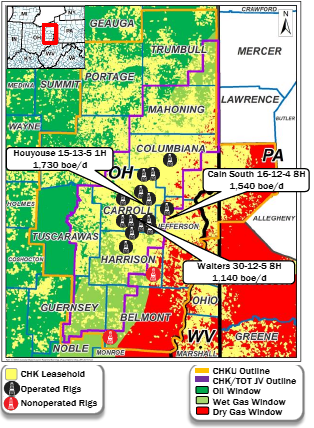 Source: Investor Presentation, April 2013
Chesapeake has drilled 184 wells in 2012. 45 of them were in production, 47 were awaiting pipelines and 92 were in various stages of completion. Currently, the company has 14 operating rigs and anticipates using 100% of the drilling carry by year-end 2014.
Eagle Ford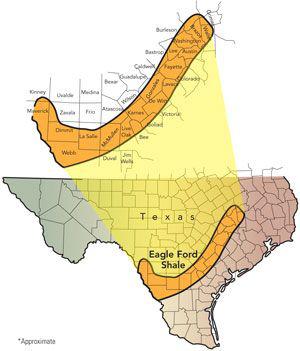 Source: MAPSearch
Eagle Ford is a key engine for Chesapeake's liquid production growth. Daily net production for Q4 2012 was estimated at 62.5Mboe/d, up 266% from 2011. 534 operated wells were in production while 98 was brought online in Q4 2012 with 92% of the wells with an input greater than 500Boe/d, and 28% at more than 1,000Boe/d. About 66% of total production during Q4 2012 was oil, 15% NGLs and 19% was natural gas. Currently, the company is operating 17 rigs.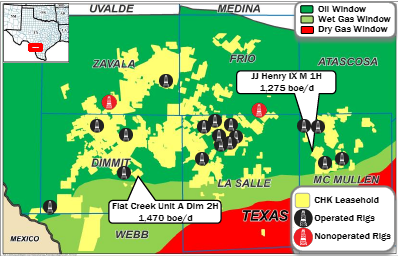 Source: Investor Presentation, April 2013
The company has benefited from premium differentials to WTI crude. Drilling and completion costs were down 30% from the peak of Q2 2011. Furthermore, spud to spud cycle times decreased from 26 in 2011 to 18 days last year. Currently, Chesapeake markets the existing leasehold and producing assets outside its core development area to monetize its non-core assets.
Mississippi Lime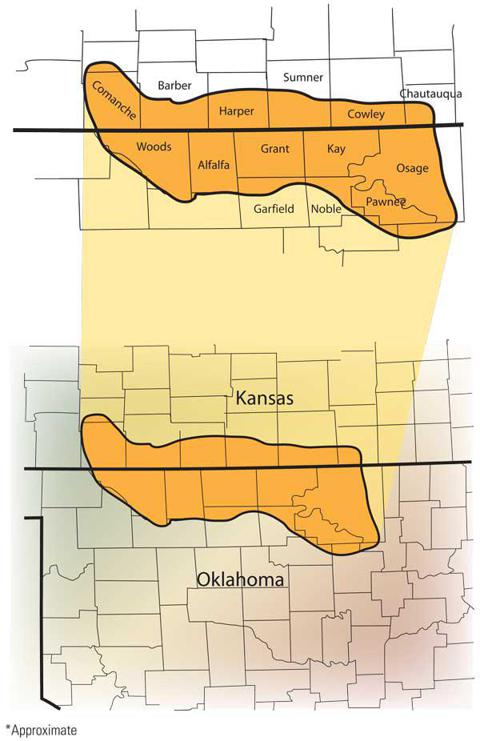 Source: MAPSearch
Chesapeake's approximate 2.1 million net acres of leasehold is the industry's largest position in the Mississippi Lime play in northern Oklahoma and southern Kansas. This horizontal play was discovered in 2007. Q4 2012 had an average net production of 34Mboe/d, up 208% from 2011. About 45% of Mississippi Lime's total production during Q4 2012 was oil, 9% was NGLs and 46% was natural gas.
Chesapeake brought online 55 wells during that period while 46 wells were drilled but not yet online. Currently, Mississippi Lime counts eight operating rigs with 273 horizontal producing wells and anticipates maintaining that level of activity for the remainder of 2013. Proved reserves are estimated at 140Mmboe.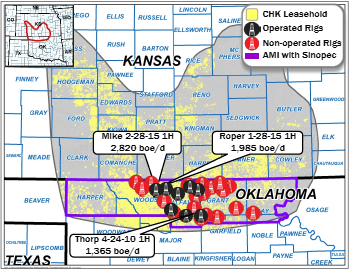 Source: Investor Presentation, April 2013
Chesapeake announced in February 2013 a joint-venture agreement with Sinopec (NYSE:SHI) or China Petroleum and Chemical Corporation, for the purchase of a 50% undivided interest in 850,000 net acres (425,000 net to Sinopec). Total consideration of the transaction is estimated at $1.02 billion in cash, 93% received upon closing subject to certain title contingencies.
Anadarko Basin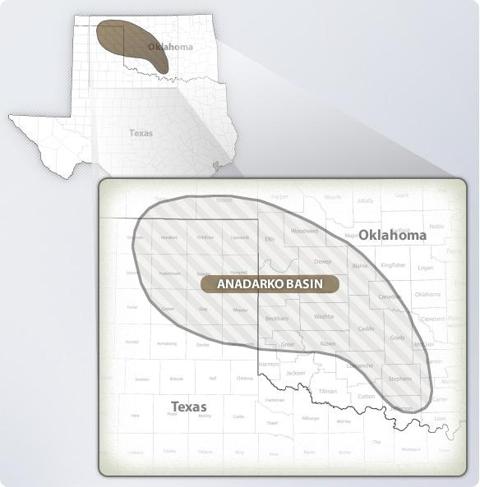 Source: Family Tree Oil & Gas Corporation
Approximately 50,000 square miles, the Anadarko Basin stretches across portions of Kansas, Colorado, Oklahoma and the Texas Panhandle. The Anadarko Basin produced Chesapeake's largest oil gusher to date with the Thurman Horn 406H well in the Hogshooter formation in Wheeler County, Texas. The well had a peak production rate of 6,780 barrels of crude oil plus 1,248 barrels of NGLs and 6.8Mcf of natural gas per day.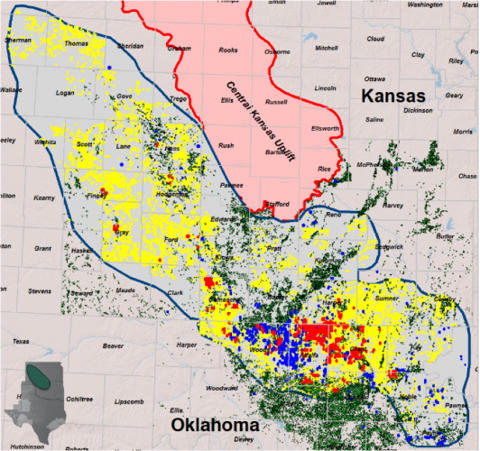 Source: SandRidge Investor Presentation
Anadarko Basin is focusing on five plays: the Mississippi Lime, Cleveland, Tonkawa, Granite Wash and Hogshooter, currently operating 29 rigs. For Q4 2012, combined production was estimated at 104.5Mboe/d. Production mix continued to get oilier, with 39% from oil in Q4 2012 compared to 36% in Q3 2012.
Niobrara Shale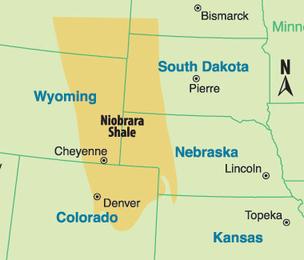 Source: Noble Energy
The Niobrara Shale is a liquid-rich formation that stretches across part of Colorado, Kansas, Nebraska and Wyoming at 3,000 to 14,000 feet below the surface. The play's productive area is roughly 120 miles wide and 125 miles long in the Powder River Basin, and roughly 100 miles wide and 240 miles long in the Denver-Julesburg or DJ Basin, both with an average thickness of 300 feet.
Chesapeake Subsidiaries
Chesapeake Energy has also vertically integrated many of its operations and owns substantial midstream, compression and oilfield services assets directly and indirectly through its more important subsidiaries: Chesapeake Energy Marketing, Chesapeake Granite Wash Trust, Chesapeake NG Ventures Corporation, Chesapeake Oilfield Services, and MidCon Compression L.L.C.
Chesapeake Energy Marketing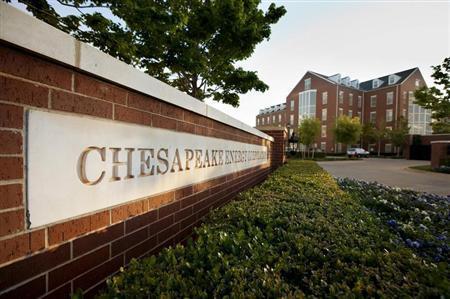 Source: Chesapeake Energy
This subsidiairy provides natural gas marketing services including commodity price structuring, contract administration and nomination services for Chesapeake and its partners. The company can offer fixed prices, floating prices and range-bound prices for the flexibility needed for energy use by its customers.
Chesapeake Granite Wash Trust (CHKR)

Source: Chesapeake Granite Wash Trust
Trading publicly on the NYSE Stock Exchange, Chesapeake Granite Wash Trust owns royalty interests in oil, natural gas liquids and natural gas properties located in Washita County, Oklahoma, which were conveyed to the Trust by Chesapeake Energy.
Therefore, 90% of the proceeds attributable to Chesapeake Energy's net revenue interest in the sale of production from 69 horizontal producing wells and 50% of the proceeds attributable to Chesapeake's net revenue interest in the sale of production from 118 horizontal development wells to be drilled by Chesapeake Energy within a defined Area of Mutual Interest.
Chesapeake NG Ventures Corporation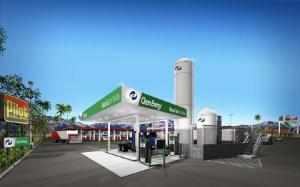 Source: Chesapeake Energy
This subsidiary was formed in 2011 to identify and invest in infrastructure and technologies that will increase demand for America's clean and abundant natural gas. Chesapeake Energy has committed at least $1 billion over the next 10 years to invest in the subsidiary's initiatives.
Furthermore, Chesapeake plans to invest approximately 1-2% of its forecasted annual drilling budget toward its subsidiary projects that will stimulate increased natural gas demand.
Chesapeake Oilfield Services (COS)

Source: Chesapeake Oilfield Services
The subsidiairy manages several oilfield services companies that help produce natural gas and oil in the U.S. From renting tools and hauling water to pressure pumping and contract drilling. Thus, the subsidiary has access to world-class technology, resources and industry experience.
MidCon Compression L.L.C

Source: MidCon Compression L.L.C
MidCon provides Chesapeake Energy with gas compressor equipment and related services including compression sizing, field operations, training and compressor fleet management. MidCon's expansion operating areas include Oklahoma, Texas, New Mexico, Kansas, Arkansas, Louisiana, West Virginia, Virginia and Kentucky.
Chesapeake Energy Financial Highlights
According to Chesapeake's Q1 2013 release, revenue totaled $3.42 billion with a realized revenue of $9.56M/Mcfe this quarter compared to $2.42 billion with a realized revenue of $7.27M/Mcfe for the same period last year, an increase of 41.3% in total revenue. However, net income for Q1 2013 reported by Chesapeake totaled $183 million or $0.30 per share compared to $257 million or $0.39 per share in Q4 2012, a considerable drop of 28.8%. The company reported operating cash flow of $1.176 billion for Q1 2013 compared to $1.146 billion in Q4 2012.
Production for Q1 2013 averaged 4Bcfe/d compared to an average of 3.9Bcfe/d the last quarter. Liquids production totaled 103,000Bbls/d for Q1 2013 compared to 147,500Bbls/d in Q4 2012.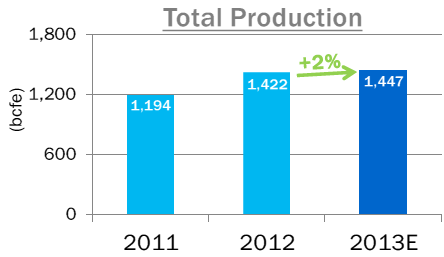 Source: Investor Presentation, May 2013
The company produced 273.1Bcf of natural gas this quarter, up from 270.8Bcf the last quarter. Production of NGL increased as well with 4.9Mmbbls over 4.3Mmbbls for Q4 2012. Total oil produced amounted to 9.3Mmbbls this quarter from 6.0Mmbbls the last quarter.
However, as reported in its 2012 annual report, Chesapeake reported a net loss to common stockholders of $940 million or a loss of $1.46 per share for the 2012 full year. Nonetheless, operating cash flow totaled $4.069 billion, production of natural gas totaled 1.422Tcfe compared to 1.194Tcfe the prior year, oil increased at 31,265Mbbls compared to 16,964Mbbls in 2011 and NGLs rose to 17,615Mbbls from 14,712Mbbls the year before.
As for its long-term debt, Chesapeake reported $10.77 billion for 2011 but it increased to $12.3 billion for 2012 and got even higher for Q1 2013 with $13.45 billion. Comparing the debt to equity ratio with its peers, Chesapeake has a ratio of 0.70, the highest of the six natural gas producers. Comparing to its industry average of 0.12, that is saying very much about the area where an improvement can be addressed. The company has been very aggressive in the last few years shifting its production from natural gas to NGL and oil liquids business. Therefore, financing its growth in liquids has been very demanding, which raised its long-term debt to previous yearly levels.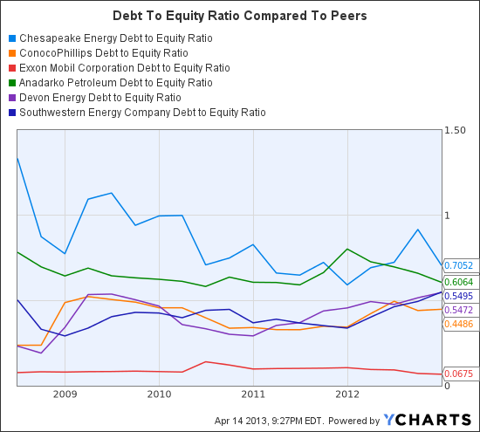 On May 16, Chesapeake has been downgraded to 'Neutral' from 'Overweight' at J.P. Morgan which cites valuation, a lack of visible catalysts and a 'perpetual funding gap' that could total $9.3 billion by 2015. The company believes that planned asset sales will help funding its cash outspend in 2013 but will need to take on debt in 2014-15.
From 2002 through 2011, Chesapeake increased its proved reserves at a 27% annualized rate to 18.8Tcf and its average daily production at a 23% annualized rate to 3.3Bcf/d (see the chart below).

Source: Investor Presentation, April 2013
For the end of 2012, proved reserves were estimated at 15.7Tcfe, managing to add 5.0Tcfe during that period.
Future Outlook
Chesapeake had a few objectives this year. It plans to improve its production mix towards more liquids and aims for about 27% in liquids' production growth for 2013 with the goal of reaching about 26% of total liquids production. This is a crystal-clear management's statement to increase even more its focus on oil and NGL. Given the assessment of the 2013 Energy Outlook of the EIA discussed in my last article, the strategy makes a lot of sense. Therefore, Chesapeake is projecting its net liquids production to average about 170,000Bbls/d this year to reach an average of 250,000Bbls/d in 2015.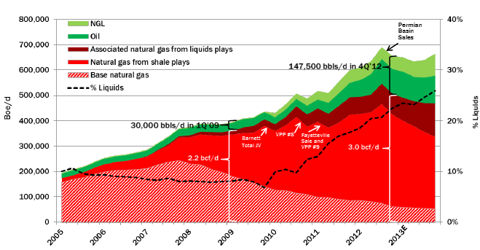 Source: Investor Presentation, May 2013
According to the company's Q1 2013 release, production of natural gas for 2013 should be in the range of 1,060-1,090Bcf, about 23,000-25,000Mbbls of NGLs and about 37,000-39,000Mbbls of oil. The estimated operating cash flow is expected to be at the range of $5.2-$5.3 billion and net income is estimated between $1.06-$1.37 billion.
Another objective is consisting to achieve its targeted capital budget reductions since large leasehold, midstream and oilfield services expenditures are no longer required to drive the creation value. D&C capex has been optimized to complete the transition to liquids, achieve tighter operational focus and reach balance between D&C capex and cash flow. Thus, D&C capex is expected to decrease as a result by 32% from 2012.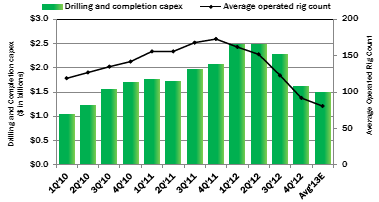 Source: Investor Presentation, May 2013
Then, as seen on the chart below that depicts this year's D&C capex allocation by play, more than 85% are focused on liquid plays.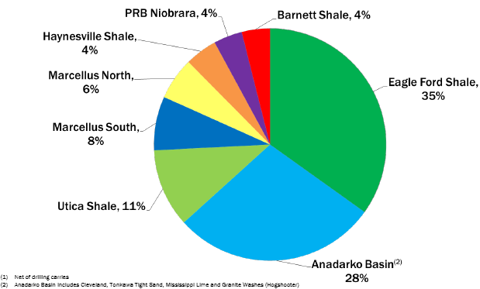 Source: Investor Presentation, May 2013
The company will try to monetize its non-core assets by targeting $4 to $7 billion of asset sales during 2013. The announced $1.2 billion joint-venture in the Mississippi Lime with Sinopec is a good example of the kind of deal sought by the management.
The firm has the objective to continue improving its capital efficiency by shifting its focus from acreage capture to resource development and leverage economies of scale from pad drilling. Finally, Chesapeake plans to go on with the reduction of its financial leverage and enhance its liquidity. By the end of 2012, the company had more than $4 billion in available liquidity.
Bottom Line
Chesapeake has done a lot in the recent years to make the transition from producing primarily natural gas and concentrate to its production towards a mix which also includes oil and NGLs. In my opinion, the move will eventually pay off more than expected since oil and NGL will bring more stability to the volatile prices of natural gas. Moreover, Going into this direction, I believe that the company will boost its earnings since prices for oil and NGL are usually higher than natural gas.
That said, Chesapeake currently offers a dividend yield of 1.69% which is lower than its industry average of 2.28% or its sector average of 2.73%. Therefore, if we look at the fact that usually, a low risk drives low dividends, I believe that a higher dividend should be offered to the shareholders to reflect the aggressiveness approach and the challenges the company are currently facing. Chesapeake didn't rise its dividend payout in more than a year and a half, with the last increase back in July 2011. Being amongst the leaders in its industry, the management should address this important component.
In conclusion, we have seen a change in management's strategy lately and I believe the company is on the right path to solidify its portfolio of assets and will benefit much more in the long term according to the 2013 IEA Energy Outlook. Nevertheless, Chesapeake managed to increase its production of natural gas last year by 19% even if management focused more on liquids, which is good news for the shareholders. Chesapeake is clearly getting somewhere with its redone strategy and it should renew with profitability this year.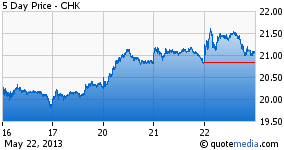 Source: Seeking Alpha
The stock's value should benefit in the short term and the stock price should be trading in the $21-$22 range to draw near the peak of $22.95 achieved on March 15th. Thus, the stock price closed at $21.10 on Wednesday, up 1.20%. Morningstar assessed a fair value of the stock at $31. Therefore, whether an investor is looking to go short to profit from the discounted price of the stock or going long for its long-term potential growth combined with its dividend payout, the move appears like a very good investment.
Disclosure: I have no positions in any stocks mentioned, and no plans to initiate any positions within the next 72 hours. I wrote this article myself, and it expresses my own opinions. I am not receiving compensation for it (other than from Seeking Alpha). I have no business relationship with any company whose stock is mentioned in this article.