As some investors may believe the market is starting to show "signs of recovery", many of the over 200 institutional firms The Applied Finance Group (AFG) works with can always take advantage of identifying mispriced securities. While some of AFG's clients might have a specific focus on growth or value, most subscribe to the practice of buying growth at a discount (growth at a reasonable price GARP) and avoiding "value traps."
In October 2008 AFG released the study, Then and Now, discussing the low expectations priced into the market
Today many world-class franchises are available at expectations reflecting a very bearish future. Over 150 companies in the S&P 500 (industrials) have negative sales growth expectations embedded into their current market valuations.
Following that study AFG issued another study, Analyzing Market Troughs and Rebounds, which pointed out that historical market recoveries have been typically dominated by value stocks.
Whether you are looking for value or more growth oriented securities, we have provided a list of companies in various asset classes, Large Cap Growth, Large Cap Value, Small Cap Growth, Small Cap Value that are currently on AFG's Buy and Sell list. If you are a professional investor and would like to view a complete buy and sell list or take a trial of AFG's valuation tools CLICK HERE.
Monthly Buy/Sell list Across the Market
The Applied Finance Group has a disciplined approach for identifying companies that are expected to outperform and underperform the market by using proprietary metrics and measurements that have been tested and proven through time. Because AFG's research is fundamentally derived, AFG's quantitative analysis spans across growth and value stocks, all sectors, industries, and market caps with over 4,500 covered securities. By using AFG's proprietary criteria, AFG publishes a monthly buy/sell list to provide clients with a refined focused list as a starting point for all investments.
This focus List of stocks has outperformed the market on an annual basis by greater than 10% with our buy portfolio and underperformed the market by 10% with our sell portfolio. AFG clients then use Value Expectations to further analyze the expectations embedded in a security's price (example of expectations embedded in the entire S&P500 over the next 5 years below) and to build out their own model to refine an intrinsic value of a company based on their own expectations.
click to enlarge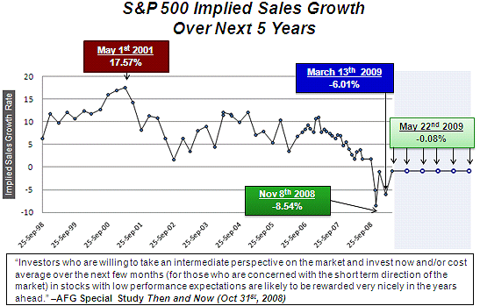 Click to enlarge

Select Companies From AFG's Current Monthly Buy-Sell List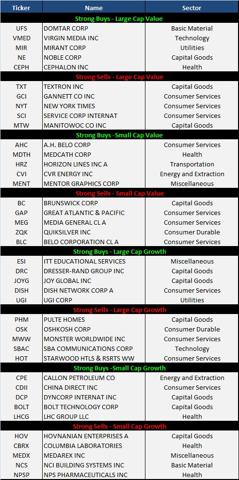 Click to enlarge
(Source: The Applied Finance Group)
Model Portfolio Buy/Sell Results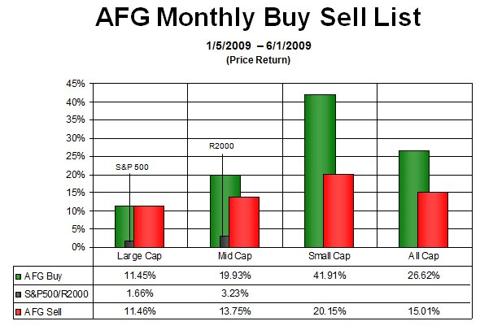 Click to enlarge
To view how AFG defines the Large/Small and Growth/Value universe click here.
A brief description of some other of AFG's insights:
AFG's Valuation Metric – Measures the percent to target (deviation between a stock's current trading price and its AFG current default target price). To derive the intrinsic value of a firm, AFG uses its proprietary Valuation Model (modified discounted cash flow model).
Economic Margin - A corporate performance measurement that addresses the gaps in GAAP, eliminating distortions caused by accounting policies to measure what a company is truly earning above or below their cost of capital.
Management Quality – Assesses management's ability to make wealth creating decisions. AFG's Value Universe - Companies in the AFG universe, which have MV/IC at the bottom 50% of the universe and have EPS estimates.