The housing market showed signs of recovery in late 2011, beginning with a sharp upturn in housing stocks in October of that year. This was followed by a small upturn in housing starts and home sales starting in early 2012. While Wall Street economists and the media are avidly reporting that a full-fledged housing market recovery is under way, my view has been that what looks like a "recovery/bull market," is more akin to a "dead cat" bounce and that the bear market in housing has a lot further to go to the downside.
With that in mind, I wanted to discuss some indicators I like to follow that, if they become full-blown fundamental trends, could be signifying the start of the next leg down in housing.
The first sign is housing starts. While the current crop of new and existing home sales reports hitting the tape are still showing some growth, assuming the seasonal adjustments are accurate, housing starts appear to be signaling possible future weakness. Housing starts should reflect a new homebuilder's expectations of future sales. April's starts were 853,000, which was 12% below the number expected by Wall Street economists and 16.5% below March's revised number. When the housing starts for April were released, it was also reported that the March number was revised lower from 1.036 million to 1.021 million. Not as strong as originally reported.
John Williams of Shadowstats.com had this comment:
April housing starts turned down sharply, possibly in some catch-up to overstated activity in earlier months. Running contrary to common experience here, however, the sharp monthly decline in housing starts activity was statistically-significant, while the corresponding year-to-year increase was not. Shadowstats.com
In other words, the drop in housing starts was likely indicative of a new declining trend that goes beyond month to month volatility in the data series.
Further bolstering the thesis that housing starts are possibly signaling housing market weakness is the stunning drop in lumber futures: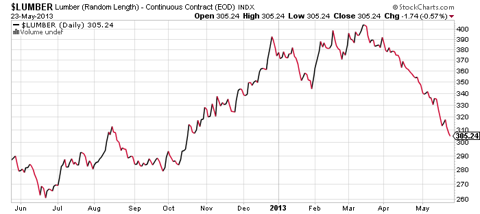 To be sure, there is seasonality in lumber prices, but lumber has plunged nearly 25% in what should be the peak season for new homebuilding and sales. Given the sharp drop in housing starts from March to April, and given the corresponding sharp drop in lumber prices, I have to believe that home building professionals are signaling lowered expectations for future new home sales. Given that the National Association Realtors has been promoting the idea of low housing inventory, one would think that homebuilders would be trying to fill the alleged inventory "gap" with copious amounts of product.
The second signal that should give the housing bulls some pause is mortgage rates and mortgage purchase applications. On Wednesday, mortgage rates not only hit a new high for 2013, but they also hit a high not seen since May 22, 2012. The ability for the average homeowner to take down a mortgage relies heavily on the rate of interest on the mortgage. As mortgage rates move higher, it squeezes more marginal potential buyers out of the market.
Not surprisingly, the effect of a steady rise in mortgage rates since the middle of April has started to show up in mortgage purchase applications. An index of mortgage refinance and purchase applications is released weekly by the Mortgage Bankers Association. I like to follow this statistic because, unlike the housing data, which go through computer-modeled statistical adjustments that are then annualize - thus potentially introducing big distortions in the data - the MBA data are based on actual applications filed. Since the last week of April, the purchase index component of the overall index has registered declines in 3 of the last 4 weeks, including Wednesday's reported decline of -3%. This should not be occurring when the housing market is entering its strongest part of the year seasonally.
What's most interesting about this statistic is that it often diverges from the statistically "cleansed" home sales numbers reported by the Census Bureau (new homes) and the National Association of Realtors (existing homes). I have found over the last 12 years of studying this sector that mortgage applications have been far more accurate in sniffing out actual housing market activity. Furthermore, it shows that higher mortgage rates will indeed be taking a toll on the rate of home buying activity.
Finally, it appears as if the cancellation rate on housing purchase contracts has started to spike quite a bit higher. I first noticed this in parsing through homebuilder 10-Qs over the last 2 quarters. However, in January the National Association of Realtors reported that 33% of all real estate agents had home-sale contracts fall through: Cancelled purchase contracts. The number one reason a contract cancels is that the financing falls through.
In general and on average, I have noticed that new home builders are reporting a 20-25% contract cancellation rate. This is up from high single-digit and low-double-digit rates last year. I recall that starting in the 2005-2006 time period, home builders were reporting cancellation rates in the high 20s and that number spiked up to high 30s right before the market collapsed. If the current cancellation rates continue to trend higher, it will likely mean the housing market is in trouble.
In summary, while it's probably a bit premature to put a fork in the housing market for good, the signals I mentioned above should give pause to anyone who is considering investing in homebuilder stocks or thinking about getting into home flipping. I have a lot more data and observations that I plan on covering in some future housing market articles, including evidence that "hot" housing markets are starting to cool off fairly rapidly.
In the meantime, if you want to take a shot at high-ticking the housing market by shorting the sector, my favorite current individual equity to short is D.R. Horton (NYSE:DHI), which I reviewed here: DR Hortion is a short. I liked it as a short then, I love it now. You can also make a generic short bet on the housing market by buying puts on XHB (SPDR homebuilders index) or ITB (iShares Dow Jones Construction Index).
Disclosure: I am short DHI. I wrote this article myself, and it expresses my own opinions. I am not receiving compensation for it (other than from Seeking Alpha). I have no business relationship with any company whose stock is mentioned in this article.