One of the greatest and most well known rivalries in America is United Parcel Service (NYSE:UPS) versus FedEx (NYSE:FDX). These two corporations are competing fiercely for customers in the transportation services industry.
Performance and Operations
The last reported annual revenue of UPS was an impressive $54.42 billion. FedEx, on the other hand, "only" notched $43.86 billion. At first glance, one is likely to think that UPS is the more dominant of the two companies. But with further examination, something quite phenomenal can be seen. Despite the fact that UPS made $10 billion dollars more in revenue than FedEx, the latter company still manages to bring in a greater profit. The net income reported by FedEx was $1.80 billion compared with $874 million for UPS. This, without a doubt, shows that FedEx is providing greater value to shareholders. Hence FedEx's earnings per share of 5.71 compared with the humbling 0.90 for UPS.
In the past 10 years, UPS has seen net income jumping around somewhat unpredictably. It has fallen and risen numerous times, and currently seems to be spiraling downward. FedEx, on the other hand, took only one tumble around 2008-2009, and has otherwise experienced consistent and impressive growth, which seems to be a pattern that is currently active for the company. The chart below clearly illustrates the patterns I have pointed out.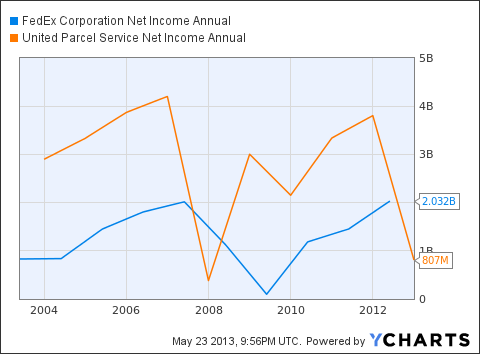 FDX Net Income Annual data by YCharts
Effectiveness of Management
Based on the information that has already been discussed, it should be clear that FedEx does a much better job of managing revenues and assets than its primary competitor. But there is even more statistical data that supports this idea. FedEx, led by Frederick W. Smith, has a return on assets of 6.40% compared with the 2.18% of UPS, led by Scott Davis. FedEx has a debt-to-equity ratio of 13.92. This might not seem too great, but it's fantastic in comparison with that of UPS, a disappointing 314.57.
Despite the generally greater success of FedEx compared with UPS, the last quarter's reports would lead to different conclusions. In the transportation industry, profitability and efficiency are major measures of success. In the last quarter for FedEx, when compared with the corresponding quarter of 2012, the revenue per package fell about 4%. For UPS, the revenue per piece increased by .4%. Despite this, FedEx still experienced impressive growth in the quarter. Ground segment revenues were up 11% (3 months ended), freight revenues were up 3% (9 months ended), and express segment revenues were up 2%. The segment revenue changes were as follows for UPS:
Ground: 4.7%
Deferred: -1.0%
Next Day Air: .6%
This growth shows that things weren't all bad for FedEx in the last quarter, as its revenue growth outpaced that of UPS.
Price Valuation
FedEx is currently trading at only 17.35 times earnings, while UPS is trading at 97.01 times earnings. The price-to-book ratio of UPS is an unattractive 20.70 while FedEx is looking cheap with a 1.96 ratio. FedEx also beats UPS in respect to price/sales: 0.72 versus 1.53. Surely, FedEx is at a much more enticing price than UPS.
Despite what some of the statistics from each company's most recent 10-Q have led investors to believe, FedEx is operating in a much more successful manner than UPS. Also, the current price of the company's stock offers a much better margin of safety than that of UPS. By the majority of the aspects that have been discussed, FedEx has clearly prevailed as the more attractive investment.
Disclosure: I have no positions in any stocks mentioned, and no plans to initiate any positions within the next 72 hours. I wrote this article myself, and it expresses my own opinions. I am not receiving compensation for it (other than from Seeking Alpha). I have no business relationship with any company whose stock is mentioned in this article.