By Robin Wauters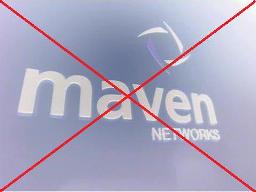 At the beginning of last year, Yahoo (NASDAQ:YHOO) made a fairly large acquisition with the purchase of online video distribution and advertising platform provider Maven Networks. Under the terms of the agreement, which we reported as a rumor the same day the papers were signed, the company acquired the startup for approximately $160 million. At the time, the press release touted the acquisition to lead to an expansion of the "state-of-the-art consumer video and advertising experiences on Yahoo.com and Yahoo's network of leading premium video publishers across the web".
Now we've learned Yahoo is going to kill Maven Networks instead, the most recent in a long series of deadpooling of products and services by the Sunnyvale Internet behemoth. A tipster, who works for an unnamed large media company, tells us that he has been a Maven customer for years and was informed last week that Yahoo will cease all development on the platform and will no longer be supporting it in 2010.
We've confirmed with another source that Yahoo has effectively decided to shelve Maven, firing most of its employees in a move packaged as a restructuring and has already notified customers that the product will soon no longer be supported as from next year. Furthermore, the source tells us that the Maven technology has never even been used for Yahoo's own video properties, underscoring why the quote I lifted from the press release in the first paragraph of this post sounds so void today.
Rest assured that competitors like Brightcove, Ooyala and KIT Digital are celebrating over the news.
This is the third video property Yahoo has killed off in less than 8 months, after shutting both Y!Live, a live video streaming service, and Jumpcut, an online video editing tool. Remarkably, Yahoo CEO Carol Bartz recently declared on stage at a conference that the company is actually still interested in acquiring startups in the business of digital video technology.
One month and the shuttering of a $160 million video technology acquisition later, it's close to comical reading those words again. Then again, Yahoo's prospects and financials at the time the acquisition was made sure looked a whole lot better than they do today, so maybe it's just too easy to judge the move in hindsight.
Either way, Maven Networks is now a member of the deadpool club.