It seems that the average retail investor has kept their wits about them amid the recent stock market frenzy. One of the grand investment themes entering into 2013 was the "Great Rotation" where timid bond investors would finally be lured out of the darkness to resume risk taking in the stock market. Another prognostication was that the woebegone retail investor that had been burned twice before from 2000 to 2002 and again from 2007 to 2009 only to miss the rally all the way back to fresh new highs this time around would finally return to the stock market in force. But as we stand five months into the New Year, neither of these outcomes has come to pass. Instead, the one thing that we are increasingly learning about the retail investor is that they won't get fooled again by the stock market.
The rally in stocks has been relentless in recent months. After bottoming in mid November 2012, stocks as measured by the S&P 500 Index (NYSEARCA:SPY) have surged higher by a remarkable +23%. Clearly, if the stock market is performing so well, it must be at least in part due to retail investors flooding back into the stock market, right? To the contrary, this is not at all the case. Since the November 2012 market bottom, domestic stock mutual funds have experienced net outflows of -$11 billion according to the Investment Company Institute (NYSEARCA:ICI). And while much of these net outflows did occur in December and were partially offset in January, it is worth noting that since the beginning of February, domestic stock mutual funds still experienced net outflows of -$3 billion.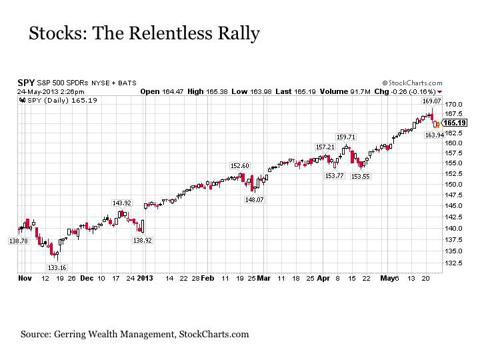 So let me get this straight. The stock market has been soaring higher at the same time that money has been draining out of domestic stock mutual funds. And no, it's not that money is instead flooding in from domestic equity exchange traded products, as these numbers are effectively neutral at best. This is curious development to say the least, but this is nothing new. In fact, it is a continuation of a trend that we have seen unfolding since March 2009. After the stock market and domestic stock mutual fund outflows were trending lower in unison as one should reasonably expect, the stock market in March 2009 suddenly broke away and began surging higher even though fund flows continues their steady descent. Of course, the timing of this shift was no coincidence, for it was in March 2009 that the U.S. Federal Reserve began U.S. Treasury purchases as part of their QE1 stimulus program. In short, money printed from the Fed has been plugging the gap that continues to be left behind by the retail investor.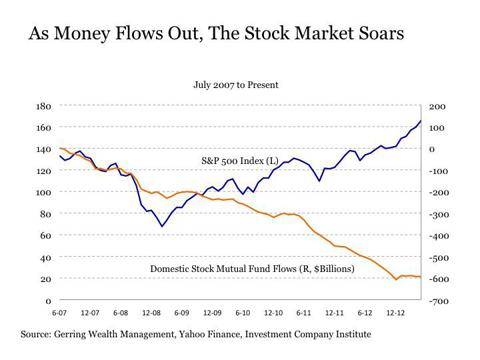 Thus, a massive disconnect has been created over the last several years. As investors have steadily walked away from the stock market, it has become increasingly inflated by artificial stimulus from the Fed. This leads to an important conclusion that is not at all lost on many retail investors today. If they have already been burned twice by stocks over the last decade, and the market that they are seeing today is completely disconnected from the economic reality that they are not only witnessing all around me but experiencing themselves, why would they want to even think about getting back into it today? If anything, they feel like they have already missed it and are instead taking anything remaining in the stock market off the table with each passing month.
But it wasn't supposed to be this way. Doesn't the allure of strong gains and quick money always suck the retail investor back in to drive the next leg higher in stock prices? Not this time around it seems, for the Fed does not backstop the retail investor with the ability to assume undue risk with the implicit knowledge that any losses can be absorbed by the system. Instead, if the retail investor suffers losses, the money is simply gone and their financial state becomes potentially impaired as a result. In short, many retail investors simply cannot afford to take the risk and they won't be fooled again.
This is one of the core fundamental problems with the Fed's dogged persistence in trying to stimulate the markets, as it is leading to the exact opposite result from what they are trying to achieve at least as it relates to the general investment public.
So where has the retail money been going since November if not into the stock market? It has been flooding into the bond market. Since the stock market rally began late last year, bond mutual funds have received net inflows totaling +$104 billion over this same time period. But one would certainly not know it by looking at the performance of the bond market over this time period. For while the stock market has been soaring relentlessly, the domestic bond market as measured by the iShares Core Total Bond Market ETF (NYSEARCA:AGG) has been down by -0.5%. And this modest decline is taking place despite the fact that investors have deposited more than $100 billion in new money into the category. This widening disconnect only adds to the skepticism among retail investors about capital markets today.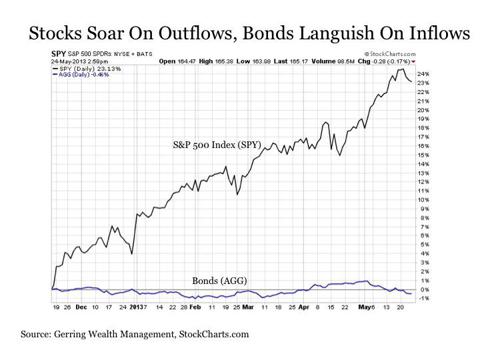 So what is the average retail investor to do today given the massive distortions that now exist thanks to the persistently aggressive monetary policy being applied by global central banks? The best approach continues to be diversified and to stay hedged. Whether we agree with it or not, the stock market is likely to continue driving higher as long as monetary stimulus continues to flow like Cuervo into the financial system. Thus, an allocation to stocks is certainly worthwhile. To help manage against the potential for downside risk that could present itself on any given trading day, however, an emphasis on high quality, attractive valuations, current income, low price volatility and strong technicals is a prudent approach. Representative names in this regard include ExxonMobil (NYSE:XOM), International Business Machines (NYSE:IBM), General Electric (NYSE:GE), McDonald's (NYSE:MCD), Oracle (NASDAQ:ORCL), Emerson Electric (NYSE:EMR), Qualcomm (NASDAQ:QCOM) and Cisco Systems (NASDAQ:CSCO). Broadly diversified ETFs such as the Vanguard Dividend Appreciation ETF (NYSEARCA:VIG) for U.S. exposure or the Vanguard Total International Stock Index ETF (NASDAQ:VXUS) for non-U.S. exposure also makes sense in this regard.
It should be noted that any such stock allocations should be held in proportion to other asset classes in order to mitigate downside risks. Complementary asset classes worth consideration include traditional core bond exposures such as the PIMCO Total Return ETF (NYSEARCA:BOND), municipal bonds such as the PIMCO Intermediate Term Municipal Bond ETF (NYSEARCA:MUNI) and global inflation protected bonds such as the PIMCO Global Advantage Inflation-Linked Bond ETF (NYSEARCA:ILB). For those that are seeking a more direct hedge against stock market downside, long-term U.S. Treasuries (NYSEARCA:TLT) and Build America Bonds (NYSEARCA:BAB) are both ideal alternatives. And although the asset class has endured a very difficult stretch in recent months, precious metals such as gold (NYSEARCA:GLD), silver (NYSEARCA:SLV), platinum (NYSEARCA:PPLT) and palladium (NYSEARCA:PALL) all continue to provide long-term diversification benefits. While owning the physical is ideal, for those interested in owning these metals within an investment portfolio, the Central GoldTrust (NYSEMKT:GTU), the Central Fund of Canada (NYSEMKT:CEF), the Sprott Physical Gold Trust (NYSEARCA:PHYS), the Sprott Physical Silver Trust (NYSEARCA:PSLV), the Sprott Physical Platinum and Palladium Trust (NYSEARCA:SPPP) and Silver Wheaton (NYSE:SLW) are all suitable choices.
Investment markets are as perplexing as ever today thanks to the ongoing distortions caused by global central bankers. And while it seems that the retail investor understandably won't get fooled again by the stock market, the opportunity does continue to exist for investors to still participate in across broad investment markets through a disciplined, risk controlled framework.
This post is for information purposes only. There are risks involved with investing including loss of principal. Gerring Wealth Management (GWM) makes no explicit or implicit guarantee with respect to performance or the outcome of any investment or projections made by GWM. There is no guarantee that the goals of the strategies discussed by GWM will be met.
Disclosure: I am long CSCO, GE, XOM, MCD, IBM, QCOM, ORCL, EMR, VIG, VXUS, TLT, BAB, BOND, MUNI, ILB, GTU, CEF, PHYS, PSLV, SPPP, SLW. I wrote this article myself, and it expresses my own opinions. I am not receiving compensation for it (other than from Seeking Alpha). I have no business relationship with any company whose stock is mentioned in this article.