ETF Spotlight on the Arrow Dow Jones Global Yield ETF (NYSEARCA:GYLD), part of an ongoing series.
Assets: $80.1 million.
Objective: The Arrow Dow Jones Global Yield ETF tries to reflect the performance of the Doe Jones Global Composite Yield Index, which follows a multi-asset strategy comprised of an equally weighted exposure across five global yield categories, including global sovereign debt, global corporate debt, global alternatives, global real estate and global equities.
Holdings: Top holdings include Surgutneftegaz 1.1%, Kon KPN 1.0%, Hospitality PPTYS 0.8%, Martin Midstream Partners 0.8% and Inland Real Estate Corp 0.8%.
What You Should Know:
ArrowShares sponsors the funds.
GYLD has a 0.75% expense ratio.
The fund has 148 holdings and the top 10 make up 8.1% of the overall portfolio.
As of March 31, sector allocations included financials 24.0%, government 20.0%, telecom 8.6%, oil & gas 19.4%, basic materials 7.4%, utilities 4.6%, consumer services 4.6%, industrials 4.7%, technology 2.7%, consumer goods 2.7% and health care 1.3%.
As of March 31, top country allocations included U.S. 39.5%, Australia 6.0%, South Africa 4.1%, Hungary 4.0%, Singapore 3.3, Venezuela 3.3%, Spain 3.3%, Portgual 3.3% and France 3.3%.
As of March 31, currency exposure included U.S. dollar 56.2%, euro 18.4%, Australian dollar 6.0%, Singapore dollar 3.3%, South African Rand 2.7%, New Zealand dollar 2.7%, Hong Kong dollar 2.0%, Canadian dollar 1.4% and Polish zloty 1.3%.
The ETF has a 60.2% position in equities and a 39.77% allocation toward fixed-income assets.
GYLD has a distribution yield of 6.34%.
The fund is up 2.7% over the past month, up 6.9% in the last three months, up 8.8% year-to-date, and up 25.9% over the past year.
"We have seen that the majority of income-oriented investors today desire yield, but not necessarily at the expense of returns," Joseph Barrato, CEO of Arrow Investment Advisors, said in a note. "We advocate a global approach to yield that incorporates both traditional and alternative sources of income, along with growth potential."
"In addition to the broad diversification afforded by GYLD, we appreciate the way the portfolio is managed," Bill Sowell, President of Sowell Management Services, said in a notes. "GYLD's index is active by nature and offers efficient exposure to attractive sources of global yield."
The Latest News:
Broad U.S. stocks continue to break record highs.
"Central bank support and the lack of choice elsewhere appear to be the main reasons equities are now on a charge," Andrew Lapthorne, quantitative strategist at Société Générale, said in a Financial Times article. "The mood is increasingly turning towards fear of a 'melt-up' in equity prices rather than a collapse back down towards disappointing fundamentals."
According to PIMCO's global co-head of emerging markets portfolio management, Ramin Toloui, we are in a new era for global bonds, and everything investors previously knew is wrong, writes Jason Voss for Enterprising Investor.
Specifically, emerging markets are running positive current account balances; emerging market international reserves are at $8 trillion; G20 debt-to-GDP has risen to 120%, compared to emerging markets' debt-to-GDP of around 30%; large unemployment rates in developed economies; rapid growth in emerging markets.
Arrow Dow Jones Global Yield ETF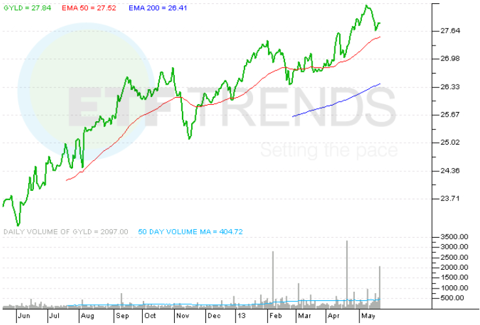 Click to enlarge
Max Chen contributed to this article.
Disclosure: I have no positions in any stocks mentioned, and no plans to initiate any positions within the next 72 hours. I wrote this article myself, and it expresses my own opinions. I am not receiving compensation for it. I have no business relationship with any company whose stock is mentioned in this article.