After more than a year, I am back in Highway Holdings (NASDAQ:HIHO), a Chinese manufacturer of parts, components and sub-assemblies. First, a word of caution: this is a very thinly traded stock. When I placed my order last week, the bid was at $1.26 and the ask at $1.39 — roughly a 10% spread. It took all day just to fill my initial buy of 10,000 shares.
Stocks trading that thinly require a whole new level of patience, but can be quite rewarding. Yesterday is a good case in point. With volume edging over 60,000 shares — a heavy day for HIHO but a pittance for most stocks — shares rose over 23%. The leap even put the stock on Monday afternoon's Century Club scan,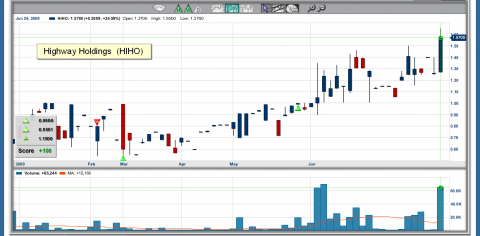 I have no idea what catalyst caused yesterday's action, but its easy to see why HIHO shares were more likely to rise than fall. Even after yesterday's jump, HIHO trades below its cash position of $1.80 per share. Shareholder equity is nearly $3.00 per share, and while results have suffered along with the global company, Highway Holdings was profitable last quarter. Roland Kohl, President and CEO gave this outlook:
Despite a worldwide economic slowdown, the company was able to achieve an increase in net sales in fiscal 2009 and return to profitability. However, demand for manufacturing services in the short term is still weak and is not expected to regain momentum until our international customers gradually start increasing their orders to restore depleted inventories to meet anticipated consumer demand as the global economy slowly recovers. The business environment, near term, therefore, continues to be challenging and unpredictable — with sales for the first fiscal quarter expected to be soft, based on current order flow. Nonetheless, we believe that the company is well-positioned to capitalize on its solid financial footing and operational strengths to maintain and hopefully increase existing business, as well as capture business from those competitors that may not be able to survive the turmoil.
HIHO's move could have legs. With one of the lowest enterprise value-to-sales ratios in the microcap universe, even a small operational improvement could dramatically affect earnings.
DISCLOSURE: Long HIHO. Also long one worn copy of Highway 61Revisited, and deeply apologetic for the title to this post.