In July of 2012, I wrote an article touting the great position that Eaton Corporation (NYSE:ETN) had put itself in to be a great investment for years to come. I still hold to this premise and believe that the company will continue to perform well. However I believe that its stock (currently around $68) may be getting ahead of itself. The stock has gone up over 20% since mid-April, and I can't understand why.
What were the catalysts for the huge move? The most recent quarter showed an increase in earnings of 22%, thanks in part to the Cooper acquisition, but the company fell short of the revenue prediction. Also, the CEO (Sandy Cutler) didn't exactly sound confident about the state of the global economy in the earnings report. He said, "Our markets in the first quarter were lower than a year ago, reflecting a continuation of the sluggish economic conditions experienced in many parts of the world during the second half of 2012." He also went on to say that the results for the rest of the fiscal year would depend more on Eaton's execution than on global economic growth.
I'm afraid that investors may be anticipating the improving economy may not be as strong as they are counting on. Eaton is a very global company and recent weakness in Japan and China sent the markets in those nations reeling. Thursday, the Nikkei index dropped 7.5% and Hong Kong and Europe showed 2%+ drops each. It was said that weaker than expected factory data out of China caused the drop.
I remember not too long ago watching Eaton's stock drop along with Chinese companies when there was weakness last year, and perhaps this is a warning of things to come. As Cutler said, global economic conditions will not spur on growth within the company, it will be based on how well Eaton can execute its business plan. Perhaps Eaton can execute well enough to make up for weak economic data in the electrical sector of their business, but it has not demonstrated the consistency in its other business segments recently. It could possibly be an excellent opportunity to take some money off the table and take some time to let the over-priced stock come down.
Don't get me wrong. I loved the Cooper acquisition and how it has increased the size of Eaton's electrical division. However I believe that the benefits of adding Cooper to the portfolio has already been priced in. My premise for adding Eaton as a value purchase a year ago has run its course.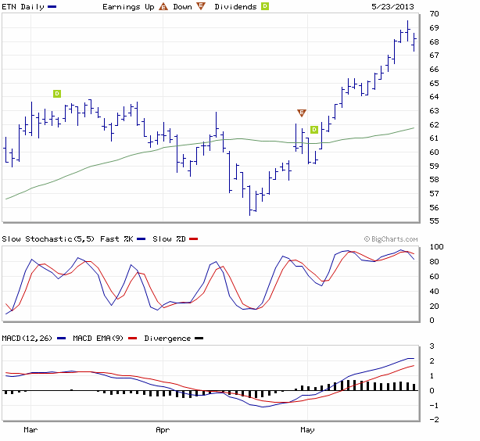 Charts by marketwatch.com
Looking at the charts, all my technical indicators are showing the stock to be in an overbought state. The slow stochastic has crept toward 100 and has begun to turn downward. The MACD is showing a reduction in divergence. It is currently trading 10% above its 50-day moving average and a whopping 25% above the 200-day SMA.
These are all signs that it might be time to scale back on Eaton stock. This is still a high quality stock, but the signs are pointing to the distinct possibility that it is going to take a breather. When Eaton falls back closer to the 50-day SMA, it will be time to evaluate whether to repurchase the amount of stock sold.
Disclosure: I have no positions in any stocks mentioned, and no plans to initiate any positions within the next 72 hours. I wrote this article myself, and it expresses my own opinions. I am not receiving compensation for it (other than from Seeking Alpha). I have no business relationship with any company whose stock is mentioned in this article.