By Sumit Roy
Commodities traded in a mixed fashion this week. Natural gas took the lead position, while gold and silver rebounded modestly. On the other hand, copper and oil sagged along with stocks. The S&P 500 shed more than 1%, taking its year-to-date gain down to 15.5%.
Macroeconomic Highlights
Fed commentary dominated the headlines this week. On Wednesday, minutes of the Fed's May 22 meeting showed that a number of Fed officials were contemplating paring back or ending the central bank's quantitative easing (QE) programs as soon as June, assuming the economy showed signs of sustained growth.
At the same time, in his testimony in front of Congress, Ben Bernanke sent a mixed message. The Fed chairman said that ending QE prematurely would "carry a substantial risk of slowing or ending the economy recovery." However, he conceded that the bond purchases could end by this fall if the job market continues to improve. "If we see continued improvement, and we have confidence that it is going to be sustained, we could in the next few meetings take a step down in our pace of [bond] purchases," said Bernanke.
The U.S. 10-year bond yield spiked to two-month highs above 2% in response to the Fed news. In other interest rate movements, Japan's 10-year government yield spiked as high as 1%, more than doubling from 0.44% a month ago, on concerns about the Bank of Japan's unprecedented monetary policies. That helped push Japanese stocks down by 7% on Thursday. Finally, HSBC's China Flash Manufacturing PMI fell from 50.4 to 49.6 in May. The decline puts the index below the 50 mark that separates contraction from expansion.
Commodity Wrap
| | | |
| --- | --- | --- |
| Commodity | Weekly Return | YTD Return |
| Natural Gas | 4.43% | 26.57% |
| Soybeans | 2.21% | 4.37% |
| Wheat | 2.20% | -10.28% |
| Gold | 2.13% | -17.12% |
| Silver | 1.26% | -25.77% |
| Corn | 1.07% | -5.44% |
| Platinum | -0.27% | -5.76% |
| Copper | -0.90% | -9.86% |
| Palladium | -1.65% | 2.92% |
| Brent | -1.83% | -7.55% |
| WTI | -1.98% | 2.50% |
Gold rebounded this week after prices failed to break down below the April lows at $1,322. Prices dipped into the mid-$1300 range on several occasions, but buyers emerged each time. On the flip side, gold has had trouble breaking above $1,400. In the very short term, that puts gold in a narrow $1,350 to $1,400 range, and a break past either level would be a signal of which way the yellow metal will head next. A breakdown would likely lead to a test of $1,322 and an eventual move to much lower levels, while a break higher would lead to another run at the $1,485 and $1,525 levels.
Gold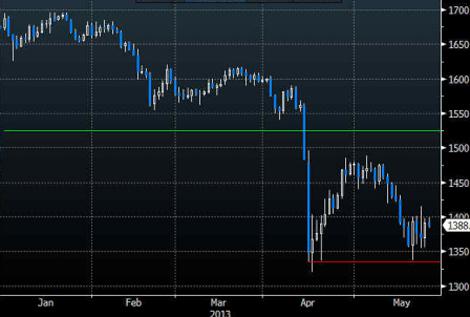 Silver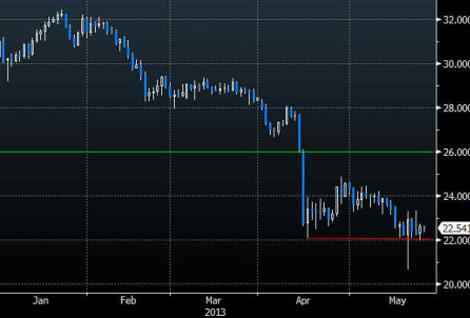 Platinum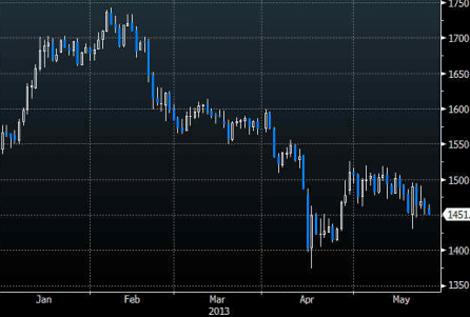 Palladium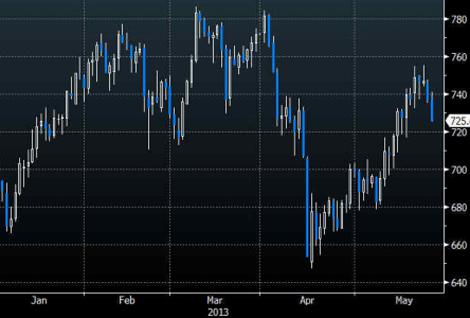 Crude oil sagged amid this week's broad-based concerns about Fed monetary policy. If stocks continue to pull back, look for Brent to fall toward its April low near $97 (see also "Oil's Underperformance Signals Much Lower Prices When Stocks Correct").
Brent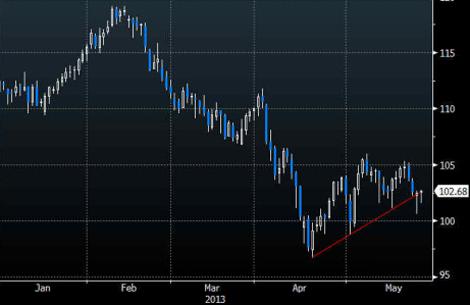 WTI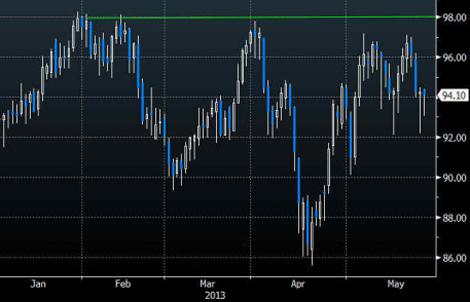 Grains managed to rally, despite the fact that farmers made significant progress in the pace of plantings over the past week. On Monday, the USDA said that corn plantings were 71% complete, up from 28% last week but behind the five-year average of 79%. Soybeans plantings were 24% complete, up from 6% a week ago.
Overall, the sector is range-bound, as can be seen from the charts below:
Corn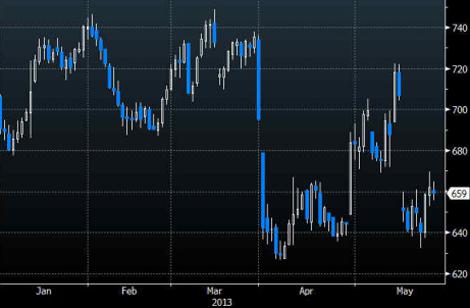 Soybeans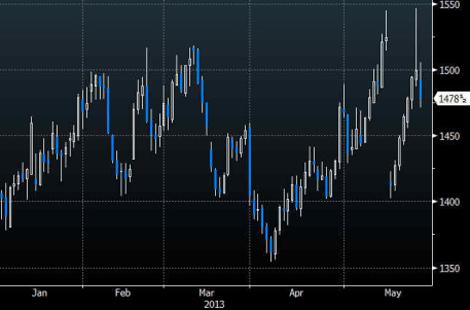 Wheat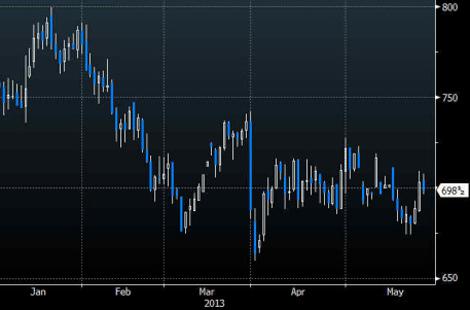 Copper was dragged lower by familiar China growth concerns. The sub-50 reading on the HSBC Flash Manufacturing PMI weighed on sentiment.
Copper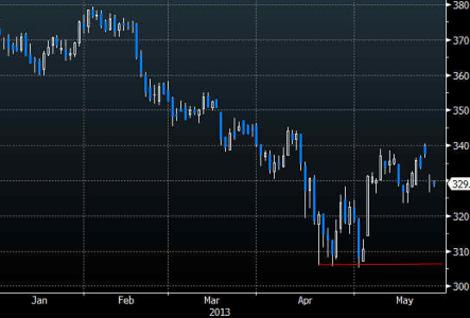 Natural gas was the top-performing commodity this week. Much-warmer-than-normal temperatures and strong structural demand should keep prices climbing toward the $4.40 resistance mark (and higher), as we explained in a report this week (see "Small Inventory Builds Put Natural Gas Bull Back On Track, Prices Poised To Break Above $4.40").
Natural Gas