Ryanair (NASDAQ:RYAAY) just announced record annual profits of €569 million ($736 million). It expects to break that total this financial year, with predicted profits of between €570 million ($737 million) and €600 million ($776 million). The Irish airline had 79 million passengers last year and it plans on expanding that number with an aggressive expansion strategy, including a number of new routes and with legacy airlines in their sights. Importantly, with Europe deep in economic crisis still, increasing numbers of passengers choose to fly low-cost with Ryanair. With a P/E ratio of 18.52 compared to the industry average of 12.43, according to Reuters, the future looks very bright for Ryanair.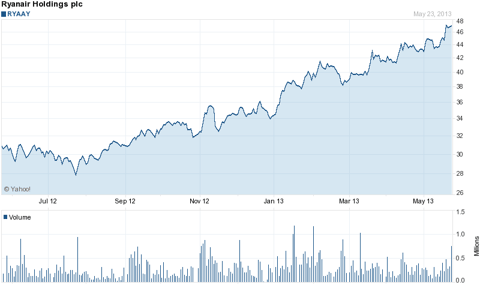 Click to enlarge
Growth Potential
Ryanair is planning to significantly expand its operation at Dublin airport, according to recent report in the Irish Independent. While rumors of a move across the Atlantic persist, they are not on the agenda right now, as Chief Executive Michael O'Leary asserts that with Europe, Ryanair has its hands full for the foreseeable future. This could very well happen in the future though. Top of the airline's growth strategy is an aggressive expansion into Northern Europe, namely Scandinavia, intending to increase traffic by 25% over the next five years.
The airline will undoubtedly pounce on the likely failings of rival companies, though this is also an area where easyJet will be eager to move in. Spanair is gone as is Malev Zrt, two former Ryanair rivals. Air France-KLM (OTCPK:AFLYY) and Iberia are in trouble, among other European airlines. Ryanair will take advantage of such weaknesses in its aim of becoming Europe's out-and-out dominant short-haul carrier. As other airlines cut routes, airports are now looking to Ryanair to take up the newly available airport space. As a result of this, with "opportunities opening up in Germany, Scandinavia and Central Europe" in particular, Ryanair's deputy chief executive, Howard Millar sees the Irish company increase its market share from 15 percent to 20 percent before the end of the decade.
Michael O' Leary
Love him or loathe him, the divisive mastermind behind Ryanair's incredible rise, Michael O'Leary, is an astute, opportunistic pragmatist, who continually pushes his company forward. This is the guy who reportedly gets up at 5am every morning ready for work, and bought himself a taxi license to snake through the streets of Dublin in order to avoid traffic. When Iceland's volcano eruption of 2010 made much of Europe's airspace a no-fly zone, O'Leary had planes flown through the ash clouds hanging in the sky to prove that there was no effect on plane engines, the belief which had led governments to enforce the no-fly decision.
He has proven time and again his adaptability and pragmatism in the face of adversity. O'Leary is the man behind the success of Ryanair and, as long as he is at the helm, we are likely to see Ryanair rising in value, though he has repeatedly said that he would leave Ryanair within a few years.
Risks
EasyJet with a market cap of 5 billion pounds sterling ($7.4 billion) and other low-cost airlines including Vueling, will continue to offer stiff competition to Ryanair, though the Irish airline still remains the cheapest out of all budget airlines. Unlike Ryanair though, other airlines do not focus on enticing customers through low fares alone, but on other areas, especially customer service. Vueling, a more expensive option than Ryanair though still a budget airline, won the Best Airline of the Year award at the annual Budgie Awards. It also won three other awards. Last year the young Spanish airline won the award for Most Innovative Company. EasyJet has announced that it is about to close a deal with Boeing or Airbus for a significant order of new aircraft. Ryanair cannot take its competition for granted.
Though Ryanair has an incredible number of customers at 79 million last year alone, it has likely driven many more away, into the arms of other airlines. The simple fact is that Ryanair is not very well liked. The company regularly makes headlines for surcharges and add-ons to fare prices. A customer cannot book a flight without a barrage of advertising on its website, advertising that is impossible to sidestep as each product or service offered must be opted out of by the customer. Moreover, Ryanair has made headlines for leaving passengers stranded at wrong destinations and has a more than questionable reputation when it comes to issuing refunds. This is a real concern for shareholders, as Ryanair risks losing more customers to other airlines.
Ryanair's relentless rise looks to continue through to 2014 and likely beyond. It also intends to offer a dividend or share buyback in December of next year. The Irish company will have to keep a close eye on its main competitors and ensure that it can capitalize on new route opportunities as other airlines shut their routes. With significant expansion an almost certainty and with that, increased profit margins, Ryanair is a hold.
Disclosure: I have no positions in any stocks mentioned, and no plans to initiate any positions within the next 72 hours. I wrote this article myself, and it expresses my own opinions. I am not receiving compensation for it (other than from Seeking Alpha). I have no business relationship with any company whose stock is mentioned in this article.