With the most recent reports for key competitors of Apple (NASDAQ:AAPL), the news is more bleak than expected, causing consternation and frustration for those looking for an Apple rebound. There are simply no catalysts in the pipeline or existing products that will change the course of the giant tech company in the near term.
It's surely not going to be some type of iWatch, and Microsoft (NASDAQ:MSFT) is already taking the lead over the non-existent Apple TV. If and when Apple ever gets an Apple TV out there, Microsoft will have already moved to another stage with its Xbox One, which is poised to be what Apple TV was hoping to be.
That of course leaves its iPhone as the core product of the company - both now and in the next couple of years - and that isn't a compelling story at all.
Samsung Electronics
Samsung (OTC:SSNLF) continues to grow its brand exponentially, as its latest entry in the smartphone market - Galaxy S4 - has surpassed its predecessors in just its first month of sales.
In 2012 the Galaxy III took 50 days after launch to reach 10 million in sales, while the Galaxy II took five months to reach that sales level. The Galaxy X took a full seven months to reach the 10 million mark in sales.
Available in 110 countries, Samsung has plans to slowly release it in 155 countries.
Samsung isn't sitting back either, basking in its success. It has plans to offer a variety of colors for customers to choose from, beyond its current White Mist and Black Forest.
The addition of software like Air View and Air Gesture in order to make it easier to interact with the phone is also a nice touch.
All of this is working for Samsung, which had a 30.8 percent share of the smartphone market in the first quarter, according to research firm Gartner. Apple's market share in the first quarter was 18.2 percent.
The future of smartphones is Android, and research firm Strategy Analytics says Samsung has captured 95 percent share of all Android profits in the first quarter. Android profits in the smartphone sector accounted for 43 percent of all operating profits in the first quarter.
Lenovo
Lenovo (OTCPK:LNVGY) has quietly moved from being a computer company, as evidenced by its strong showing in China. Apple isn't the second-largest smartphone selling in China, Lenovo is.
After releasing its first smartphone in China in 2010, Lenovo has followed up by introducing "touchscreen handsets in Russia, India, Indonesia, Vietnam and the Philippines."
By the end of 2013 it is set to introduce its first smartphones in Africa, starting in Nigeria.
As for Lenovo in China, the company said it has tripled its shipments there in the first quarter. The unit that sells handsets increased sales to $736 million in the quarter, a 74 percent gain. Lenovo said it's also improving the profitability of the Mobile Internet Digital Home arm of the firm.
Asian Market
If Android is the operating system of the future, then Asia is the market of the future. Those who win the battle for Asia will win the smartphone battle.
With Samsung and Lenovo penetrating the Asian market successfully, it doesn't leave a lot of growth for Apple. The U.S. is a saturated market, and while sales can do okay there, future smartphone growth will be in Asia.
This is the near- and mid-term challenge faced by Apple, one that it has yet to answer.
Just ask yourself the question: is the United States or Asia the future of smartphones? The answer will tell you why Apple is under so much pressure.
Apple's Response
What's most disturbing about Apple is how it has chosen to respond to the challenge - it decided to go the legal route concerning patents. In the meantime, its competitors continue to take market share away from it.
Apple alleged in a filing in a California court that the Galaxy S4 infringes on five of its patents. The company hopes to include that case in an ongoing case between the two.
The tech giant should have learned from Nokia (NYSE:NOK) that price competition beats customer loyalty. The reason why is you get more customers that way. Also, open source beats proprietary systems, and royalties are defeated by free. It's that simple. Apple has yet to be willing to play that game, so all it can do is sue rather than adapt and innovate.
What Apple needs to learn is customers couldn't care less about its patented operating system, they care about price and how their smartphones perform.
Another thing Apple should have learned by now is it can't maintain or grow market share by lawsuit means. The reason is by time the lawsuit is settled, even if it is in its favor, the developers of Android will already be designing another system, and another product will be offered in the market. It could possibly even be a couple of generations ahead by that time.
While all this is going on, Apple has yet to offer a lower-priced smartphone to compete in Asia. This is a sign of a rusty old company, not an innovator.
The point isn't that Apple won't produce good products any longer, as it will. The problem is its products are no longer considered the best. And that is something the company refuses to address with action.
Future of Smartphones and Apple
Nomura's Stuart Jeffrey, in a note to clients, raised his estimates for smartphone sales in 2013, 2014 and 2015 by 13 percent, 16 percent and 14 percent, respectively. But Apple wasn't invited to this party, as he doesn't see the company increasing market share while the industry grows.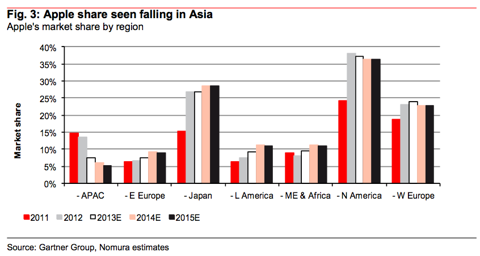 Jeffrey simply confirms what we've been talking about. Apple's "current crop of iPhones are 'poorly aligned' with the factors that are driving smartphone sales growth."
• APAC (the Asia and Pacific market) is driving 70-79 percent of growth; Apple's APAC market share in the first quarter of 2013 was 13 percent.
• Android phones priced at $100 or less are driving the majority of the growth; Apple has no unsubsidized phones in that price range.
• In the higher-priced market segments, 5" screen sizes are driving the sales, a segment where Apple has no exposure.
• Local application development in APAC is focused on Android, giving Android a big competitive advantage over Apple.
Another ominous outlook for Apple, if it is how it works out, is according to Jeffrey, if a lower-priced iPhone is released before the end of 2013, it believes it will be priced in the $400 range, a price point which will be "too expensive to boost Apple's addressable market."
Since Apple hasn't responded to these obvious trends, Jeffrey concludes, "We thus see continued operational challenges for Apple until at least 2014." This of course assumes Apple makes a decision to adapt to the new realities. That's not a given, when you look at past responses of the company.
Conclusion
There are three basic things to follow with Apple. One is the obvious lack of anything new coming from the pipeline. That means the company is almost totally reliant upon iPhone sales for growth.
Second is that the operating system of the future is Android. It's open and free, rather than being proprietary like Apple's is. Consumers prefer this, as sales are confirming. Apple continues to want to focus on defending patents rather than opening up the system.
Third is price. Apple is getting crushed in Asia, already being beaten there by Samsung, and Lenovo beating them in China specifically. The markets there have screamed what they want, but Apple continues on with its ears plugged. While some assume it will offer a lower-priced phone in the near future, that's not a given. And even if it does respond, what Apple considers low-priced, the market may not.
The growing consensus is Apple must throw in the towel and compete with lower-priced phones if it wants to continue to be relevant in the smartphone market.
With the smartphone market growing strongly in Asia, it's almost inconceivable that Apple refuses to respond at all. This isn't something that just started happening, it has been growing for a couple of years. That reality was revealed when Nokia started to get crushed by lower-priced phones.
The share price of Apple is likely to continue to fall until it provides a response to the Asian smartphone segment of the market. That's where the future is, and that's where Apple's growth must come from.
Disclosure: I have no positions in any stocks mentioned, and no plans to initiate any positions within the next 72 hours. I wrote this article myself, and it expresses my own opinions. I am not receiving compensation for it (other than from Seeking Alpha). I have no business relationship with any company whose stock is mentioned in this article.