Gold price has been heading south almost in a beeline since last testing resistance at $1800 unsuccessfully early in October 2012. In mid-April, the spot price fell through several support levels and the new-normal $1400 represents the glass ceiling that needs to be overcome. More down side seems possible in the short term and not everyone is convinced that the bull market for precious metals will continue anytime soon. Mining stocks have been dragged down by the underlying metal; in fact gold miners have underperformed the yellow metal as shown in the diagram below comparing the Market Vectors Gold Miners ETF (NYSEARCA:GDX) with the price of gold represented by the SPDR Gold Trust ETF (NYSEARCA:GLD). Also shown is the Market Vectors Junior Gold Miners ETF (NYSEARCA:GDXJ) which fared even worse than its big brother. The chart shows price developments since the start of 2012. The 2012 summer low is visible as is the subsequent rally for all three ETFs culminating in the rather dramatic descent during the past half year referred to in the opening sentence. Interestingly, GLD seems to have found support for now around $130 which has been tested twice during the past month whereas GDX and GDXJ have established yet another lower low on May 17 casting doubt on the theory that the gold mining sector has found support just yet.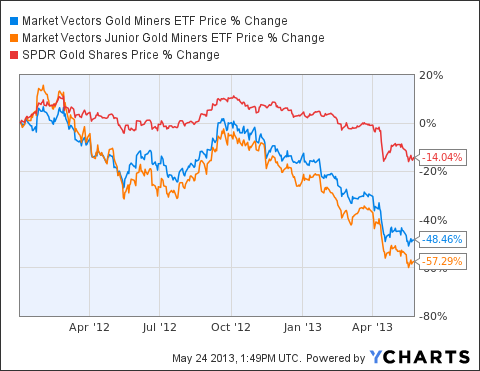 It is times like right now where true strength can be determined and we are keeping a hawk's eye on selected market participants. Most importantly, we are looking for companies that show resilience when their sector is taking losses, yet we also like companies to have strong balance sheets and reasonable forward P/E predictions. True, stocks combining these properties may seem relatively more expensive when their peers are dirt cheap, but we would expect these candidates to outperform to the upside in the event of the market turning again. One company that fits the described mould is Primero Mining Corp. (NYSE:PPP) and we would like to introduce this company by superimposing its chart on the comparison shown above. The difference in performance is truly impressive at first sight. While the sector as represented by the GDX and GDXJ has lost over 48% (GDXJ: -57%) and GLD has shed 13.7% since the start of 2012, Primero has gained 52.6%. Granted, a good portion of that gain is owed to a gap up at the start of October 2012 due to a favourable tax ruling which we will get to later. But even ignoring the bullish gap caused by this event, the performance of Primero is a veritable show of strength.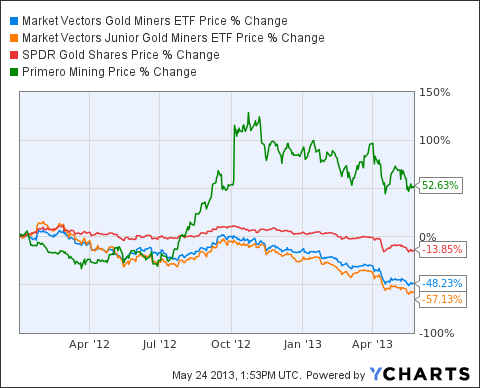 As we have noted before, the gold price is the tide that moves the ships (where ships would be the mining companies in this rather average metaphor). As stated above, the tide is on its way out and may still have a little further to go. However, when it turns it will be the time to consider investments in mining stocks. In this article we would like to advocate why we believe that Primero is a worthy candidate for consideration in such an event.
Primero operates the San Dimas mine on the border of the Durango and Sinaloa states in Mexico. The San Dimas district has a long mining history dating back to 1757. Historical production from the district is estimated at 582 million ounces of silver and 11 million ounces of gold. The mines at San Dimas are underground operations using primarily mechanized cut and fill mining methods, and transforming to long hole stoping in some parts at the moment. The San Dimas properties are contained in a contiguous block that covers an area of 22,468 hectares. All mine production is processed through the Tayoltita mill, the site of the first cyanide mill built in Mexico back in 1904. In 2012 the operation produced 88,000 ounces of gold and 5.1M ounces of silver equaling 111,000 gold-equivalent ounces. The guidance for 2013 indicates an increase to 120,000 to 130,000 gold-equivalent ounces. The reserve statement shows 660,000 ounces of gold at a very reasonable grade of 4,5g/t plus in excess of 39M ounces of silver at 267g/t. The current mine life at San Dimas is estimated at over 20 years.
Primero acquired the mine from Goldcorp (NYSE:GG) in August 2010 for $216M in cash plus a considerable equity stake making Goldcorp the largest investor in Primero Mining. At the time the mill had a capacity of 2150 tpd but was running at much lower rates. Primero managed to increase mill feed by expanding underground development and by early 2012 the mill was running at capacity. At present an expansion program to 2500 tpd is underway on time and on budget to be finalized by Q1/2014 and plans for a further expansion to 3000 tpd are under consideration. Primero has provided cash cost guidance for 2013 of $620 to $640 per ounce of gold on a by-product basis which is significantly below the industry average. At this cost level Primero should still be able to generate a healthy profit even at present spot price.
All gold production by Primero is unhedged; however, most of the silver output from San Dimas is sold to Silver Wheaton (NYSE:SLW) for $3.90 per ounce amounting to 5.9M ounces in 2012 (1.5M of which had to be provided by Goldcorp) and 50.8M ounces in total so far. Silver Wheaton is a streaming company who has provided capital to Goldcorp in exchange for the rights to most of the silver produced at San Dimas at very favourable conditions. When Primero bought San Dimas they also inherited these arrangements. Until 2014 Silver Wheaton is to receive 100% of the first 3.5M ounces produced per annum plus 50% of any excess silver. Thereafter until 2029 Silver Wheaton will receive 100% of the first 6M ounces produced plus 50% of any excess making San Dimas one of their corner stone assets.
For some time uncertainty accompanied taxation of silver sold to Silver Wheaton at discounted prices. A ruling by Mexican tax authorities in October 2012 confirmed that the discounted sales prices, and not spot price, could be used as a basis for taxation providing a significant boost to Primero's balance sheet (and share price).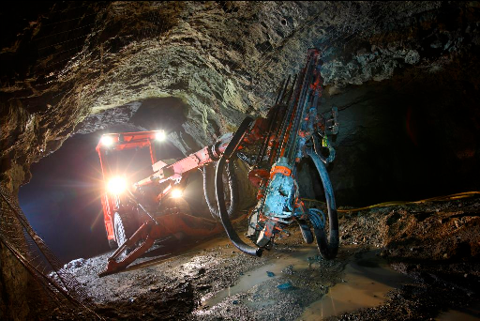 (taken from the company website)
According to Yahoo.com Primero Mining currently has a market capitalization of $503M and a forward P/E ratio of 7.27. It was this relatively low P/E value in combination with the strong performance throughout the past year that piqued our interest among other candidates on our watch list. The balance sheet for the company is exceptionally strong with roughly $140M available in cash enabling financing of the ongoing expansion program from cash flow. Primero is also paying down on a $32M promissory note owing to Goldcorp stemming from the San Dimas acquisition. Shares of the company are currently trading just above $5 which compares favorably to the median analyst price target of $8.84. In 2012 earnings per share amounted to $0.39 owing to a profit margin of almost 20% which is very respectable compared to peers.
Goldcorp retains a large stake in Primero Mining stemming from the San Dimas sale in 2010. Despite selling a portion of their shares in 2012 Goldcorp presently controls a 32% interest in Primero Mining. Insider ownership is around 2% and institutional ownership is 44% with the largest portion held by Tocqueville Asset Management (7.6%). Primero shares also make up 1.81% of the GDXJ. Retail investors own the remaining portion of 22% of the company. In total there are currently just over 97.4M shares outstanding.
Very recently Primero has taken a decisive step towards developing a second mine by acquiring a 69.2 interest in the Cerro del Gallo project in Guanajuato state, also in Mexico, which closed on May 22 2013. Incidentally, the remaining 30.8% interest in this project is owned by Goldcorp. Guanajuato is an active mining district ensuring skilled local work force, established suppliers and infrastructure, and supportive communities. The existing reserve has been calculated to 710,000 ounces of gold, 15.3M ounces of silver and 56.4M lbs of copper. The grades are rather low at 1.14g/t gold equivalent but the metallurgy has been shown to be amenable to heap leaching. The total resource contains 3.2M ounces of gold, 70.3M ounces of silver and almost 400M lbs of copper in the measured and indicated category at 0.83g/t gold equivalent. An existing feasibility study by the previous owners of the project was based on a Phase 1 94,600 ounce per annum heap leach operation providing early cash flow with which Phase 2 (a CIL plant) could potentially be developed. Primero has indicated to rework this plan including a new study on the metallurgy with a possible acceleration of this schedule in mind. A preliminary development plan as shown below has the mine in commercial production by mid-2015.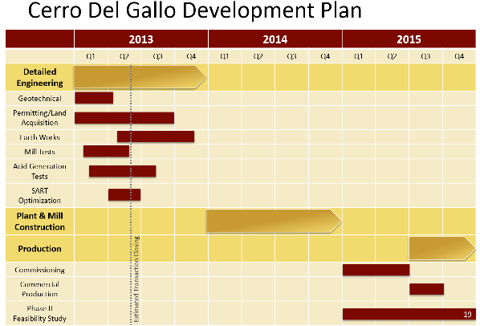 During the Q1/2013 earnings call Joeph Conway, CEO of Primero Mining, outlined tentative plans for future growth:
... we want to develop a pipeline of projects here. We've gone from a single asset to a dual asset company, but we need to go a little further than that to make sure that we have the diversification that's required to build a strong corporation. And we also want to be a leader in terms of per share growth. And that means earnings, cash flow, reserves and resources per share, and production per share.
Bearing in mind Primero's strong balance sheet and considering the difficulties that junior explorers and developers are encountering in financing their projects in current market conditions, we would not be surprised to hear more on this topic before too long.
Before we get carried away let us remind ourselves that Primero is still a junior mining company with only one asset in operation and therefore it should be duly noted that an investment in Primero is associated with greater risks than an investment in a more senior peer with several producing mines. And let us also keep in mind that precious metal mining is a volatile and risky sector to start off with. Therefore Primero Mining might not be the right choice for everybody, but it is certainly an attractive proposition for those seeking a high risk and potentially high reward investment on the back of a possible resumption of the gold bull market.
Let us consider the daily chart as shown below before we finish. $5.00 is providing support which has been tested twice and the 61.8% Fib-retracement at $6.85 has provided resistance twice now defining a possible trading range for the mid-term. The $5.00 level also coincides with a 50% correction measured in relation to last year's rally from $2, and the $6.85 level coincides with the median analyst price target. We will keep an interest on the resilience of the $5 support level during the upcoming summer months. On the down side a death cross has occurred at the start of May which is a bearish signal and other indicators also need to do some work before a buy signal can be derived from the chart.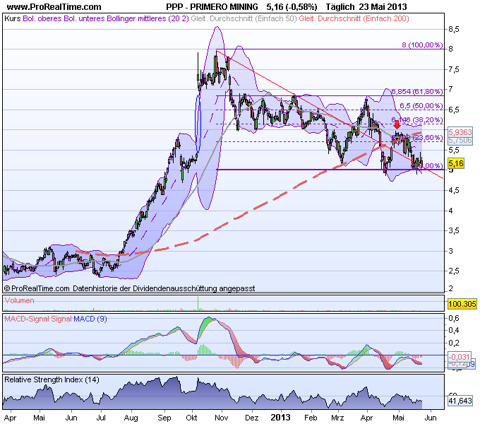 In summary, we believe that Primero Mining has shown strong performance during difficult times and has the credentials to outperform its peers when general conditions turn favourable again. Management has shown and proven their mettle and the company has the backing of Goldcorp, the largest gold mining company in the world. Moreover, there are plenty of catalysts in the pipeline that could provide reasons for a rerating in the mid-term. Additionally, the company is well equipped to survive in times of depressed gold prices.
We suggest that interested investors keep an eye on Primero Mining and make an investment decision once gold has found a bottom. For the time being, we feel comfortable observing the progress of this company; we will be waiting patiently for a possible entry during the coming months.
Disclosure: I am long SLW. I wrote this article myself, and it expresses my own opinions. I am not receiving compensation for it (other than from Seeking Alpha). I have no business relationship with any company whose stock is mentioned in this article.