American Tower REIT (NYSE:AMT), provider of cell tower space to telecom companies such as Verizon Communications (NYSE:VZ), AT&T (NYSE:T), Sprint Nextel (NYSE:S) and T-Mobile US (NASDAQ:TMUS), is in the midst of a high growth market segment due to the large adoption of bandwidth hungry smartphones such as Apple's (NASDAQ:AAPL) iPhone. The company's future growth also looks bright due to the potential for future deployment of voice over LTE also known as VoLTE.
In American Tower's Q1 2013 earnings call held on May 1, 2013, James D. Taiclet, Jr., Chairman, President and CEO, offered some insight to VoLTE and the opportunity VoLTE represents to American Tower. Mr. Taiclet indicated American Tower's customers are planning on deploying VoLTE in order to increase efficiency and in the case of CMDA carriers, such as Verizon, enable simultaneous voice and data access. The efficiencies gained from transitioning to VoLTE from legacy circuit-switched technology, however, comes at a price, as the radius size of a given cell site for VoLTE is reduced by 10% to 20% which means additional tower sites need to be deployed in order cover the same area. This is good news for American Tower, as this means its customers are going to need a lot more tower sites in order to support VoLTE.
American Tower reported revenue of $777 million for Q1 of 2013 which represents year-over-growth of 13.7%. American Tower is a REIT (Real Estate Investment Trust) and qualifies as a REIT since the rental and management business accounts for 97% of the company's revenue. When factors such as foreign currency exchange rate fluctuation and one-time items are removed from consideration, the company experienced a growth rate of 20% with 10% of the growth considered as organic and the other 10% attributable to new tower sites.
Tom Bartlett, EVP and CFO, indicated the company experienced solid growth across all of its key metrics, as its U.S. customers continue to invest heavily in 4G deployments. Of note, T-Mobile's new business activity increased nearly 5x year-over-year, as the company is ramping up its challenger network modernization strategy. American Tower has increased its number of tower sites by 1000 via acquisition or construction since the first quarter of 2012. Mr. Taiclet indicated Verizon and AT&T expect to complete phase 1 of the nationwide LTE rollout over the next 6 to 12 months and that Sprint and T-Mobile are aggressively ramping up their LTE deployments and are expected to complete phase 1 rollout over the next 18 to 24 months. Mr. Taiclet also indicated he believes carriers will transition to phase 2 deployments in the near future and believes the major catalyst for the phase 2 deployment will be the introduction of VoLTE with Verizon indicating the first commercial deployments of VoLTE are scheduled to occur within the next year.
American Tower is also experiencing organic international growth of nearly 15% year-over-year as a result of its customers such as Telefonica, Nextel International, American Movil (Latin America), MTN (South Africa), Bharti (India) and Idea Cellular (India). The company noted particularly strong growth in Latin America and South Africa, however, the majority of its new international tower builds were performed in India.
Mr. Taiclet indicated carriers are deploying 4G in advanced wireless markets such as the U.S. and Germany and 3G in markets such as Mexico, Brazil and South Africa. Mr. Taiclet noted emerging markets such as India and Ghana are a few years behind, but the carriers in emerging markets are selectively beginning to invest in 3G technology.
American Tower's stock price recently took a hit in the downward direction, but has been on a nice upward trajectory over the last year as shown below: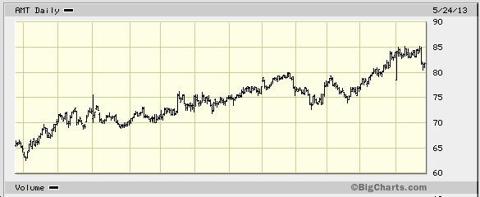 In a previous article related to American Tower, where the business model for the company was discussed, a married put position was considered for the company. The married put position may be entered via the purchase of a long position in the stock along with the purchase of a long put option for protection. The married put position provides for unlimited upside with limited downside, and the position considered in the previous article would have realized a positive 6% return at option expiration in April of 2013 with the position never being at risk for more than 4.8%.
Based on American Tower's promising outlook with regard to U.S./International growth potential, VoLTE and the recent pullback in price, a long position is once again considered for the company. However, with the company's expensive Price-to-Earnings (P/E) ratio of 55 and Price-to-Sales ratio of 14, a protective put position is once again needed, as any bad news whatsoever, and the price of the stock would probably take a nasty plunge. The protective put option is typically selected several months out in-the-future in order to reduce the cost of the put option "insurance".
Using PowerOptions, a number of married put positions were found for American Tower for option expiration in October of 2013 as shown below: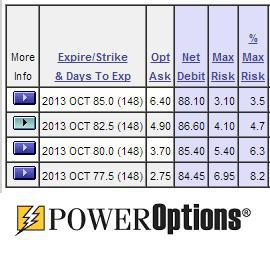 The married put position using the 2013 Oct 82.5 put option looks attractive, as it has a maximum potential loss of 4.7% before taking into consideration potential dividend payments. When considering potential dividend payments during the holding time of the position, the maximum potential loss is reduced to 4.2%. The details for entering the American Tower married put position are shown below:
AmericanTower Married Put:
Buy AMT (purchased or existing)
Buy AMT 2013 Oct 82.5 put at $4.90
A profit/loss graph for one contract of the American Tower married put position, including consideration for expected dividend payments, is shown below: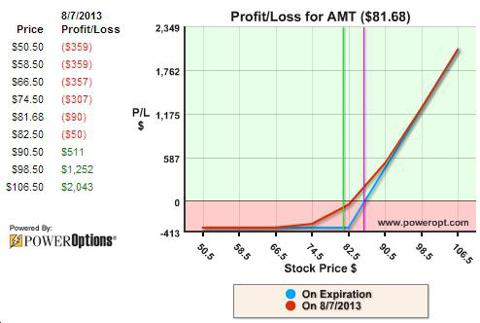 For an increasing stock price, the value of the married position also increases and for a stock price below the $82.50 strike price of the put option, the value of the married put position remains unchanged with a maximum potential loss of 4.2%. And, if the price of the stock increases to above the $82.50 strike price of the put option, then income methods may be applied in order to receive income and reduce risk as taught by RadioActiveTrading.com.
Look forward to your comments below!
Disclosure: I have no positions in any stocks mentioned, and no plans to initiate any positions within the next 72 hours. I wrote this article myself, and it expresses my own opinions. I am not receiving compensation for it (other than from Seeking Alpha). I have no business relationship with any company whose stock is mentioned in this article.