Actionable Items:
Highest Positive Spread: Aberdeen Chile Fund (NYSEMKT:CH)
Focus Stock: Central Securities Corporation (NYSEMKT:CET)
Last Week's Focus Stock: Aberdeen Indonesia Fund (NYSEMKT:IF)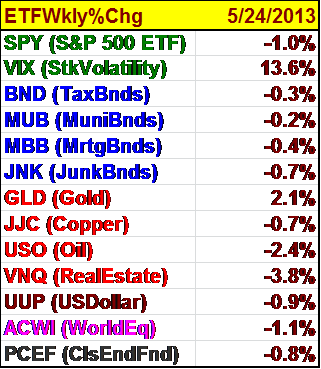 Federal Reserve Communicate: The equity markets are beginning to reduce its $85 billion bond buying program in the next few meetings. The Fed governor's congressional testimony caught Wednesday's equity markets by surprise-it turned positive-to-negative. While Mr. Bernanke was reluctant to move the "scale" prematurely, some of its members (Fed) would signal a pullback on the "easing" of funds in June.
Interest Rates Can't Stay Low: Mr. Bernanke would not see interest rates "spike"-an upward movement of unprecedented proportions. His message is that long-term rates could rise from about 2% today to 4% or 5% by 2017 as the economy strengthens.
If the Economy Strengthens: The economy hit another record. Builder average annual homebuilders hit a $330,800 new home price, up 2.3% in March and 29.0% percent during the 12 months. Durable-goods orders increased 3.3% from the prior month to a seasonally adjusted $222.6 billion (the Commerce Department said Friday, bouncing back from a 5.9% decline in March). The University of Michigan Consumer Sentiment preliminary number for May came in at 83.7, a major advance over the April final reading of 76.4. This sentiment preliminary number is the highest level since July of 2007, prior to the Great Recession.
A recovery may be on its way, but issues remain as to sequester and budget deficits.
Federal Governor: Mr. Bernanke will not be moving "aggressively" to cut back funds. He has gone this far. However, if he is seeking to retire, other candidates could include: Janet Yellen, former Fed Vice Chairman Roger Ferguson and both former Treasury Secretaries Timothy Geithner and Lawrence Summers. Maybe they'll strengthen the policies of the Fed.
ETFs YTD: Health Care (+25.8%), Consumer (+20.3%) and Financial (+18.8%) were the leaders in the group. Laggards were Commodities (-16.3%), Pacific/Asia (-3.8%) and Currency (-1.4%). Bonds were (+0.1%).
In Chart 1, Gold (NYSEARCA:GLD) recovered this week with a 2.1% increase.
CEF Weekly Fund Type Performance: This week saw price rises for LoanPartFnds (+0.5%), OtherFnds (-0.2%) and NatlMuniBndFnds (-0.5%). The laggards were PrefStkFnds (-1.8), WrldEqFnds (-1.7%) and WrldIncFnds (-1.4%). PrcNAVSprd rates were negative (price may tend to rise): PrefStkFnds (-1.2%) and USMrtgBndFnds (-0.9%).
Highest Spread and Stock for the Week: Aberdeen Chile Fund was ahead by a price increase of +0.2% and NAV per share was down by -3.3%. The PrcNAVSprd was +3.5% (a positive number may mean a future decline in share price). The annual quarterly distribution per share is at 10.5% yield. The net assets are $133.2 million with no financial leverage. The fee structure is 1.7%. The premium is 5.3%, far from the 52 week low premium of 5.0%.
Most of the return is from a return-of-capital ("ROC") for 3/26/13. The long-term gain was $0.078, the short-term gain was $0.0039 and the ROC capital was $0.3081 per share. The ROC in the previous three quarters was: $0.0494, $0.0950 and $0.1025. The average undistributed net investment income (UNII) was a -$0.6793. The average ex-distribution for June was 6/28/13.
Lowest Spread and Focus Stock for the Week: Central Securities Corporation was our Focus Stock of the Week. CET's share price was positive +0.5% and its NAV per share was a plus +2.1%. Its PrcNAVSprd decline was -1.6%. The discount is -19.6% which touches its 52 week low of 21.4%.
The CEF has paid its dividend since 1955. The dividend is estimated to be $0.20 per share: $0.02 will be taxable as ordinary income and approximately $0.18 will be taxable as long-term capital gain. The ex-distribution date is typically on 6/7/13 with a record date on 6/11/13. Distribution payment is on 6/25/13.
The assets are $605.3 million and the annual operating expenses are 0.78%. The fund seeks capital growth through investment in common stocks, convertible bonds, preferred stocks, convertible preferred stocks, warrants, options, real estate or short term obligations of governments, banks and corporations
Focus Stock & High Price for Last Week: Last week's "Focus Stock" for the week was Aberdeen Indonesia Fund. IF was a positive +0.4% for the week and S&P 500 equity stocks were off -1.0%. The Highest Spread stock for the week (Share prices to go down) was Japan Smaller Capitalization Funds (NYSE:JOF) which was off -3.3% for the week.
Disclosure: I am long CH. I wrote this article myself, and it expresses my own opinions. I am not receiving compensation for it. I have no business relationship with any company whose stock is mentioned in this article.