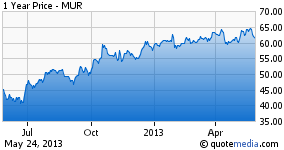 Elevator Pitch
Murphy Oil (NYSE:MUR) is a diversified oil and gas company, with a significant upcoming catalyst. It will spin-off its retail/ethanol business this year, which should provide an opportunity for the market to re-rate its E&P assets. The company's primarily U.S. investor base is also undervaluing its Canadian assets, and production growth in the Eagle Ford should drive the shares. This business will be valued after the split as two separate companies, so I'll attempt to value the pieces separately here. The combined value of the two new companies is at least 10% greater than the current stock price, without any consideration for future upside developments.
Retail
The retail arm of the company will be placed by analysts/institutions in a different industry group than the current company. It will be compared to and valued against companies like Alimentation Couche-Tard and Casey's General Stores (NASDAQ:CASY). Murphy reported (p. 141) 2012 EBITDA of $285 million. At a 7 times EBITDA multiple, that would allow for an enterprise value for the retail arm of $2 billion. Casey's recent annual report shows an EV/EBITDA multiple of approximately 9.5 times, so 7 times should be conservative, and allow the new Murphy USA to attract capital from investors in the sector. Casey's investors, and those holding other shares in the sector may want to consider rotating into the new Murphy USA once trading begins.
This valuation also does not include potential upside from a strategic transaction involving the ethanol plants or terminal assets, either or both of which could be vended into an MLP for a higher multiple.
Upstream
The company reports upstream in a few different segments: Syncrude, Seal, and Montney in Canada along with the Eagle Ford Shale and Gulf of Mexico assets in the U.S. They also have producing assets offshore Malaysia and various other offshore exploration assets. I won't ascribe any value to the offshore exploration assets around the world, except to mention they exist and have value that increases the valuation and the margin of safety.
Canada
Murphy has always had a ready buyer for their share of Syncrude any time they want to sell it in Canadian Oil Sands Ltd. (OTCQX:COSWF). Canadian Oil Sands' only asset is their 37% share in Syncrude, and they have indicated in the past they would be interested in buying additional shares. They have an enterprise value of $10.2 billion for a 37% stake, which implies a value of $1.38 billion for Murphy's 5% stake. Murphy is unlikely to be willing to sell at that price, as the most recent Syncrude sale was to Sinopec from ConocoPhillips (NYSE:COP) at a price that would value MUR's stake at $2.57 billion. For this valuation, I'll use the lower number, and assign the likelihood of extra Syncrude value to "margin of safety." A sale at the lower number would be accretive due to G&A synergies for COSWF, and would be positive catalyst for them as well.
Seal is worth at least $250 million for its 5000 bopd of production at $50,000 per flowing barrel, and the upside from EOR potential and thermal potential makes that number conservative.
The Montney assets in Canada are significant, and could be hugely valuable if gas prices rebound or Canada begins to export LNG. I'm assigning them no value in this analysis, but do consider it a key source of potential upside.
Murphy also has offshore assets on Canada's East Coast producing 7% of their oil production from the non-operated Terra Nova and Hibernia fields. Murphy owns 6.5% of Hibernia and 10.475% of Terra Nova. Recent production from these assets was 14,600 bopd in March. These assets have less exploration upside than their other offshore projects, but are providing Brent linked pricing. At $50,000 per flowing barrel these assets are worth $730 million.
Malaysia
The Malaysia assets are offshore oil and natural gas with oil linked pricing. The current production is nearly 100,000 bopd, and forecast cash flow from 2013 is $1.44 billion. A 4.5x cash flow multiple for an offshore asset producing price advantaged crude seems reasonable, especially considering their options to continue developing and hold production steady. This values the Malaysia assets at $6.48 billion, or ~$65,000 per flowing barrel.
United States Gulf of Mexico
Murphy has around 18,000 bopd of offshore assets in the Gulf, along with growth potential in a number of ways, including expansion of existing facilities, the Dalmatian project, and Opal exploration drilling. Even valuing this at $65,000 per flowing barrel, reasonable considering BP (NYSE:BP) sold assets to Plains for over $90,000 per flowing barrel last fall, gives a $1.17 billion price for the assets.
United States Eagle Ford Shale
This onshore play is producing 40,000 bopd and growing rapidly. MUR's low cost land base provides significant future upside here. Even valuing only the existing production at $65,000 per flowing barrel gives $2.6 billion for the Eagle Ford assets. They have 159,000 net acres of land supporting this valuation, with significant high IRR growth expected.
Valuation Conclusion
Murphy has a market capitalization of $11.8 billion, and it's most recent 10-Q shows debt and current liabilities of $5.8 billion offset by $4.1 billion of current assets, for a total enterprise value of $13.5 billion. The sum-of-the-parts valuation I've outlined places a $14.61 billion valuation on intrinsic value of the business, not including many of the upside opportunities. A hard catalyst exists in the spin-off of the retail assets, and more asset sales (especially Canadian) should follow. This is especially likely once the company works of their net operating loss carryforwards, which are making them reluctant to sell foreign assets and repatriate cash. Finally, an active buyback program is reducing outstanding stock and returning capital to investors now.
Disclosure: I have no positions in any stocks mentioned, but may initiate a long position in MUR over the next 72 hours. I wrote this article myself, and it expresses my own opinions. I am not receiving compensation for it (other than from Seeking Alpha). I have no business relationship with any company whose stock is mentioned in this article.