Headwinds in the PC industry have propelled the chip manufacturing company Nvidia (NASDAQ:NVDA) to diversify its business beyond the PC market, and towards mobile processors, hand-held gaming, and data center growth opportunities. The company looks promising in mobile computing because of its Tegra family processors integrated with the long-term evolution, or LTE, platform.
Tegra is the future
The deeper penetration of mobile technology in our daily life has opened a wide opportunity for Nvidia to excel in the area of mobile processors via its Tegra processors. By introducing Tegra 2 in 2011, the company gave the world the first multi-core mobile system on a chip, or SoC, processor. Tegra 2 was designed for tablets and smartphones delivering higher performance, longer battery life, and a better user experience. In the later part of 2011, Nvidia released Tegra 3, the world's first 4-PLUS-1 quad core mobile processor, based on Cortex A9 from ARM Holdings (NASDAQ:ARMH). It offers features like web browsing, console-class gaming, high-end multitasking, photo editing, video editing, and strong battery life. Since 2010, when Tegra was first released, it has grown rapidly from 6% to 18% of the company's business and, with continuous growth in mobile devices, is a key driver for Nvidia's growth.
Nvidia has done well on the mobile market with its Tegra 3 processors and updated it with Tegra 4, the next generation of multi-core mobile processors. The Tegra 4 family of processors delivers exceptional power efficiency and consumes 30% less power than the Tegra 3 processor while executing the same workload. This powerful SoC device unites the processing capabilities of smartphones, tablets, and notebook PCs, raising consumer expectations for PC-class performance and uncompromised battery life on their mobile devices
Attractive 4G /LTE market
Out of the various wireless technologies which are driving the smartphone market, 4G/LTE brings a bright future in wireless connectivity for smartphones. Currently, LTE technology is in its infant stage, but is growing rapidly.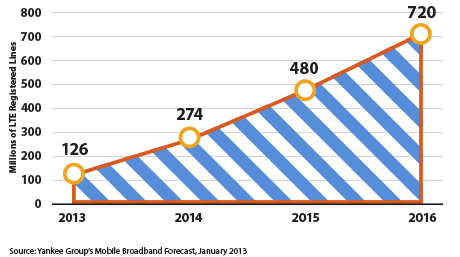 In the smartphone processor market, Nvidia has a minimal presence in comparison to Qualcomm (QCOM) with its 50%, but triggering the launch of 4G/LTE compatible chips will surely enhance its presence in this market. Nvidia estimates the LTE market to be more than double by 2016. Tegra 4i is the first fully integrated 4G LTE mobile processor; it is built with a quad-core processor based on the Cortex A15 CPU designed by ARM Holdings and consumes 45% less power than Tegra 3. Tegra 4i is designed to meet the demand towards higher resolution displays, wireless display solutions such as Miracast, and console-class mobile games for both portable gaming devices and family room gaming consoles. It brings the Tegra 4 super phone experiences into the mainstream smartphone and integrates Nvidia's LTE i500 SDR modem all on a single chip. Tegra 4i gives superfast web browsing and quick load time for apps, along with strong battery life. With Tegra 4 devices and Tegra 4i certification underway with AT&T (NYSE:T), I expect growth in Tegra shipments to speed up in the second half of 2013.
Threat from peers
Qualcomm, so far, is the LTE chipset leader in the smartphone processor manufacturing market. Last year, 47 million LTE chipsets were shipped globally and, out of that, Qualcomm grabbed nearly 86% of the market share in LTE cellphone modems. While Broadcom and Nvidia are bringing their first LTE basebands to market, Qualcomm's chipsets are in their third-generation already. It also came out with its own quad-core chipsets called "Snapdragon" to compete with Nvidia. Qualcomm has already grabbed a number of design wins for smartphones and tablets via its Snapdragon 800 and Snapdragon 600 processors. Its Snapdragon 800 is estimated to deliver as high as 40% improved performance compared to its S4 Pro processor. However, Nvidia claims that Tegra 4i delivers three times higher performance than Qualcomm's S400, a mid-range processor. A new report also says that the Tegra 4 processor is faster than the Qualcomm Snapdragon 800. But, I think Qualcomm has a competitive advantage, as its Snapdragon 800 is much more integrated by having an LTE modem built right into its silicon die. Also, the 800 series has a unique ability to both encode and decode 4000 content, which makes it no lesser than Tegra 4.
Another strong competitor of Nvidia in the mobile processor manufacturing is Intel (INTC). The new mobile Atom chips based on Silvermont architecture will be three times faster and five times more power efficient than its predecessors like Saltwell and Clover Trail. The Silvermont processors have elements as small as 22 nanometers and consume only one-fifth the power of Clover Trail, which is based on the 32-nm process. The list of upcoming Silvermont based Atom chips includes Bay Trail for tablets and Merrifield for smartphones. Intel has the potential to make chips smaller, faster, and more power efficient with each process upgrade. In the upcoming two years, Intel is planning to further reduce the Silvermont mobile chips to 14 nanometers. It is sticking with the dual-core CPU design and has also improved multi-tasking performance. Its effort to consume less energy than the common quad-core design makes Intel's chip an interesting choice for handset manufactures. However, it might not outpace the next-generation Cortex A15 chips of Tegra 4. Intel will also integrate LTE into Atom chips based on its acquisition of Infineon's wireless assets, which will boost its mobile business. The company is already shipping its single-mode data 4G/LTE baseband to customers.
Investors' take
Tegra is the fastest growing segment of Nvidia, registering around 30% sales growth in 2013. With the continuous foray in wireless technology, Nvidia's LTE chipset integrated into Tegra processors will help the company to further increase its penetration in the smartphone processor manufacturing market. Its two peers, Qualcomm and Intel, also have strong potential in mobile processor and 4G/LTE technology. Seeing the accelerating shift towards smartphones and tablets, these three stocks are attractive for long-term growth. I recommend buy for Nvidia, Qualcomm, and Intel.
Disclosure: I have no positions in any stocks mentioned, and no plans to initiate any positions within the next 72 hours. I wrote this article myself, and it expresses my own opinions. I am not receiving compensation for it (other than from Seeking Alpha). I have no business relationship with any company whose stock is mentioned in this article.