I have seen a number of people over the last month or two pointing towards supposedly highly recognized metals analysts who have now changed their tune. For the last year, most of them have been hailing the gold bull market, and suggesting to people to "buy, buy, buy." However, of late, many of the bulls have been proclaiming the death of the gold bull market.
The latest of such analysts is Louise Yamada, who has not made quite as many definitive bottom calls in gold over the last two years as Jim Sinclair, but has had her fair share of erroneous bottom calls. This past week, in a video entitled "Time for Gold Bulls to Abandon Hope," she has noted her new position that the gold bull may have come to an end.
As I have explained to you in the past, the more analysts come forward declaring the end of the bull market in metals, the more I feel we are getting closer and closer to the true bottom. You see, analysts are human beings just like you and I. So, they are subject to being swayed by human emotions. And, when they allow their emotions to affect their judgment, it clouds their analysis. In fact, Ms. Yamada pointed towards the prevailing sentiment that most holders simply want to sell their gold, and that the psychology has shifted to quite negative sentiment in the market, which was the basis believing the bull market for gold may have ended.
But, when psychology and sentiment towards an asset moves into such negative territory, it is not time to be selling your metals, but, rather, it is a time to be looking towards the signs of the near bottom. In fact, there is evidence of the largest number of short positions in the gold market for quite some time (a very crowded trade, indeed), as can be seen from the chart below: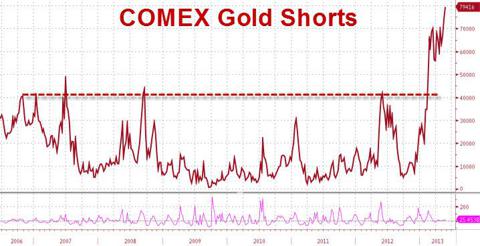 Click to enlarge
Does that mean that I believe that gold has bottomed? No, I am not of the opinion that gold has seen its major bottom, although I see it as a much lesser possibility at this time. Rather, I am still expecting at least one more larger decline, but from a higher region. Yet, the market may need one more drop over the next week or two before that higher region can be targeted. So, while I said to expect a drop and then strong rally this past week, I think we may see the same thing play out over the next two weeks yet again. However, if we do see one more decline, the next rally may be even stronger than the start of the prior rally.
Moreover, the next rally will likely provide us with a much bigger bounce. In fact, I think GLD will have to see the $144/$146 region before I would consider shorting it one final time before the true bottom is seen. I am not expecting that bottom to occur before the end of the summer, but I am maintaining an open mind to allow this expectation to be proven wrong.
For the immediate term, any move over the $139 region in the GLD, and I will reconsider whether one more decline will be seen before the move to attack the $144/$146 region.
Disclosure: I have no positions in any stocks mentioned, and no plans to initiate any positions within the next 72 hours. I wrote this article myself, and it expresses my own opinions. I am not receiving compensation for it (other than from Seeking Alpha). I have no business relationship with any company whose stock is mentioned in this article.