One of the core holdings of my portfolio would have to be ConocoPhillips (NYSE:COP). ConocoPhillips is in the midst of a major asset shift, away from high-risk overseas projects, to lower-risk domestic projects. While this strategy has caused some short-term pain in terms of lower production, it may result in a much more attractive future portfolio and production mix. ConocoPhillips currently offers a $0.66 per share quarterly dividend and yields about 4.20%.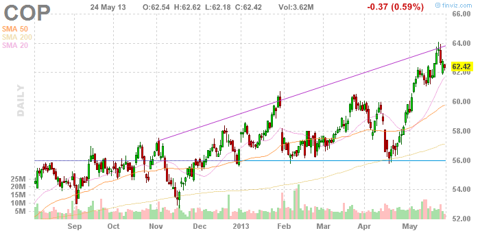 Click to enlarge
ConocoPhillips has a budgeted $16B annual capital spending program through 2017. As noted above, 2013 will see a decline in production. However, the vast majority of ConocoPhillips' capital spending will be spent on new developments, which should eventually lead to production growth. Through 2017, ConocoPhillips expects production to grow at a CAGR of 3% to 5%. Only about 10% of this capital spending is expected to be used to maintain current legacy base production.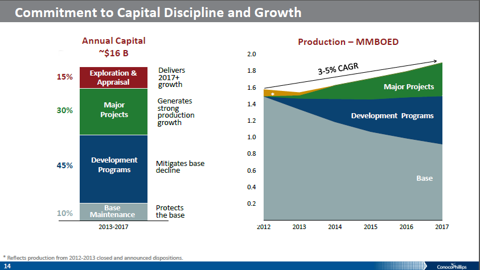 Click to enlarge
About 45% of ConocoPhillips' capital budget is slated for development projects which are intended to maintain base production. Of this, the majority is to be deployed in North America. In the US, ConocoPhillips expects to increase production by about 365 MBOED, primarily from investments in the Eagle Ford, Permian, and Bakken basins. Another 105 MBOED is expected to come from Canadian production growth.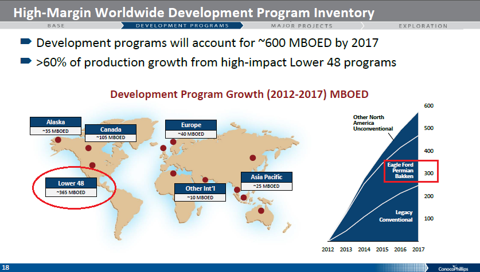 Click to enlarge
These new production investments in the US are much more liquids rich than legacy production. As an example, production growth in the Bakken is expected to be almost 90% oil and NGLs. This is vast difference from legacy production, which was mostly natural gas.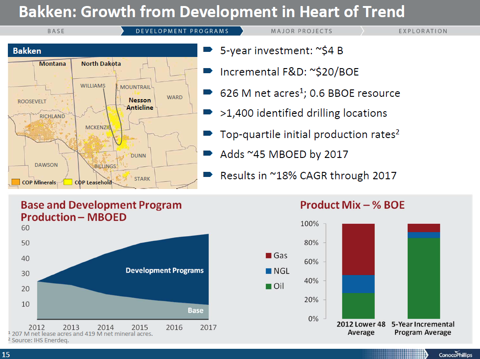 Click to enlarge
How is ConocoPhillips funding these new development projects? The answers lies with its recent asset dispositions. ConocoPhillips is diversifying itself away from high-risk regions towards lower risk, more stable areas. Some of the areas ConocoPhillips is divesting itself from include: Russia, Vietnam, Algeria and Nigeria. From 2010 to Q1 2013, ConocoPhillips has generated about $20.2B in proceeds from these sales, with another $8.5B in announced sales waiting to be closed.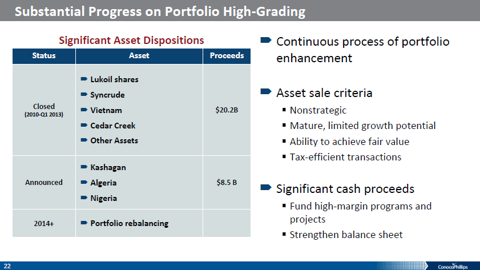 Click to enlarge
Keen observers of ConocoPhillips will notice that the above list no longer has the Canadian oil sands projected listed for sale. ConocoPhillips is pulling back its plans to sell its oil sands project in Alberta due to exceeding its capital raising targets elsewhere and a glut of assets for sale in that region. While this may seem like a setback, it may be a blessing in disguise. Spreads between Western Canadian Select, or WCS, and West Texas Intermediate, or WTI, have narrowed greatly in 2013, as the glut of oil in Western Canada lessens due to improved infrastructure.
In addition, railroads are being used aggressively by refiners, such as Phillips 66 (NYSE:PSX), Valero (NYSE:VLO) and Tesoro (NYSE:TSO) for transporting oil. Railroads are no longer seen as a stopgap measure, and instead are increasingly seen as alternative for pipelines. While railroads are more expensive, they allow for oil to be shipped where its needed and when its needed. Phillips 66 in particular has seen its profits explode higher thanks to heavier use of cheaper oil. Phillips 66 has also announced plans to increase use heavy oil, such as shale, in its East Coast refineries. such as its New Jersey Bayway refinery. ConocoPhillips spin off of Phillips 66 has allowed the later to reap the benefits of increased heavy oil production in North America.
ConocoPhillips still has large amounts of legacy natural gas production and this may be an upside catalyst for Q2 2013. Natural gas prices have been hovering at or above $4.00 for most of Q2 2013. While ConocoPhillips is shifting away from natural gas, this increase in prices may lead it to an earnings surprise. Since the lows of 2012, natural gas prices have doubled and this should be seen in ConocoPhillips' bottom line.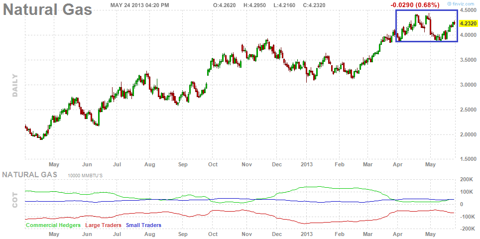 Click to enlarge
Conclusion
When including Phillips 66 and dividends, ConocoPhillips has provided shareholders with outsized total returns. In 2012, ConocoPhillips returned over 20%, compared with its peer's total return of negative 5% and the S&P's 16%. Since 2010, ConocoPhillips has returned an average of 19%, compared to its peers 1.3% and the S&P's 11%.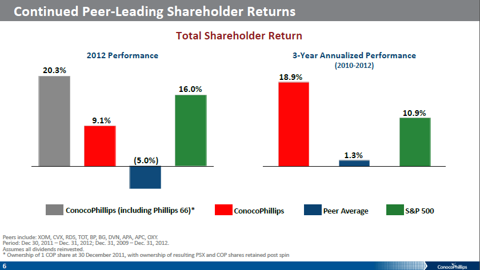 Click to enlarge
ConocoPhillips remains one of the more exciting large E&P companies out there. Its spin off of Phillips 66 was a brilliant move, and has allowed its shareholders to directly profit from the downstream profit windfall. 2013 may be a lean year for ConocoPhillips as production growth is expected to start up in 2014. However, you are being paid to wait, with its outsized yield.
Disclaimer: The opinions in this article are for informational purposes only and should not be construed as a recommendation to buy or sell the stocks mentioned. Please do your own due diligence before making any investment decision.
Disclosure: I am long COP, PSX. I wrote this article myself, and it expresses my own opinions. I am not receiving compensation for it (other than from Seeking Alpha). I have no business relationship with any company whose stock is mentioned in this article.