The difficulty filling positions that some employers are already experiencing can be seen in the rising number of unfilled job openings at the end of each month. The latest BLS survey reveals that there were 3,844,000 job openings at the end of March, virtually unchanged from the 3,899,000 openings still available at the end of April. Again, significant monthly fluctuations notwithstanding, the number of job openings at the end of each month has been steadily increasing since mid-2009.
Here is the Jobs Openings and Labor Turnover (JOLTS) data from the BLS to which Challenger was referring.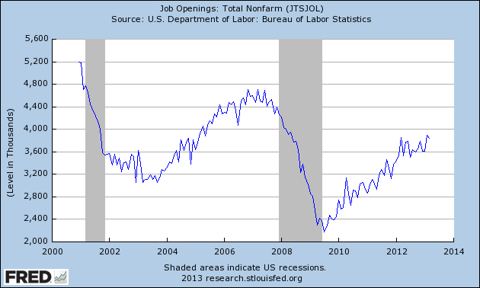 Challenger continued:
As the number of job openings rises and the number of unemployed falls, the number of available workers per job opening continues to shrink.
Is headline unemployment a measure of labor slack? Most know my position is that headline unemployment (U-3), or even the all in unemployment (U-6) do not properly measure the potential workforce. Still, the U-6 unemployment rate does provide a broad understanding of labor force slack as it includes people who:
believe no job is available to them in their line of work or area;
had previously been unable to find work and are no longer looking;
lack the necessary schooling, training, skills, or experience; and/or
think they are too young or too old, or face some other type of discrimination.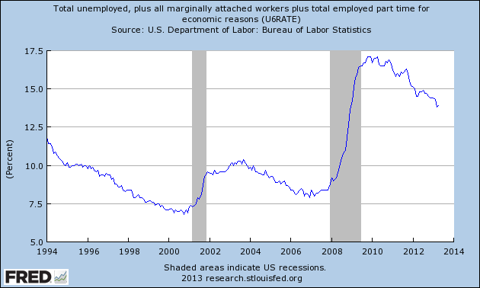 Without a doubt, the unemployment rate is improving - but remains so historically elevated that talk of a general labor shortage is funny. Of course, there will always be jobs that are hard to fill because of skill mismatches - and there will always be pockets where jobs exceed the labor which is available in that market.
One would expect to see an increase in job openings in a sector facing a labor shortage. I picked two skilled sectors that have high levels of real employment that some believe are facing a skilled labor shortage - education / healthcare and professional business services.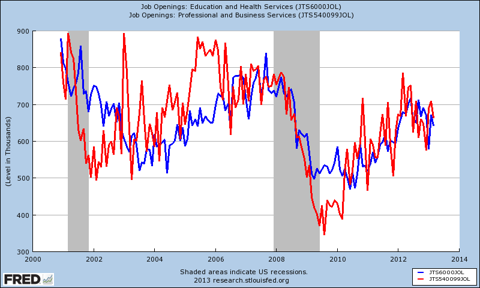 Not only are they currently below post recession peaks, but are also well below pre-recession peaks. The same sort of graphs can be produced for construction or skilled trades (or even health care and education separately). In other words, it does not appear there are any current indications using Job Opening data of a general labor shortage.
My normal weekly economic review is in my instablog, and leads with the positive growth now being seen in rail traffic.
Disclosure: I have no positions in any stocks mentioned, and no plans to initiate any positions within the next 72 hours. I wrote this article myself, and it expresses my own opinions. I am not receiving compensation for it. I have no business relationship with any company whose stock is mentioned in this article.