Under the current environment of low interest rates, investors seeking income have continued to flock towards companies capable of paying a strong yield. One such company that has steadily performed in recent months is Main Street Capital Corporation (MAIN). As a company that IPO'd in October 2007, Main Street Capital raised funds at one of the best times to do so. In the months to follow, the company was capable of leveraging its access to capital in order to invest in firms that faced a difficult financing environment.
Main Street Capital Corporation is an investment firm that provides long-term debt and equity capital to lower middle market companies and debt capital to middle market companies. The corporation is structured as a business development company and maintains favorable tax advantages.
Barring special one-time dividends, the company has continued to steadily grow its dividend rate in recent years as seen in the chart below. Likewise, the company's share price has responded with a steady climb in value. While this rise in share price has ultimately lowered the company's yield, the company continues to pay a respectable 6.26% even today. Most importantly, Main Street Capital Corporation has established a trend in dividend growth.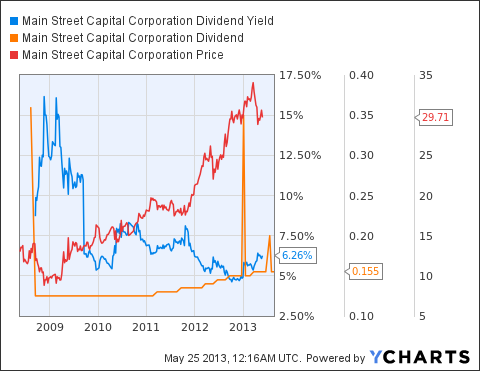 MAIN Dividend Yield data by YCharts
Main Street's portfolio investments are usually made to support management buyouts, recapitalizations, growth financings, and the acquisitions of companies that operate in diverse industry sectors. The company states that its lower middle market firms typically have annual revenues between $10 million and $150 million. The company recently announced its Q1 2013 results, and the ensuing conference call can be found here. The following are some highlights worthy of pointing out:
Both "Lower Middle Market" and "Middle Market" investments increased in value. Over the quarter, the investments increased $6 million and $4.7 million respectively on a net basis.
The company finished the quarter with a net asset value of $18.55/sh. While this represented a decrease of $0.04 per share over the previous quarter, the net asset value would've been $18.90/sh. were it not for the special dividend of $0.35/sh. returned to investors during the quarter.
The company's Lower Middle Market investments ended the quarter with $110 million in cash.
Regular monthly dividends increased to $0.155 which represents a 7% increase over the second quarter of 2012.
The company has also maintained a consistent record of tax efficiency. According to management, 90% of the company's regular monthly dividends paid in February and March will be taxed at the favorable 2013 tax rates on long-term capital gains. For comparison, the company stated that 46% of the 2012 dividends would be taxed under the favorable 2012 tax rates on long-term gains.
As an additional indication of ongoing confidence being set by management, the company's CEO, Mr. Vincent D. Foster, has also been purchasing shares on a regular basis. To be more precise, he's been participating in the company's dividend reinvestment plan according to the Form 4 filed here. What is interesting to note, however, is that the CEO also appears confident enough in the company to invest in it on his children's behalf. Through custodial accounts and in an irrevocable trust, Mr. Foster has also enrolled his family into the same dividend reinvestment plan.
By taking shares in the company rather than cash, this measure remains a small but noteworthy consideration for investors to dwell upon. The CEO's transactions suggest that the company's value will continue to grow in the future. In addition to this thought, Main Street Capital Corporation continues to perform well and has steadily been growing value for its shareholders as well as returning it to investors. Most recently, the company announced another special dividend payable in July 2013.
Conclusion:
Taken as a whole, the company appears to be well-positioned for continued growth. While trading above its net asset value at its current price of $29.72, the company has also thus far shown its ability to responsibly grow the company. Most importantly, Main Street has been increasing its capability to return value as indicated by the growing dividend rate. With the company's CEO opting to take on shares rather than cash for both himself and his family, this would also indicate that the best days may lay ahead for the stock. For those looking for long-term investment income, Main Street Capital Corporation may offer an investment worthy of consideration.
Disclosure: I am long MAIN. I wrote this article myself, and it expresses my own opinions. I am not receiving compensation for it (other than from Seeking Alpha). I have no business relationship with any company whose stock is mentioned in this article.