If AT&T (NYSE:T) can't get more revenue from its customers the old fashion way, it just charges them an "Administration Fee" of $0.61, which doesn't sound like much, but when paid every month by every wireless subscriber, the sum works out to about a cool $700 million a year - not too shabby. But in fairness, AT&T's "administration fee" is less than Verizon's (NYSE:VZ) $0.91 and Sprint's (NYSE:S) $1.99 administration fee. But, for $700 million a year, that's a lot of "administrating" going on.
While AT&T's yearly revenue growth of 0.5% isn't anything to write home to Momma about, the company has been able to add higher profit margin customers due to its wireless segment. According to the company's Q1 2013 earnings call held on April 23, 2013, AT&T added more than 2 million IP broadband wireless and wireline connections in Q1 - so maybe that's where it's doing all that "administrating", handholding all those new broadband customers. Additionally, the company set a smartphone sales record in selling 6 million of the devices, with 4.8 million of the smartphones being Apple (NASDAQ:AAPL) iPhone activations. And, due to all of those new smartphones, the mobile data revenue was up 21% year-over-year.
The company's U-Verse high speed Internet also performed well in the quarter with record sales and the addition of 730,000 broadband subscribers. Additionally, AT&T added an 232,000 new U-Verse video customers in the quarter.
AT&T has been busy building out its LTE network, which the company claims is the fastest in the nation and which the company claims has been attested to by a third party testing group.
In spite of the "bumpiness", AT&T's stock price has performed well over the previous 52 weeks, but has been a little stagnant of late (shown below), which means the stock could be forming a base before making a further trajectory upward: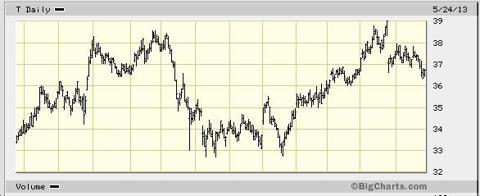 AT&T stock price has a fairly respectable Price-to-Sales ratio of 1.7, but its Price-to-Earnings ratio of 28 is a little expensive for an older well-established company. On the one-hand, the company looks like a value play, but on the other hand, the company looks like it needs to do some "administrating" in order to cut some of its costs and present a more attractive P/E ratio.
In a previous article related to AT&T where the company's smartphone/tablet strategy was analyzed, a married put position was considered for the company as a way to take advantage of an AT&T increase in stock price, yet not be burned by a large drop in stock price should it occur. The married put position mentioned in the article currently has a profit of 3.5% and the position cannot realize a loss of more than 2.3%.
With AT&T's positioning in a hot market segment, with more room for growth in "administrating" and with its recently stagnant stock price, a further investment in the company is considered. Once again, since the company's P/E is fairly expensive, so a protective married put position is considered, just in case the company suddenly reports some bad news. The married put position can be entered by purchasing a long stock and "marrying" the long stock with a protected put option position. The expiration month for the protective put option is typically selected several months in-the-future in order to reduce the per-day cost of the put option "insurance".
Using PowerOptions, a number of married put positions were found for AT&T for October 2013 option expiration as shown below: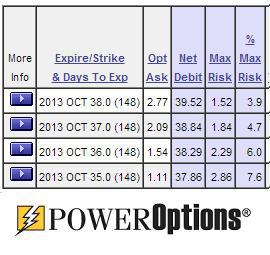 The married put using the 2013 Oct 37 put option looks attractive, as it has a maximum potential loss of 4.7% before taking expected dividend payments into consideration. When taking into consideration expected dividend payments during the holding time of the position, the maximum potential loss is reduced to 2.5% -- so the upside is unlimited, but the maximum loss which can be sustained is 2.5%. The details for entering the AT&T married put position are shown below:
AT&T Married Put Position:
Buy T stock (purchased or existing)
Buy T 2013 Oct 37 put option at $1.19
A profit/loss graph for one contract of the AT&T married put position is shown below: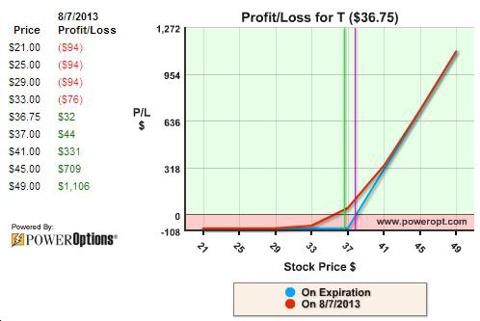 With an increasing stock price, the value of the married put position increases as well, and for a stock price below the $37 strike price of the put option, the maximum loss which can be sustained is 2.5%. And, if the price of the stock increases to above the $37 strike price of the put option, then income methods can be applied in order to receive income and reduce risk as taught by RadioActiveTrading.com.
Look forward to your comments below!
Disclosure: I have no positions in any stocks mentioned, and no plans to initiate any positions within the next 72 hours. I wrote this article myself, and it expresses my own opinions. I am not receiving compensation for it (other than from Seeking Alpha). I have no business relationship with any company whose stock is mentioned in this article.