I've covered Nvidia (NASDAQ:NVDA) for a while. First, with Nvidia at $14.91, I went negative on it because of the very obvious threat from Intel (NASDAQ:INTC) integrated graphics. Then, with Nvidia having fallen towards $12.11 I went neutral due to the retina revolution as well as Nvidia's placement in Apple's (NASDAQ:AAPL) iMac.
Today, one year later and in the midst of a strong Fed-fueled bull market, Nvidia stands at $14.54. Nvidia has been doing rather well, like most other stocks, and even recently beat earnings expectations- though with a massive retrenchment in its mobile aspirations. What follows, however, are two powerful reasons to, again, turn negative on Nvidia in spite of its neutral valuation (Nvidia trades at 20.2 times estimated 2013 earnings).
Intel yet again
Yet again, Intel is launching a new CPU generation with integrated graphics. This time, it's code-named "Haswell". With Haswell, beyond better power efficiency, Intel is also targeting a new jump in GPU power. That's where the threat lies for Nvidia. Each jump in Intel's integrated GPU brings it closer to displacing even more discrete GPUs from the market. First it started with low-end offerings, but now the Haswell family will theoretically scale up to the power of a Nvidia GT 650M, already a mobile performance part. The chart below illustrates Intel's evolution (Source: Intel)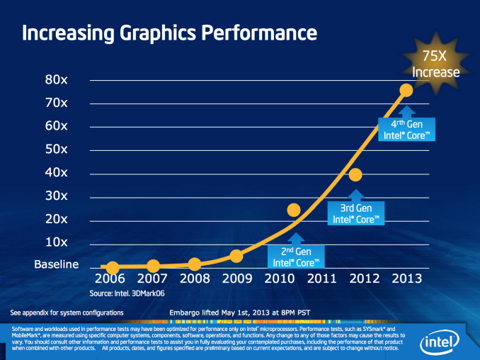 It's likely that as we go forward, at some point discrete GPUs are pushed aside to a small performance niche. The same thing more or less happened 2 decades ago with math co-processors which up to a point were separate from the CPU.
As a measure of the risk here, not only is it possible that more and more laptops and ultrabooks opt not to have discrete GPUs, but it's even possible that someone such as Apple, now fielding retina iMacs carrying the equivalent of Nvidia's GT 650M, might switch towards Intel's integrated solution, thus quickly erasing part of Nvidia's former market.
AMD and the console war
As is widely known, Advanced Micro Devices (NASDAQ:AMD) had design wins on the two most important new-generation consoles, the Sony (NYSE:SNE) PlayStation 4 and the Microsoft (NASDAQ:MSFT) Xbox One. AMD won both of these consoles with an APU (CPU+GPU) based on an 8 Jaguar core CPU and a mid-to-high end GPU.
Now, this has a significant implication. The CPU on AMD's design is a rather weak tablet-spec CPU. To get around this, developers will probably off-load some computing tasks to the GPU. GPU compute is less standard-compliant than imagery. The result might end up being more games which would rather run on AMD iron than on Nvidia iron - something which is made even more relevant when we remember that the new gaming consoles make for easier ports between them and PCs. That is, Nvidia runs the risk of games simply having a bias towards AMD on every serious gaming platform (except for mobile, where Nvidia doesn't compete well, either).
Also, the console win highlights something obvious, also made relevant by Intel's move: The market is moving more and more towards APUs, that is, CPUs with integrated GPUs. Both Intel and AMD are able to provide this new silicon because they control both the x86 architecture as well as have a GPU offering. Nvidia, on the other hand, does not have an x86 license. It simply cannot compete on this new trend, and as the trend becomes more evident, things can probably get nasty for it.
As an aside
Here's something speculative. The absence of an x86 capability might drive Nvidia to try and acquire such a capability. Barring trying to acquire AMD, which might encounter competitive constraints, it would seem logical for Nvidia to try and acquire VIA technologies due to its x86 capability.
Conclusion
While Nvidia hasn't been doing too poorly recently, a couple of developments threaten to make things quite different within the next year. First, Intel is launching a new CPU generation which includes more-powerful integrated graphics able to make Nvidia's offering unnecessary. Secondly, AMD is going to dominate the new gaming console market with its APUs. Such dominance will demand optimization which will generally favor its approach to graphics, probably rendering Nvidia's offerings less competitive.
Both of these threats are potentially massive and it makes little sense to stay around in the stock waiting for their effects to manifest. Additionally, and that's just an opinion of mine, Nvidia's "Project Shield" seems to have everything to produce a massive failure - it's expensive, unwieldy, and doesn't seem to fill any particular market niche that's not well-served currently. Indeed, if anything, hand-held gaming consoles are looking like victims of the smartphone and tablet popularity and it makes little sense to launch yet another expensive, single-purpose such device.
Disclosure: I have no positions in any stocks mentioned, and no plans to initiate any positions within the next 72 hours. I wrote this article myself, and it expresses my own opinions. I am not receiving compensation for it (other than from Seeking Alpha). I have no business relationship with any company whose stock is mentioned in this article.