After recently reporting Baupost's portfolio as of 3/31/13, we found that Klarman ended the quarter with BP (NYSE:BP) as its biggest position, worth 25% of the portfolio at $725.3 million. To arrive at a position of this size, the fund had to increase its share count in BP by 57% during the first quarter, indicating a very bullish sentiment. In response to this purchase, I have presented below a fundamental look at the company's financial position and current valuation.
Profile and Updates
BP is an integrated oil and gas firm with operations all around the world. Most recently, BP announced an $8 billion buyback plan following the sale of its interest in TNK-BP to Rosneft. This was an interesting deal because along with the sale, BP reinvested $12.48 billion in Rosneft bringing its ownership in the company up to 19.75%. I personally see this as a win as Rosneft is one of the largest oil and gas companies in the world, and in Russia, a country with great potential. On the other hand, I'm wary long-term because of the political risk involved, Rosneft is 69.5% owned by the government and was previously a nationalized company.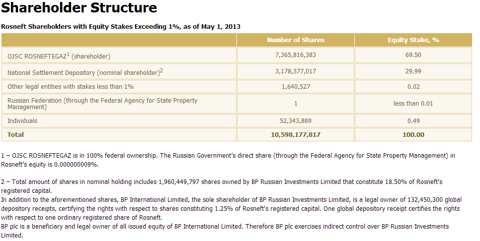 In addition to this sale/investment, BP recently provided the following update of its ongoing liability associated with the Deepwater Horizon accident:

And, most recently, (May 25th) BP's legal issues continued to face pressures as it was announced that BP was named in a lawsuit to be filed "following a European Commission antitrust investigation into alleged manipulation of oil prices and benchmarks." It is alleged that BP along with Royal Dutch Shell (NYSE:RDS.A) and Statoil ASA (NYSE:STO) "purposefully reported inaccurate, misleading and false Brent Crude oil trade information to Platts, which manipulated and restrained trade in both the physical Brent Crude oil market and Brent Crude oil futures market."
Fundamentals and Valuation
BP currently has a market cap of $139 billion and trades for $43.73 per share. In relation to its two largest competitors, Chevron (NYSE:CVX) and Exxon (NYSE:XOM), BP's market cap is 57% of Chevron's market cap of $243 billion and 34% of Exxon's market cap of $408 billion.
I point this out because, even with its much smaller size, BP was able to bring in $388 billion in revenues last year. This is 60% higher than Chevron was able to produce and only 19% lower than Exxon's revenues of $482 billion.
From the $388 billion in revenues, BP brought in $20.3 billion in cash from operations (5%), $5.3 billion (26% of cash from operations) of which it used to pay its 4.9% dividend. In comparison Chevron, with better margins, brought in $38.8 billion (16% of revenues) from which it returned $10.9 billion to shareholders (28% of cash from operations; 4.1 in buybacks and 6.8 in dividends). Chevron has a lower current dividend yield of 3.2. Lastly, Exxon had cash from operations last year in the amount of $56.1 billion (11% of revenues) from which it returned to shareholders $31.47 billion (56% of cash from operations; 10.41 in dividends and 21.06 in buybacks). Exxon currently has a dividend yield of 2.55%.
On valuation, and from a macro company point of view (based on consolidated financials) BP looks attractive compared to Exxon and Chevron when looking at its lower current P/E of 6.16, to Exxon's 9.34 and Chevron's 9.48, and based on its lower PEG of 1.73, compared to Exxon's 6.23 and Chevron's 6.28. EV/EBITDA's are all similar, trading from 5.07-5.78 for the three companies. But BP also appears to be a value play based on its low P/B of 1.1, compared to Chevron's 1.7 and Exxon's 2.5.
Take Away
There is no denying Klarman's stock picking ability and in the case of Baupost's largest holding, BP appears to offer a lot of value. Fundamentally, the three companies above all appear to be solid choices but BP is compelling because of its higher dividend yield, lower market and book values, and its lower PEG. Shares are up 7.66% YTD and still trade close to the amount we can assume Klarman purchased his additional shares for last quarter, since they have traded between their current price and slightly under $40 per share throughout 2013. As a disclosure, I have been looking at this company for a while but am having trouble deciding between picking up some very long calls or the dividend paying shares. Let me know what you think!
In addition to the links above, all ratios and figures were sourced from YAHOO! Finance and Morningstar.com.
Disclosure: I have no positions in any stocks mentioned, and no plans to initiate any positions within the next 72 hours. I wrote this article myself, and it expresses my own opinions. I am not receiving compensation for it (other than from Seeking Alpha). I have no business relationship with any company whose stock is mentioned in this article.