I've been bullish on Ford (NYSE:F) since the beginning of 2013, as its European restructuring plan was clarified and the industry tailwinds became apparent.
In the past few weeks, shares of Ford have broken out to 2-year highs, first taking out $14 and recently poking above $15, though shares failed to hold the latter level: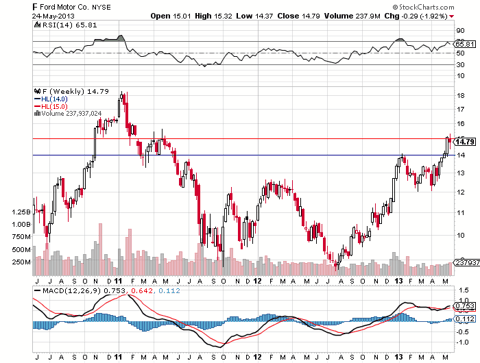 The $14 mark has been a particularly important pivot point, having served as the post-crisis breakout level for the move towards $18 and subsequent support.
One of the biggest technical issues with Ford's stock has been the massive amount of overhead supply as a result of their premature bounce following the '09 bottom; the recent price action is much healthier and suggests a lot of the longs are fresher hands with long-term outlooks.
The Road To $2.00-$2.50 EPS By 2016
The market tends to use a 6-12 month outlook, so I like to look a bit further out as long as the estimates don't have to be discounted too heavily as a result of highly uncertain factors.
Ford breaks out its results into the Americas, APAC, and the EMEA. I believe the profit-sucking EU operations are the most important factor weighing on shares, so let's take a look at that segment first.
EU Restructuring
Last October, Ford announced an update to its EU restructuring (or transformation - whatever you want to call it). The highlight of the plan was projected profitability by mid-decade on margins of 6-8%.
To achieve EU profitability, Ford is relying on a rebound in regional sales, significantly lower costs and production, and higher market share. The last piece of this plan may be in jeopardy, with registrations for its vehicles sliding more than twice the industry average. Ford's EU management insists that temporarily losing market share isn't as important as profitability. I'm inclined to agree, but the real concern is whether or not Ford can be profitable if it continues to lose share.
Overall, the Reuters piece is a bit of an overreaction. Ford is dealing with a lot of moving variables, including the in-process closure of the Genk plant in Belgium. Using the first two months of 2013 as a proxy for a multi-year plan doesn't make much sense, especially in the context of various production changes.
With $2 billion in expected 2013 EU losses, Ford will take a $.51/share hit to its 2013FY EPS, which is estimated at $1.40 (the FY estimate accounts for EU losses, of course).
Ford is currently reviving its EU line, but it hasn't paid off yet. Q1 revenue declined 7% to $6.7 billion as the quarterly loss swelled to more than $450 million. Market share declined to 7.7% and the industry SAAR dropped another 6% to 13.3 million - a 17-year low.
Europe's a mess, and I think Ford will ultimately have to focus more on cost reductions than improving (or even retaining) its market share and growing sales. To be honest, I think it's plausible that internally the focus really is on layoffs and cost cuts - it's pretty hard to operate in a heavily unionized region, however, when your employees think that's the focus.
If by "mid-decade" Ford meant 2015, I think it will fall a little behind schedule. This is one of those cases where you'll have to trust management (they've earned it, given the turnaround in North America) and make sure you've got a wide margin of safety. I think Ford will be breakeven by 2016, which would add the aforementioned $.51 to the bottom line EPS.
North American Sales Booming
U.S. auto sales remain buoyed by pent-up demand carrying over from the recession and low interest rates. SAAR is currently 15.6 million, up 14.5% YOY. Ford grew its market share to 15.9% vs. 15.2% in Q1 2012 as revenue rose almost 20%, largely driven by Fusion and Escape retail sales.
These two vehicles, in addition to the higher margin F-series truck have catalyzed double digit revenue and pre-tax income growth. Using 2012's full-year NA pre-tax net income as the baseline, modest 5% annual growth gets us to $10 billion by YE2016. Applying a 33% effective tax rate to those earnings gives us $6.7 billion in net, or about $1.72 in EPS
Chinese Operations Promising
Wholesales in the APAC region were up to 282 million vs 217 million YOY, with revenues up 13% to $2.6 billion. Ford managed to pull out a $6 million profit even as it invests $5 billion in Chinese production.
The capital deployment in this region suggests Ford is expecting the APAC operations to have a significant long-term effect on the overall bottom line.
Conclusions
Add $.51 from breakeven operations in EU

$1.70 in NA operations

Assume at least breakeven in SA

Potential upside from China ($100 million in net = $.03, $500 million = $.13)
Using what I believe to be conservative estimates, Ford should be able to earn at least $2.20 by YE2016. Even applying a 10% discount rate implies about $2 in EPS.
Assuming a 10X multiple:
$2 in EPS = $20 share price, 8.3% IRR

$2.20 = $22, 11.6% IRR

$2.50 = $25, 16.7% IRR
Add in the current 2.7% dividend, $10 billion net automotive cash position, and future capital returns and the potential returns look to be outstanding, with a solid margin of safety. Ford is one my favorite investments right now, looking 45% undervalued assuming the mid-range scenario.
Disclosure: I am long F. I wrote this article myself, and it expresses my own opinions. I am not receiving compensation for it (other than from Seeking Alpha). I have no business relationship with any company whose stock is mentioned in this article.