For its size ($1.3 billion market cap), Molycorp (MCP) has to be one of the most talked about stocks in the market. It seems like everyone is trying to find a way to make money on the stock. Forbes recently entered the fray, advising investors to sell January 2015 puts at a $3 strike price:
Investors considering a purchase of Molycorp Inc. shares, but cautious about paying the going market price of $6.69/share, might benefit from considering selling puts among the alternative strategies at their disposal. One interesting put contract in particular, is the January 2015 put at the $3 strike, which has a bid at the time of this writing of 60 cents. Collecting that bid as the premium represents a 20% return against the $3 commitment, or a 12.1% annualized rate of return.
In my opinion, selling such long-dated puts on the stock could be catastrophic for the following reasons:
Molycorp "Bankruptcy Scenario"
After a better than expected Q1 2013 earnings report, Molycorp's shares rose 31% on a wild day of trading. And while a 9% increase in revenue over 4Q 2012 and a cash hoard of about $400 million is impressive, the company is not out of the woods yet. If its rare earth prices and cash flows do not improve soon, it could go bankrupt and pierce the $3 strike price on the January 2013 puts. The article, "Molycorp Is A Bear Trap", highlights how bankruptcy may not be imminent, yet it's still a real risk:
However, with run-rate cash outflows from operations of $37 million and planned capital expenditures of about $69 million to complete its Mountain Pass expansion and Chlor-Alkali plant, I don't see the company running out of cash prior to 1Q 2014, if at all. The following chart displays Molycorp's cash balance, assuming quarterly cash out flows and capital expenditures of $37 million and $30 million, respectively.

Instead of building inventory like it has in the past, Molycorp sold through about $16 million of inventory on hand, representing an important "source of cash" during the quarter. I assumed that in 4Q 2013 this "source of cash" would be muted and cash out flows from operations would be $53 million.
The company spent $181 million in capital expenditures during the quarter. It expects total capital expenditures of $250 million for the year. I assumed $30 million of quarterly capital expenditures going forward.
With the aforementioned assumptions on cash out flows from operations and capital expenditures, Molycorp's cash on hand by the end of 4Q 2013 would be approximately $188 million. This would be below the $227 million cash on hand at the end of 4Q 2012 when it announced its secondary offering.
At a minimum, it would take at least three quarters before Molycorp's cash balance would signal it was headed for bankruptcy or in need of another capital raise. By that time, short sellers will have lost their shirts -- either from a loss of capital or carrying costs related to holding a long-term short position.
Molycorp "Equity Raise Scenario"
Part of Forbes' logic for writing long-dated puts at a $3 strike price is that despite the company's near-term revenue and cash flow issues, the stock has still not pierced the $3 threshold. Forbes displayed the following chart of Molycorp's twelve month trading history, highlighting in green where the $3 strike price is located: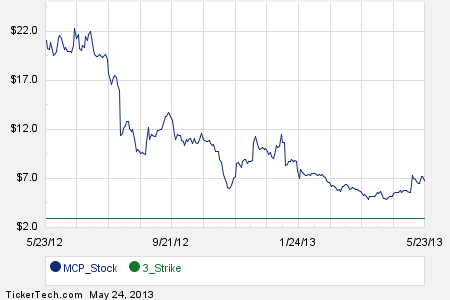 The chart above, and the stock's historical volatility, can be a helpful guide in combination with fundamental analysis to judge whether selling the January 2015 put at the $3 strike for the 12.1% annualized rate of return represents good reward for the risks.
The fact that Molycorp was able to sustain its trailing twelve month's share price above $3 may not be indicative of the quality of its operations. Forbes failed to mention that after announcing a revenue shortfall in January, the company raised over $400 million in fresh capital weeks later. Had the company's capital raise not been successful, its shares probably would have fallen below the $3 threshold. On its Q4 2012 earnings call in March, management divulged that it was attempting to raise an additional $100 million from a credit revolver facility; I assumed the debt facility would be backed by accounts receiving and inventory. However, on its Q1 2013 earnings call in May, management represented that the credit revolver had not been consummated.
I suspected that the company would have trouble securing its credit facility. Due to a $40 million inventory write-off and simply working down existing balances, the company reduced inventory by about $56 million since 4Q 2012. That said, I had previously estimated the company's inventory was overstated by $134 million. In my opinion, the combination of declining inventory and overvalued inventory will cause cash raised from the revolver to be less than $100 million, assuming it is completed at all. That is a long-winded way of saying that [i] given a new debt raise that will fall short of expectations, [ii] the company will most likely seek another equity raise, which could drive the stock below the $3 strike price on the puts.
Conclusion
Molycorp's current share price reflects a better than expected Q1 2013 earnings report. Its cash hoard of $400 million has bought management a few more quarters to right the ship, making the company a "bear trap." However, given the bankruptcy scenario and the equity raise scenario, the stock is also a trap for long-dated put writers. That said, I recommend against selling long-dated puts.
Disclosure: I am short MCP. I wrote this article myself, and it expresses my own opinions. I am not receiving compensation for it (other than from Seeking Alpha). I have no business relationship with any company whose stock is mentioned in this article.
Additional disclosure: I currently own June call options on Molycorp.