Recently, the energy markets have seen extreme volatility. Natural Gas has fallen roughly 40% YTD. In the past 10 days, the commodity has fallen nearly 10%. There are many factors which could lead to high volatility in commodities. The past two weeks has focused on political tensions and supply/demand concerns.
Political Tensions:
Iran, a country which owns one of the highest natural gas reserves in the world, has recently experienced a new wave of political troubles. These troubles have sparked a sense of fear and uncertainty amongst energy traders. If political matters were to ease and calm down, natural gas prices could depreciate and level at a fair market value. On the other hand, if political tensions were to intensify, natural gas prices could experience a tremendous spike in price. Thus, it would be wise to have a proper hedge for all open positions.
Supply/Demand:
On 6/24, the EIA (Energy Information Administration) reported natural gas stockpiles of 2,651 Bcf. This is a 3.6% increase from the previous week. According to the EIA website, current stockpiles are 31.2% great than last year. Has our economy improved that much in 1 year that we need 31.2% more Natural Gas?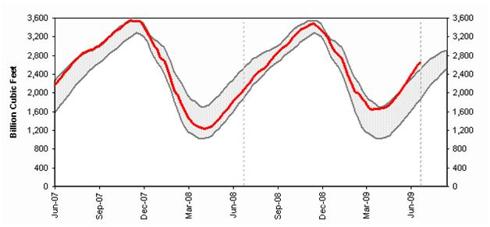 http://www.eia.doe.gov/oil_gas/natural_gas/ngs/ngs.html
Short term traders view the year-over-year surplus in Natural Gas as a bearish indicator.
Below is the 10-day chart for UNG: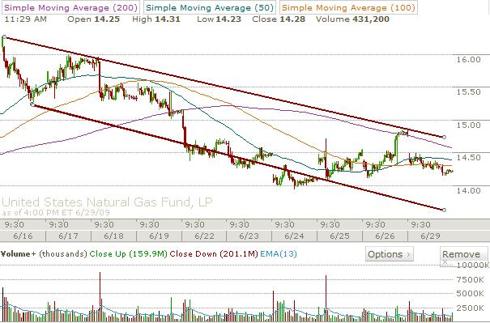 We see that UNG has been range bound with resistance levels at:
50 Day Moving Average

100 Day Moving Average

200 Day Moving Average

1

0 Day Channel Resistance Trendline
These key resistance levels act as technical barriers that need to be overtaken before UNG can expect a positive price movement. If UNG proceeds with the bearish momentum it has developed, natural gas may revisit the yearly lows. On the contrary, if UNG were to move upward, breaking the 200 Day MA, UNG could rally for another week.
Looking deeper at the option contracts, option traders have positioned themselves for a pullback in UNG.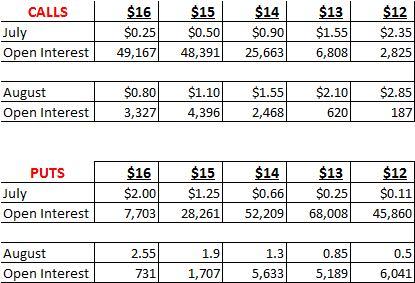 The overall Open Interest Put/Call Open Interest Ratio is roughly 1, meaning for every purchase of 1 Put, 1 Call is bought. The last time that the Put/Call Open Interest Ratio was 1, UNG sharply retraced from the 52-week high. Could this be a sign that Natural Gas is overbought and due for a correction? Time will tell….
For those looking to commence a bearish position on UNG, consider the following analysis:
Buy one July $14 strike put option contract and one AUG $16 strike call option for a total cost of $146 (.66*100+.88*100). Simultaneously sell one AUG $12 call option contract.
The final cost for your Bearish Calendar Spread should be a credit of $124 with a Break-Even price of $13.57.
Disclosure: At time written, author did not own any securities of UNG.