Despite all the press LNG export licenses are generating these days, those LNG plants are years away from becoming operational. The real action in the U.S. energy export market today is with gasoline.
An article in this week's Barron's seemed a bit perplexed as to why gasoline prices were so high when U.S. oil inventories are brimming at their highest levels in 30 years. But the article never mentions gasoline exports, which I believe are a major factor in determining the price of WTI. This recent Bloomberg article was spot-on, as the graphic below clearly shows: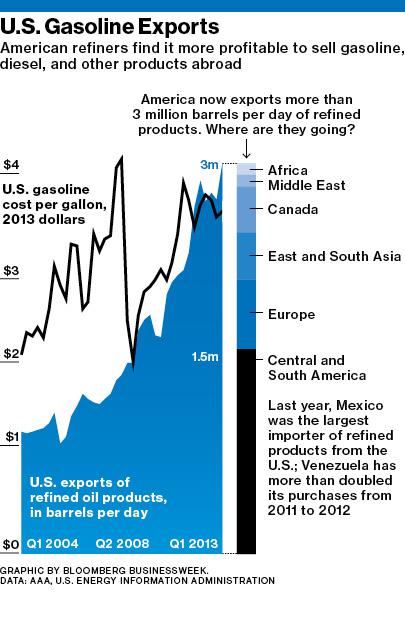 U.S. gasoline exports have nearly tripled in the past 10 years to over 3 million barrels per day (126,000,000 gallons/day). Despite increased U.S. oil production over that period, it is not surprising that the price Americans drivers pay for a gallon of gasoline has tracked this export curve higher.
So how can investors profit from this trend? Coastal refineries are obviously in the best position to export gasoline. Looking at the U.S. Energy Department's "Petroleum Administration for Defense Districts", or PADD regions, it's clear refineries located in the PADD 1, 3, and 5 districts would be optimally positioned for gasoline exports.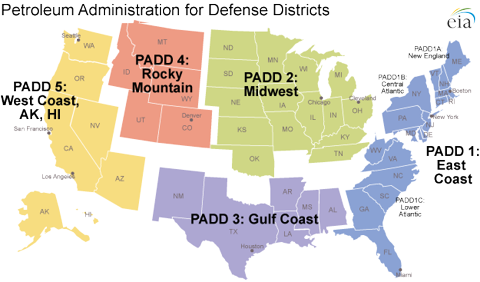 Digging down a little deeper, EIA data show that in February 2013 the U.S. exported 13,574,000 barrels of finished motor gasoline and 12,100,000 barrels (89%) were exported by refineries in the PADD3 Gulf Coast region. And this makes sense because EIA data showing the destinations of U.S. gasoline exports reveal that Mexico is the #1 importer at 7,588,000 barrels/month, followed by:
Ecuador: 736,000 b/m
Guatemala: 713,000 b/m
Panama: 625,000 b/m
Costa Rica: 490,000 b/m
So we definitely need to look at who owns refineries on in the Gulf Coast region. In fact, we can narrow the search down even further to refineries in the states of Texas and Louisiana: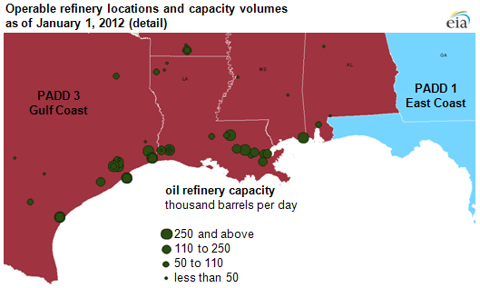 The largest refinery in the US is the giant Motiva refinery in Port Arthur, Texas. It is owned by Saudi Aramco and Royal Dutch Shell (NYSE:RDS.A) in a 50-50 partnership. The refinery was originally intended to be an outlet for heavy Saudi oil, but imports of Saudi oil dropped from 1.8 million barrels a day in 2003 to just over 1 million barrels a day in 2010, replaced primarily by Canadian oil. Shell also operates the Deer Park Refinery with a capacity of 333,700 bbl/d, the Convent Refinery (255,000 bbl/d), and the Norco Refinery (242,000).
Other large refiners in the region and their capacity in bbl/day include:
Exxon Mobil (NYSE:XOM):
Baytown: 560,640 bbl/day
Beaumont: 348,500
Baton Rouge: 503,000
Phillips 66 (NYSE:PSX):
Sweeney: 247,000
Alliance: 247,000
Lake Charles: 239,000
Valero (NYSE:VLO):
Port Arthur: 325,000
Corpus Christi West: 288,000
Corpus Christi East: 115,000
Texas City: 210,000
St Charles: 260,000
McKee: 158,300
Meraux: 125,000
Three Rivers: 90,000
Houston: 83,000
Marathon Petroleum (NYSE:MPC):
Galveston Bay: 451,000
Garyville: 522,000
Texas City: 80,000
Lyondell (NYSE:LYB):
Total (NYSE:TOT):
Chevron (NYSE:CVX):
Adding up this list of refineries, Valero wins the prize with 1.65+ million bbl/day of capacity. Next is ExxonMobil with 1.4+ million bbl/day and MPC with over 1 million bbl/day. Phillips66 has a very respectable presence at 733,000 bbl/day.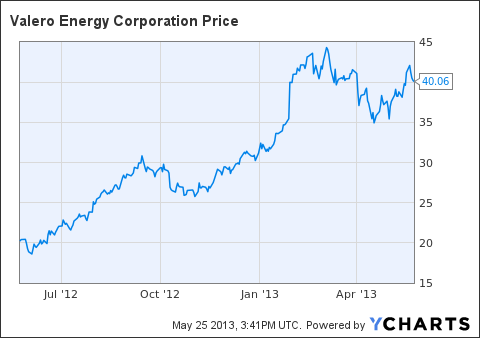 VLO = $40.06
Mkt Cap = $21.8 billion
EPS (ttm) = $5.69
P/E (ttm) = 7.0
Div (Yield) = $0.80 (1.9%)
I wish I had written this article prior to the recent correction in the refinery group. VLO at $35 would have been a steal. The company is growing earnings nicely and is well positioned on the Gulf Coast to increase its exports.
But I am most familiar with Phillips66. What impresses me most about Phillips66 was the company's early emphasis on using logistics to increase the throughput of advantaged feedstock like WTI and WCS and the resulting reward of rapid earnings growth and shareholder distributions.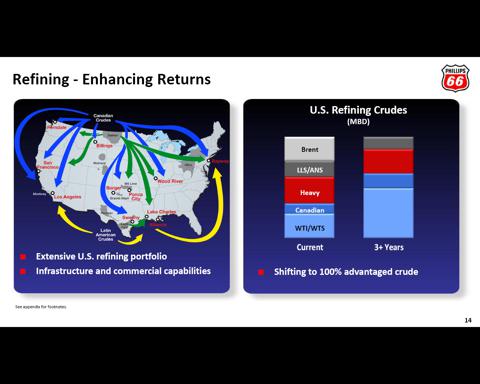 As can be seen in the slide above from a recent company presentation at the UBS Global Oil & Gas Conference, PSX looks to completely remove high cost Brent crude from its input feedstock over the next 3 years or so.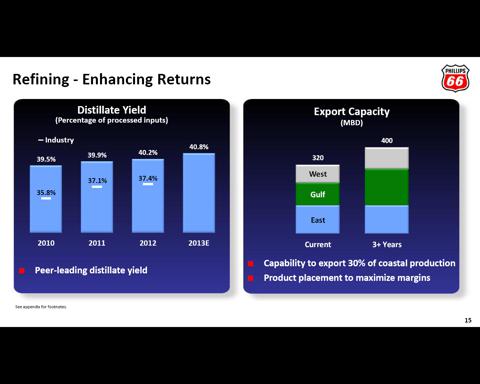 As the chart above shows, the company also recognizes the potential of gasoline exports and already has plans in place to grow its Gulf Coast export capacity to 30% of total capacity within 3 years. In its Q1 earnings report, the company said:
In the first quarter of 2013, refined product exports totaled 150,000 barrels per day, a significant increase compared with the same period of 2012. The company also completed projects at its Ferndale, San Francisco and Alliance refineries which expanded refined product export capability by approximately 35,000 barrels per day. In total, Phillips 66 has the capacity to export approximately 320,000 barrels per day from its domestic refineries. Through further investment at its facilities on the Gulf and West Coasts, export capability is expected to increase to 370,000 barrels per day by the end of 2013.
With a peer-leading distillate yield and increased export margins, this should enhance PSX's refining returns: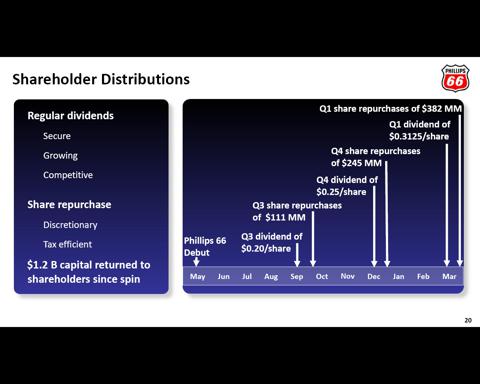 Obviously, I am a fan of PSX and I wish all the companies I have invested in would grow earnings and dividends like PSX. The company has increased its dividend twice since going public just over 1 year ago, and has implemented two stock buyback programs totaling $2 billion. It plans to further increase shareholder value via the IPO of its Phillips 66 Partners (NYSE:PSXP) MLP later this year.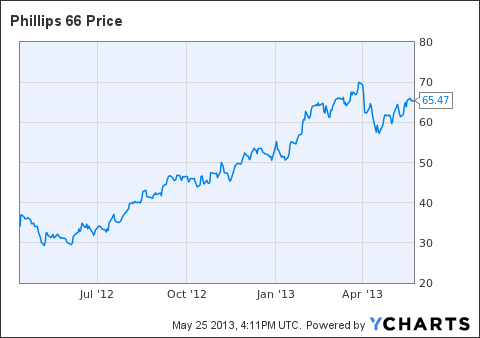 PSX = $65.47
Mkt Cap = $40.5 billion
EPS (ttm) = $7.70
P/E ((tm) = 8.5
Div (Yield) = $1.25 (1.9%)
Summary And Conclusion
Low cost natural gas and crude feedstock give U.S. refining and chemical operations a fundamental long-term cost advantage over competitors. Refiners who are flexible enough to export gasoline are in a great position to increase overall margins. Valero, Phillips66, and Marathon Petroleum are refiners whose ability to grow gasoline exports should significantly impact their bottom line in the coming years. My favorite is Phillips66 due to its diversification in its industry leading chemical operations and its significant midstream operations. The upcoming IPO later this year of its PSXP MLP could serve as a near-term catalyst.
With the market near all-time highs and showing signs of increased volatility, an investor may prefer the relative safety of larger integrated energy companies that have significant Gulf Coast export capacity. I would suggest ExxonMobil first and Royal Dutch Shell second.
Disclosure: I am long PSX, XOM. I wrote this article myself, and it expresses my own opinions. I am not receiving compensation for it (other than from Seeking Alpha). I have no business relationship with any company whose stock is mentioned in this article.
Additional disclosure: I am an engineer, not a CFA. The information and data presented in this article was obtained from company documents and/or sources believed to be reliable, but has not been independently verified. Therefore, the author cannot guarantee its accuracy. Please do your own research and contact a qualified investment advisor. I am not responsible for investment decisions you make. Thanks for reading and good luck!