Federal Reserve Chairman Ben Bernanke and his colleagues confused investors last week. They talked about tapering down the $85 billion of monthly bond purchases, but there was no clear signal about the timing. The yield on 10-year Treasury bonds rose to 2.01%, just shy of a key level, as prices dropped. Bond vigilantes may drive up bond yields on fears of tapering, which would require Fed officials to speak with more clarity about their intentions. Parts of the bond markets are already showing cracks and other parts are vulnerable to a sell-off, which would drive up yields. In the short term, the main threat to bonds is confusion on the part of bond investors, not necessarily the Fed itself. The key level to watch is 2.06% on the 10-year for clues about the direction of the next big move. In this article, I will look at the price action in treasuries as well as other parts of the bond market. I will then outline several scenarios for bonds going forward.
Federal Reserve
There were many speeches from Fed officials over the last few days, and the key topic is the potential for tapering. After launching the current quantitative easing program (QE Infinity), which consists of $85 billion of monthly purchases of treasury and mortgage bonds, the next step for the Fed is tapering. Tapering means buying less than $85 billion of bonds per month. The key questions are when will this happen and how much less will the Fed buy.
In his testimony before Congress, Bernanke said:
"If we see continued improvement and we have confidence that that's going to be sustained then we could in the next few meetings... take a step down in our pace of purchases. If we do that it would not mean that we are automatically aiming towards a complete wind down. Rather we would be looking beyond that to see how the economy evolves and we could either raise or lower our pace of purchases going forward." (Source: Reuters, bold added by author)
Reuters added:
"'I don't know' was his answer when asked if purchases would be lowered before the Labor Day holiday, which is September 2."
Minutes from the last Fed meeting added to speculation that the Fed will taper in the next few months. The minutes from the last Fed meeting were released on Wednesday and stated:
"Participants also touched on the conditions under which it might be appropriate to change the pace of asset purchases. Most observed that the outlook for the labor market had shown progress since the program was started in September, but many of these participants indicated that continued progress, more confidence in the outlook, or diminished downside risks would be required before slowing the pace of purchases would become appropriate. A number of participants expressed willingness to adjust the flow of purchases downward as early as the June meeting if the economic information received by that time showed evidence of sufficiently strong and sustained growth; however, views differed about what evidence would be necessary and the likelihood of that outcome. One participant preferred to begin decreasing the rate of purchases immediately, while another participant preferred to add more monetary accommodation at the current meeting and mentioned that the Committee had several other tools it could potentially use to do so. Most participants emphasized that it was important for the Committee to be prepared to adjust the pace of its purchases up or down as needed to align the degree of policy accommodation with changes in the outlook for the labor market and inflation as well as the extent of progress toward the Committee's economic objectives. Regarding the composition of purchases, one participant expressed the view that, in light of the substantial improvement in the housing market and to avoid further credit allocation across sectors of the economy, the Committee should start to shift any asset purchases away from MBS and toward Treasury securities." (Source: Federal Reserve)
Other members of the FOMC expressed a wide range of opinions in a number of recent speeches and interviews.
The bottom line is that the comments from the Fed seemed to indicate that tapering may come sooner than previously expected and the wide range of opinions is leaving market participants confused.
I don't expect that the Fed is going to taper this summer. In fact, I expect the Fed to taper near the end of the year.
Bernanke ends his term as chairman in January 2014 and QE Infinity is his last chance to get the economy going. The economy has performed much weaker than the Fed has been forecasting and the Fed has over-estimated the impact of its QE programs. Given this track record, I think the Fed will not rush to taper. Bernanke may only have a few months left as chairman and tapering too soon could end the little momentum that seems to be building up in the economy.
Furthermore, inflation is way below the Fed's target. Tapering too soon adds the risk of further dis-inflation, which is a big concern for the Fed.
However, the bond market is clearly expressing concern about tapering in the next few Fed meetings.
Treasury Bonds
The sell-off in treasury bonds, which drove the 10-year yield above 2%, started a few weeks ago. Around May 9, rumors of a Wall Street Journal article about Fed tapering started to spread around the market. The 10-year yield made a quick dash to the ~2% level, which has been support and resistance in the past.
My main concern is that if the 10-year yield breaks above the 2.06% high from earlier this year, it may spike a lot higher in a short amount of time and cause lots of pain across the fixed income and equity markets.
(click to enlarge)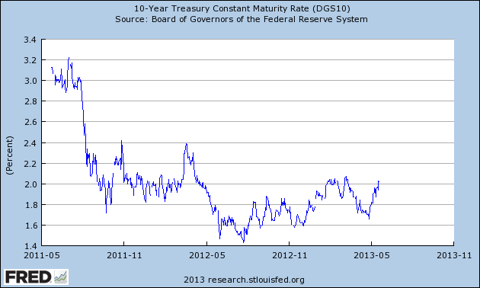 Click to enlarge
(Source: Federal Reserve Bank of St. Louis)
The iShares 20+ Year Treasury Bond ETF (NYSEARCA:TLT) is commonly used as a proxy for long dated bonds. Because bond prices move in the opposite direction of yields, the graph of the TLT ETF is almost a mirror image of the graph above.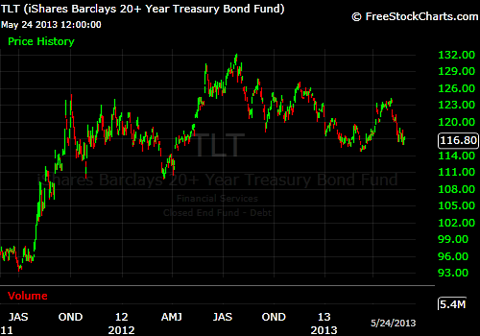 Click to enlarge
(Source: FreeStockCharts.com)
There are some bond market participants that believe that yields can't rise too much, because the Fed is buying $85 billion of bonds a month, including $45 billion of longer dated treasuries.
Despite the Fed's bond buying, yields have been moving up. The chart above shows that the yield on the 10-year has moved up since the lows last summer.
Furthermore, the chart below shows the yield on the 10-year since December 12, 2012 when it announced its current bond buying program, often called QE Infinity.
The Fed has bought a lot of bonds since then, but the yields have been higher the whole time.
The fact that the Fed is buying lots of bonds does not seem to keep a lid on yields. Bond investors may drive up yields further if they believe that the Fed is going to taper sooner rather than later.
(click to enlarge)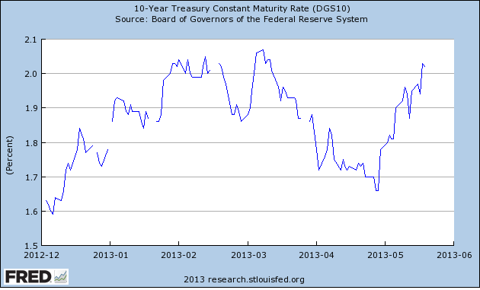 Click to enlarge
(Source: Federal Reserve Bank of St. Louis)
The Fed is scheduled to sell $99 billion of notes next week. It will be interesting to see how this is absorbed by the market and at what yields (source: Bloomberg).
TIPS
Treasury Inflation Protected Securities [TIPS] are treasury bonds that are designed to compensate investors for higher inflation.
The TIPS market showed a big reversal last week. TIPS prices dropped significantly and yields jumped.
The first chart shows the price action of TIPS, as tracked by the iShares Barclays TIPS Bond Fund ETF (NYSEARCA:TIP) and the second chart shows yields on TPIS.
(click to enlarge)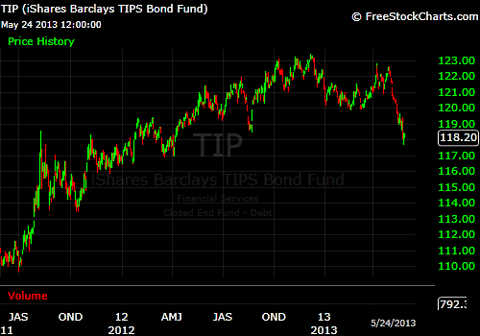 Click to enlarge
(click to enlarge)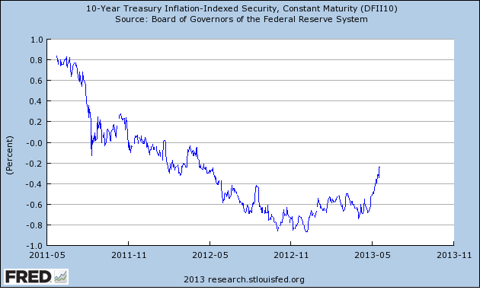 Click to enlarge
(Source: Federal Reserve Bank of St. Louis)
Last week, there was a $13 billion TIPS auction. According to press reports, the auction was well received by investors. However, it is important to note that the pricing was much weaker than previous auctions. This reflects, in part, lower inflation expectations, but I wonder if it is also a warning sign for other parts of the bond market.
Japan
The Japanese capital markets are being driven by quantitative easing to a larger extent than even in the U.S.
Yields have jumped on the Japanese 10-year, as seen in the graph below.
The dynamics in Japan are a bit different than in the U.S. Japanese QE is intended to increase inflation, which could drive up yields.
The jump in Japanese yields is another crack in the global bond markets. It is still unclear if the Japanese bond markets have an impact on the U.S. bond markets, but it is worth watching closely.
(click to enlarge)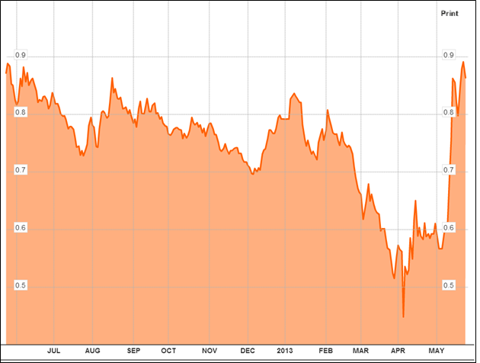 Click to enlarge
(Source: Bloomberg.com)
Corporate Bonds
It could be argued the real impact of the Fed's latest QE program is seen in the corporate bond market, not in treasuries. Yields on corporate bonds have plunged since last summer (as investors bid up prices).
Below are graphs of benchmark yields on bonds rated BB, B and CCC. These are all considered high yield bonds or junk bonds. In terms of risk, they are presented in descending order of risk with CCC representing the most risky bonds. For more about the meaning of bond ratings, please see the appendix below.
Although yields on these bonds have moved up since the lows a few weeks ago, they are still in-line with the multi-month trend.
The question is: will yields resume their downward trajectory or reverse course? If yields reverse course and breakout from the multi-month downtrend, it could trigger a big, fast move.
It is important to note that these yields are extremely low by historic standards.
(click to enlarge)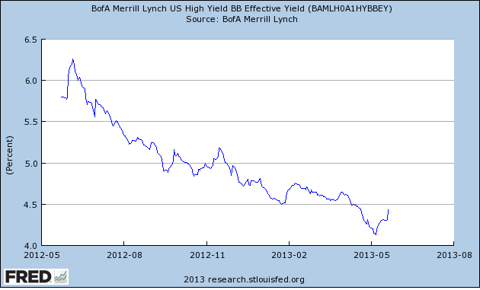 Click to enlarge
(click to enlarge)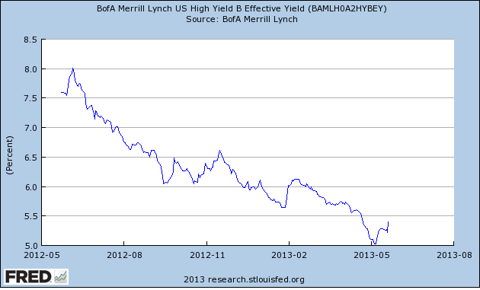 Click to enlarge
(click to enlarge)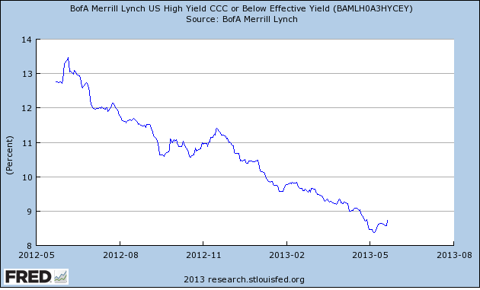 Click to enlarge
(Source: Federal Reserve Bank of St. Louis)
The SPDR® Barclays High Yield Bond ETF (NYSEARCA:JNK) tracks the prices of high yield bonds. The price of the JNK ETF moves in the opposite direction of the yields in the graphs above.
(click to enlarge)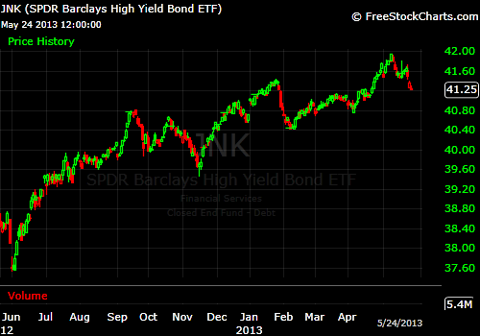 Click to enlarge
(Source: FreeStockCharts.com)
Some junk bond bulls would argue that these bonds still have room to move higher in price and lower in yield. They often make the point that the spread between the yield on junk bonds and the yield on treasuries is wider than in previous cycles. Therefore, junk bonds may see lower yields (and higher prices) and the spread may narrow to levels seen at the peak of previous cycles.
The following shows the spreads for CCC bonds. It is true that spreads were lower in the 2004 to 2007 bull market. However, I think that it is very dangerous to assume that junk bonds have a lot more upside because of the spreads. I hope to write more about this in a separate article about junk bonds.
(click to enlarge)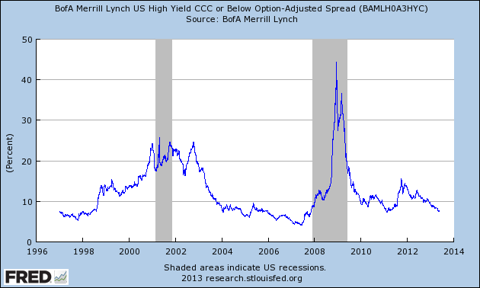 Click to enlarge
(Source: Federal Reserve Bank of St. Louis)
Bottom line: Junk bonds have not cracked yet. They have seen a small drop in price and increase in yield, but the overall trend is still in place. Nonetheless, I think that junk bonds are stretched and it is worth watching this market closely for any signs of a crack because it could lead to a big, quick move.
Yield Hungry Equity Investors
The utility and real estate investment trust (REIT) sectors are the parts of the equity markets that are most sensitive to bond prices. Investors in utilities and REITs are often more interested in yield than growth. Therefore, if bond yields move up, investors in utilities and REITs would likely demand a higher yield (and lower price) from stocks in these sectors. Otherwise, they may find the yields in the bond market more attractive on a relative basis.
Interestingly, utilities and REITs have experienced sharp moves lower recently.
The charts show the price action for the Utilities Select Sector SPDR® Fund ETF (NYSEARCA:XLU) and the iShares U.S. Real Estate ETF (NYSEARCA:IYR).
(click to enlarge)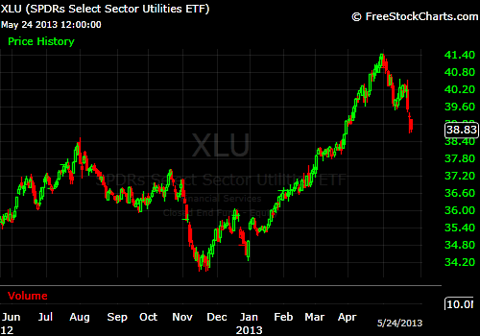 Click to enlarge
(click to enlarge)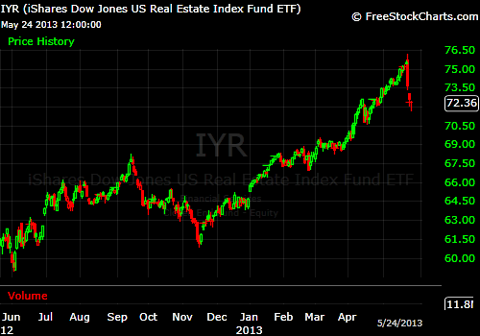 Click to enlarge
The Bull and Bear Scenarios
Given the information above, I want to discuss a range of scenarios for the bond market.
Bullish Scenario
Bond bulls would say that the market overreacted to the comments by the Fed. Obviously, Bernanke was going to talk about tapering because that is the next move for the Fed, but it won't be as soon or as bad as feared. The yield on the 10-year traded to a key level of resistance. At this level buyers will come in and drive up bond prices, which will drive down bond yields.
Everybody has wanted to short the bond market for a long time and many have lost money trying. The Fed is still buying a massive amount of bonds, which should help keep bond yields low.
Furthermore, the threat of dis-inflation is growing and lower inflation is generally good for bonds.
Bottom line: the bulls will come in and buy the 10-year at a yield of ~2.06% and spark another bond rally.
Bearish Scenario
The bearish scenario assumes that yield on the 10-year will jump through 2.06%. Bond investors were confused by the Fed last week and are going to assume that the Fed will taper sooner rather than later. If all the speeches and comments by the Fed could not drive down yields last week, why should we assume that yields will come down next week?
Furthermore, yields on the 10-year have been steadily rising despite the Fed's bond buying. It may be a mistake to assume that the yield on the 10-year needs to reverse at prior resistance just because the Fed is buying.
Although many bond bears have been burned trying to short the market before, many market participants are still interested in this trade. Everybody is looking at the 2.06% level. Although the widespread attention to this level could create some initial false signals in the wrong direction, if the 10-year makes a convincing move through 2.06%, there could be more sellers that would join the move and push the price on the 10-year down further and the yield higher.
Additionally, other parts of the bond market are showing some cracks. This could add to the weakness in the bond market.
My Take And A Few Twists
I am much more concerned about the bearish scenario playing out. It is important to note that the bearish scenario assumes a move in the 10-year yield above 2.06%. Until that happens, the bond bulls have the upper hand. However, I am concerned about the bearish scenario because of the damage that it could cause.
It is important to note that even in the bearish scenario, the catalyst for a sell-off in bonds (and higher yields) in the short term is not the Fed. I am not concerned about the Fed tapering until later this year.
Instead, I am concerned that other market participants think that tapering will happen sooner rather than later. The recent Fed speak has increased the odds of this occurring.
As a result, investors may sell bonds (or refrain from buying) at current levels and demand a higher yield to compensate for the risks of tapering occurring sooner rather than later. One twist is that if yields go too high too soon, Bernanke or other members of the FOMC may get the point that tapering now could cause too much damage to the bond markets (and, through them, to the rest of the economy). Fed officials could then come out with a statement that would imply that tapering should be delayed for a few more months.
Another twist is that if there is a stock market sell-off, investors may move to bonds like in previous "risk-off" periods. This could support bond prices and drive down yields. However, investors could chose to move money into short-term bonds, not necessarily the 10-year. Furthermore, this would not necessarily help corporate and junk bonds, which look especially vulnerable.
It is more important to have a plan than a prediction. There are a lot of moving parts and various participants could impact the bond market in a number of ways. It is important to keep an open mind and see how things play out and adjust accordingly.
Currently, I have a small position in put options on the TLT and JNK. These positions stand to gain if treasury bonds and or high yield bonds fall in price (and their yields increase). These positions are more of a small insurance policy than a real bet on the bearish case playing out. I plan on following these markets closely and adjusting my portfolio accordingly in the future. Please note that I only mention my positions to give full disclosure. Nothing mentioned in this article is investment advice.
Appendix
(click to enlarge)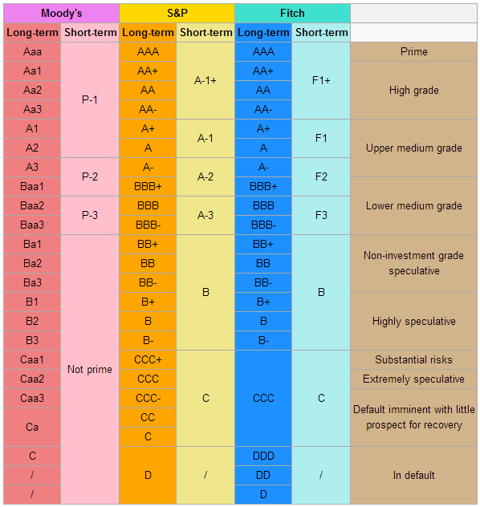 Click to enlarge
(Source: Wikipedia)
Disclaimer: The opinions expressed above should not be construed as investment advice. This article is not tailored to specific investment objectives. Reliance on this information for the purpose of buying the securities to which this information relates may expose a person to significant risk. The information contained in this article is not intended to make any offer, inducement, invitation or commitment to purchase, subscribe to, provide or sell any securities, service or product or to provide any recommendations on which one should rely for financial, securities, investment or other advice or to take any decision. Readers are encouraged to seek individual advice from their personal, financial, legal and other advisers before making any investment or financial decisions or purchasing any financial, securities or investment related service or product.
Information provided, whether charts or any other statements regarding market, real estate or other financial information, is obtained from sources which we and our suppliers believe reliable, but we do not warrant or guarantee the timeliness or accuracy of this information. Nothing in this article should be interpreted to state or imply that past results are an indication of future performance.
THERE ARE NO WARRANTIES EXPRESSED OR IMPLIED AS TO ACCURACY, TIMELINESS, COMPLETENESS, OR RESULTS OBTAINED FROM ANY INFORMATION IN THIS ARTICLE OR ANY LINKED WEBSITE.
Disclosure: I am short TLT, JNK through long put options positions on these securities. I may trade any of the securities mentioned in this article at any time, including in the next 72 hours. I wrote this article myself, and it expresses my own opinions. I am not receiving compensation for it (other than from Seeking Alpha). I have no business relationship with any company whose stock is mentioned in this article.