Sunday's military coup in Honduras has compromised the country's growing reputation for stability and investors are reacting with nervousness about companies with operations there. Gildan Activewear Inc. (NYSE:GIL), which has its Central American manufacturing hub in Honduras with three large integrated textile facilities, saw its shares fall almost 10% on Monday.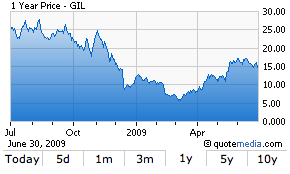 Gildan plans to further expand production of t-shirt, socks and underwear in the country, so it is therefore key to its operations, according to Desjardins Securities analyst Martin Landry. Until the situation improves, he told clients Gildan's share price will remain volatile.
The analyst said:
President Zelaya had alienated Honduras' congressional politicians by joining the Bolivarian Alternative for the Americas, an alliance led by Venezuelan president Hugo Chavez that seeks to integrate left-leaning Latin American countries.
President Zelaya also led efforts to bring Cuba back into the Organization of American States and increased the minimum wage in Honduras substantially. But his attempt to abolish the four-year presidential term was seen by many as a first step toward more socialist policies, with echoes of Chavez-style politics.
While the day-to-day operations of Gildan's manufacturing facilities are unlikely to be affected, an estimated 60% of its activewear and more than 50% of its socks are made in Honduras.
So after 30 years of peaceful democracy, Mr. Landry now believes investors will apply a geopolitical risk discount to Gildan. The analyst sees little risk that the country's assets will be nationalized and suggested the coup may turn out to be a positive for Gildan if it brings back a more business-friendly government.
He cut his price target on Buy-rated Gildan from $18.50 to $16.50 per share.