The other day I got myself a value meal and brought it back to the office so I could work while I ate. I proceed to open up my bag of Doritos and consume a couple of the tasty chips and then reach over for my Pepsi (NYSE:PEP) to quench my thirst… then I began to think to myself, "Why don't I own any Pepsi stock?" I've even noticed that at home I began switching over to Pepsi subconsciously. This is a world renowned company brand that pays a very healthy dividend for you. This realization peaked my interest so much that I bought some shares that day, and it got me to do some research on the stock giving me the following results.
Valuations
By taking a look at the valuations of the company first, we'll be able to determine if the stock is inexpensive or not. In terms of trailing twelve month P/E ratio, Pepsi appears to be fairly valued with a value of 21.17. But as a long-term investor, it really isn't about what the price has been but what it's going to be in the future, which leads me to look at the 1-year forward P/E and PEG ratios. From these parameters it's very simple to deduce that Pepsi is priced moderately relative to the 1-year forward looking P/E ratio with a value of 17.31. The analyst estimated 5-year EPS growth rate of 9%, which is used to calculate the PEG ratio is not large enough with respect to the trailing twelve month P/E ratio to give an actual PEG of 2.35, which is too high for my taste. This suggests to me that Pepsi is probably appropriately priced on a short-term basis but too expensive for the long term.
Financials
On a financial basis the things I look for are the dividend payouts, return on assets, equity and investments. Pepsi boasts a dividend of 2.75% with a payout ratio of 54.49% while sporting return on assets, equity, and investment values of 8.24%, 27.05% and 10.79% respectively. These are all very respectable values but not high enough for me personally to consider buying my full position in the stock. If maybe you feel the market will retract a little more and would like a safety play then maybe the 2.75% yield of a global brand is good enough for you to take shelter in for the time being.
Technicals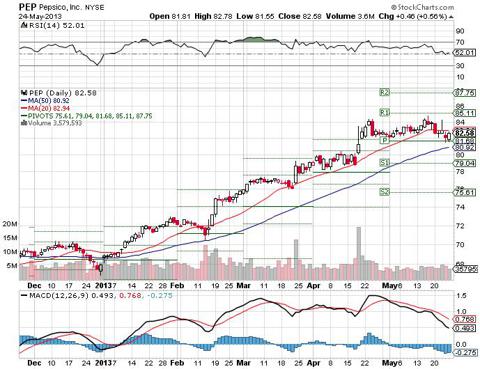 Click to enlarge
As you can see immediately Pepsi hit a double top of around $84 in late-April and mid-May and has been retracting ever since. Currently the stock sits $0.36 below its 20-day moving average and $1.66 above its 50-day moving average. Depending on what the stock does between those two lines in the sand I would say it could test the double top value of $84 again or test the next floor of support at $79.04. The relative strength index which is a good indicator of a stock being overbought or oversold doesn't really tell us anything because it currently has a value of 52.01, but it has an upward slope which could be bullish. Taking a look at the moving average convergence-divergence graph we see that the stock has been in a bearish pattern since hitting that $84 value back in late-April with the divergence increasing in value, but as of 24May13 it looks like the divergence is starting to converge again and we might be entering a bullish pattern again in the stock. I'd wait a couple more days for confirmation of this theory though.
Recent News
The company declared a $0.5675/share quarterly dividend with an ex-date of 05Jun13 and payable on 28Jun13.
During the month of May the firm Ativo Research upgraded Pepsi from "Favorable" to "Most Favorable" while Ned Davis Research downgraded the stock from "Buy" to "Neutral". TheStreet reiterated its "Buy" rating, Zacks reiterated its "Neutral" rating and Sanford Bernstein reiterated its "Outperform" rating on the stock. BMO Capital initiated coverage on the stock with an "Outperform" rating and a $92 price target.
Total of 4 "hold" ratings and 10 "buy" ratings exist for the stock while carrying a $86.31 consensus price target.
Conclusion
I will admit I broke a cardinal rule of investing in that I bought shares of a stock on an emotional basis before doing any homework. But I believe that was the first time I did it, and it was with a very good company. I'm not regretting that decision at all. Now after doing some of the homework I see that Pepsi is a relatively decent stock with decent fundamentals and financials. I do realize it is not a growth company but I will continue buying the stock in small increments right up to the ex-dividend date for now. However, I will keep following the technicals on a daily basis because that portion of the story is trading in a tight range.
Disclaimer
These are only my personal opinions and you should do your own homework. Only you are responsible for what you trade and happy investing!
Disclosure: I am long PEP. I wrote this article myself, and it expresses my own opinions. I am not receiving compensation for it (other than from Seeking Alpha). I have no business relationship with any company whose stock is mentioned in this article.