Williams Companies (NYSE:WMB) has consistently missed earnings estimates over the last year, but the company has a ton of growth opportunities in the decade ahead. The company has been hit with lower natural gas liquids (NGL) margins and Ethane rejections along with higher natural gas prices.
Williams has one of the leading energy infrastructures in North America. It owns interests in, or operates, 15,000 miles of interstate gas pipelines, 1,000 miles of NGL transportation pipelines, and more than 10,000 miles of oil and gas gathering pipelines. It owns more than 70% of Williams Partners L.P. (NYSE:WPZ), one of the largest diversified energy master limited partnerships.
The company continues supporting guidance for annual 20% dividend growth for 2013 to 2015 on top of the current 3.6% yield.
Disappointing Results
The company was forced to reduce 2013 and 2014 earnings guidance due to the higher natural gas prices and lower NGL margins. As with any commodity, the prices can swing back and forth so the long-term will be more derived based on future prices.
The adjusted net income from operations during Q113 plunged to $152M from $236M last year. Earnings per share were $0.22 versus the $0.39 in the year ago period and analyst expectations of $0.24. Another disappointing quarter after a weak end to 2012.
Long List Of Projects To Drive Growth
Williams has a long list of projects that provide tremendous growth opportunities, as tremendous energy infrastructure will need to be built to transport NGLs and natural gas to the coast for the expanding petrochemical and exports complex on the U.S. Gulf Coast.
The slide below highlights the numerous projects in the works: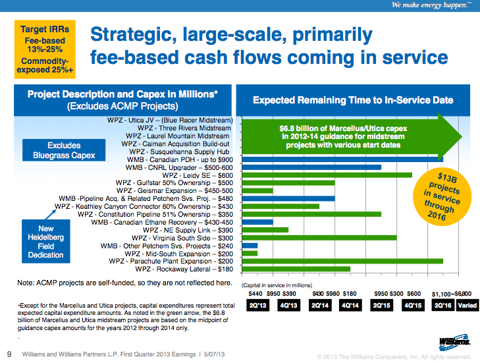 A couple of recent project announcements include the plan to build and operate a PDH facility in Alberta, Canada. The facility will produce polymer-grade propylene from propane. The plan is to use the new dehydrogenation facility to convert Alberta propane into higher-value propylene. The project will cost up to $900M CAD to build and will be funded with cash flow from the Canadian operations and international cash on hand. The schedule is for the facility to go into service in the second quarter of 2016.
Another major project announced back in March includes plans with Boardwalk Pipeline Partners, LP (NYSE:BWP) to create the Bluegrass Pipeline. The proposed design would provide producers with 200K barrels per day of mixed NGLs take-away capacity in Ohio, West Virginia, and Pennsylvania with the possibility to increase it to 400K barrels per day. The pipeline would deliver the NGLs to new fractionation and storage facilities, which would have connectivity to pipelines along the U.S Gulf Coast. The project should be sanctioned this year with a plan of going into service in the second half of 2015. See the below slide: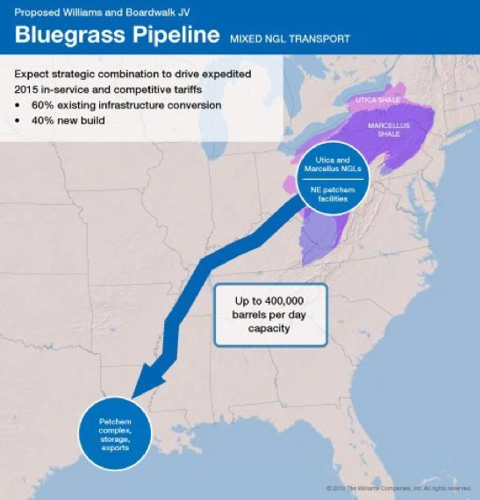 Dividend Plan
It is rare for a company to have a stated dividend plan such as with Williams. It plans to increase the dividend 20% each year from $1.20 in 2012 to $2.11 in 2015. Based on this plan, the company just announced an increase in the quarterly dividend to $0.3525 payable on June 24, 2013. This brings the annual dividend to $1.41 or $0.03 shy of the 2013 target of $1.44.
Based on today's price of over $36, the projected yield will be near 5.8% by 2015.
Conclusion
Investors should expect a bumpy ride for Williams the rest of 2013 as the market absorbs a tough demand environment pressuring NGLs margins. The stock though should find solid support on dips with the dividend approaching 4% and forecasted to quickly rise to 6% in a few years on a lower stock price. All of the energy infrastructure projects for Williams and Williams Partners, make Williams a buy on the dips in the current environment.
Disclosure: I have no positions in any stocks mentioned, and no plans to initiate any positions within the next 72 hours. I wrote this article myself, and it expresses my own opinions. I am not receiving compensation for it (other than from Seeking Alpha). I have no business relationship with any company whose stock is mentioned in this article.
Additional disclosure: The information contained herein is for informational purposes only. Nothing in this article should be taken as a solicitation to purchase or sell securities. Before buying or selling any stock you should do your own research and reach your own conclusion or consult a financial advisor. Investing includes risks, including loss of principal.