The share price of Cisco Systems (NASDAQ:CSCO) has risen by about 10% in May due to the company's strong quarterly results. At $23.53, the stock is trading near its 52-week high and offers a 2.9% dividend yield. Despite the recent price run-up, I believe Cisco shares are still worth a buy at this level based on the following 4 reasons:
1. Cisco's valuation remains inexpensive relative to its comps. According to the table shown below, Cisco's consensus revenue, EBITDA, and EPS growth estimates are notably below the peer averages. On the profit side, however, most of the company's profitability margins and capital return metrics are considerably above par. In terms of leverage and liquidity, Cisco's debt load is relatively higher as reflected by the firm's above-average debt to capitalization and debt to EBITDA ratios. Cisco's free cash flow margin is below average. Due to the stronger margin performance, the company is able to maintain a healthy interest coverage ratio. Both its current and quick ratios are markedly above par, reflecting a healthy balance sheet condition.

Cisco's current price multiples at 5.9x forward EBITDA and 11.4x forward EPS (next 12 months) are on average 25% below the comps-average trading multiples, reasonably reflecting the company's relatively weaker growth potential. After accounting for the 5-year earnings growth estimate, Cisco's PEG ratio of 1.2x is 15% above the peer average. Given Cisco's robust margin performance and healthy liquidity position, the premium on its PEG ratio appears to be fair (see chart above).
2. Cisco's forward P/E multiple is still trading at a 25% discount to the same multiple of S&P 500 Index, which stands at 15.2x now (see chart below).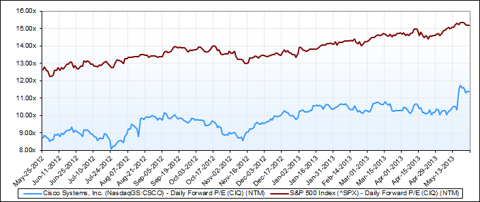 Although the current market discount is below the 1-year average at 29%, I still believe that even the current smaller discount is somewhat exaggerated provided that 1) Cisco's consensus 5-year earnings growth estimate at 9.4% is above the average estimate of 8.2% for the S&P 500 companies; 2) the company's consensus EPS estimates for the current and next fiscal years have experienced some upward revisions over the past 12 months (see chart below), and their current levels are notably above the historical figures in 12 months ago; 3) Cisco's various profitability margins are markedly above the market averages; and 4) the stock's 2.9% yield remains above the average yield of 2.5% for the S&P 500 Index and there is a share buyback program in place to provide an additional cushion to the share price.

3. From a historical valuation standpoint, the current stock valuation would appear to be quite tempting. Cisco's trailing P/E multiple is trading near its 5-year bottom level and 18% below the 5-year historical average (see chart below).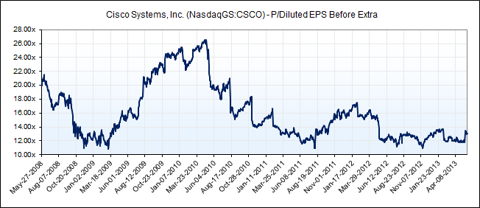 Nevertheless, Cisco has been able to maintain a fairly steady margin performance. In addition, Cisco's revenue, EBITDA, and EPS growth rates have notably recovered from their trough levels in 2009, when the stock's valuation bottomed. The consensus estimates for the next few years are also showing steady trends which are somewhat in line with the past 5-year averages (see charts below).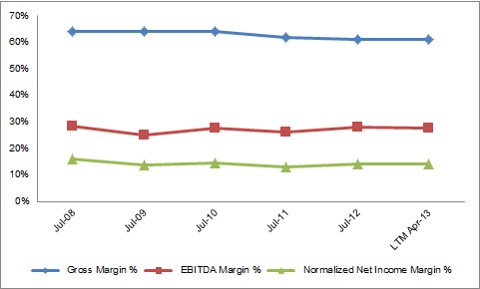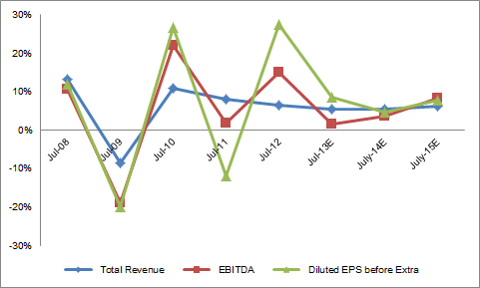 4. Sell side continues to be bullish on the stock. Of the total 41 analyst ratings compiled by Thomson One, there are 11 strong buy and 18 buy ratings. In a Wedbush research note released on May 15, Rohit Chopra commented on his view for Cisco's recent quarterly performance which I tend to agree with (sourced from Thomson One, Equity Research):
"The company delivered generally better-than-expected results and offered little incremental negative commentary against the backdrop of a networking sector that saw several pre-announcements. FQ3 revenue was within the guided range and EPS delivered a modest beat. Guidance, at the midpoint, was generally in line. We continue to believe Cisco is well positioned given its track record in navigating challenging environments, its broad portfolio of products and aggressive actions to take share from rivals who are struggling. We think there is room in the model for some ongoing COGS efficiencies which could lead to EPS upside and advise long-term investors looking for a well-capitalized, dividend paying company that can weather an uncertain spending environment to own the stock."
Bottom line, as Cisco's fundamentals continue to look solid and its share valuation remains somewhat attractive after the price appreciation, the stock is still a buy at the current price level.
All charts are created by the author except for the consensus estimate tables, which are sourced from S&P Capital IQ, and all financial data used in the article and the charts is sourced from S&P Capital IQ unless otherwise specified.
Disclosure: I am long CSCO. I wrote this article myself, and it expresses my own opinions. I am not receiving compensation for it (other than from Seeking Alpha). I have no business relationship with any company whose stock is mentioned in this article.