For 2013, Marvell shares are recovering from the unexpected patent litigation loss the company faced last year. More recently, Marvell shares are moving after the earnings report from Marvell (NASDAQ:MRVL) was a mixed bag. Revenues declined 5% from the previous quarter, but gross margins were 54.6%. With earnings of $0.19 per share and share buybacks of $200 million in the last quarter, there are 6 reasons why investors should buy Marvell.
1) Market Share Increase
Marvell increased its market share in the HDD (hard disk drive) space by 5% last fiscal year. This was driven by sales of the 2.5-inch 500-gigabyte per platter devices. Even though PC sales are on a chronic sales growth deceleration, all-in-one PCs are gaining in popularity.
2) Growth in SSD
SSDs, or Solid State Disks, have a great benefit when adopted by users. SSDs speed up boot times for computers. Investors recognized the value of SSDs, which was why OCZ Technology (NASDAQ:OCZ) was once valued at more than $10 a share. Investors are nervous about OCZ. OCZ did not yet file its restatement Forms 10-Q for two fiscal quarters, nor did OCZ file its Form 10-Q for the fiscal quarter ended May 31, 2012. Marvell gives investors an opportunity to gain exposure in the SSD segment. The company grew its SSD business by double-digits sequentially, and aims to grow its market share by at least 500 basis points in 2013.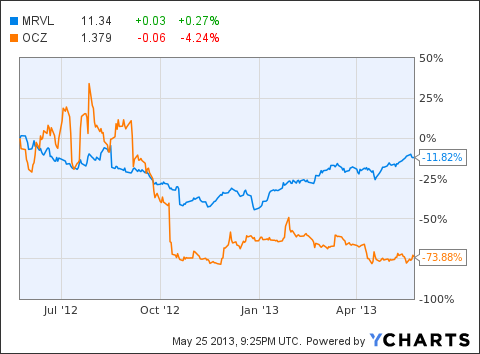 Hybrid storage for HDDs and SSDs will also support the view that this segment will provide meaningful growth for Marvell in the future.
3) Moderate Upside in Mobile
Marvell believes it is at a trough in the 3G and 4G platforms, despite reporting a sequential decline in sales of nearly 25% last quarter. Shipments are begging for a quad-core 3G solution. A 4G LTE modem, which is fully integrated and is a quad core, offers solid graphics performance and supports voice over LTE. The 4G LTE solution will be brought to market this year. The single platform device will also serve both the tablet and the smartphone market.
Marvell forecasts growth in this segment will be in the double digits in the current quarter.
By selling combination solutions for 802.11n/802.11ac and 3G/4G, Marvell could cross-sell to the tablet market. If interest in ultrabooks finally takes off this year, this could be positive for Marvell.
4) Network Infrastructure
The network infrastructure segment was weak in the first quarter for Marvell. This is not surprising, as other players like F5 Networks (NASDAQ:FFIV) provided a weak outlook. Marvell only expects single-digit growth, but is investing in the 10G and 40G to position itself for a rebound. SDN, or Software-defined Networks, is also an area for growth. Cisco Systems (NASDAQ:CSCO) is investing in SDN, and Marvell is partnering with software companies to participate in this space.
5) Higher Quarterly Earnings
Marvell earned $0.19 per share (diluted), which was $0.05 higher than the midpoint of its guidance. A better product mix, and a sell-through of reserved inventory helped first quarter profits. Inventory rose 8% sequentially in the first fiscal quarter to $271 million, in anticipation of sales ramping up in the current quarter.
6) Expenses
Operating expenditures are expected to be unchanged in fiscal 2013 compared to last year, at around $1.2 billion. Expenses were steady in the last three quarters despite the need for R&D in 64-bit ARMs. Such investments will not provide meaningful revenue for a few years.
 
Three Months Ended
 
May 4,
February 2,
April 28,
 
2013
2013
2012
Operating expenses:
 
 
 
Research and development
279,052
273,685
255,970
Selling and marketing
39,989
42,319
40,066
General and administrative
26,323
32,577
25,705
Amortization and write-off of acquired intangible assets
10,686
12,268
14,355
Total operating expenses
356,050
360,849
336,096
 
(In thousands)
 
Source: PR Newswire
Comparative Valuation
Compared to other storage companies, Marvell is valued higher than Micron (NASDAQ:MU), Western Digital (NYSE:WDC), and Seagate (NASDAQ:STX) when measured by price to sales. The reason is that Marvell has healthy gross margins, and this is expected to continue in future quarters.
| | |
| --- | --- |
| NAME | PRICE/SALES |
| Marvell Technology | 1.79 |
| Micron Technology | 1.46 |
| Western Digital | 0.9 |
| Seagate Technology | 1 |
Data Source: Yahoo Finance
In a one year period, Marvell is underperforming the other storage players. If investors take profits in the other companies, Marvell's shares could move higher: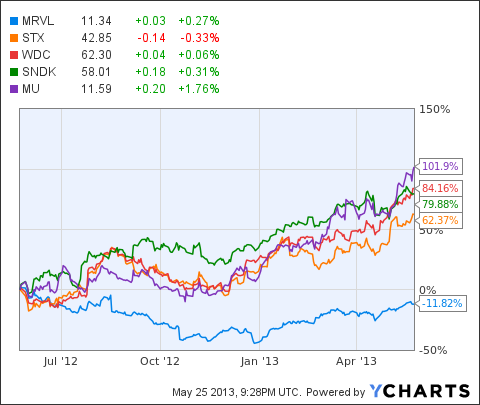 Risks
The weak PC market remains a challenge for all storage suppliers, and this includes Marvell. Marvell is preparing for chronic decline in this segment by riding the rising adoption of hard disk storage in non-PC consumer applications. Enterprise growth helped sales in the storage end market. Marvell is investing in advanced storage technology, although commercialization is still many years away.
Conclusion
Marvell also pays a dividend that yields 2.12%. In addition to a share buyback, management is taking steps to maximize shareholder value. A conservative growth strategy makes Marvell an attractive investment. Over the next few years, the company will benefit from the growth in SSDs. The SSD market has a fast growth rate, but due to the current pricing, it is currently a small part of sales. Still, a 50% to 60% growth rate in SSDs, along with steady NAND flash pricing will benefit Marvell.
The declining prices for PCs will not hurt Marvell as much as investors think. As PC prices drop, the storage solution will need traditional hard disks. While SSDs will serve the ultrabook market, hybrid SSDs will cater to the lower-cost ultrabook market. The likelihood of hybrid SSDs could become a reality, since its inclusion does not raise the price of computers by a significant amount.
Disclosure: I have no positions in any stocks mentioned, and no plans to initiate any positions within the next 72 hours. I wrote this article myself, and it expresses my own opinions. I am not receiving compensation for it (other than from Seeking Alpha). I have no business relationship with any company whose stock is mentioned in this article.