New York Mortgage Trust Inc. (NASDAQ:NYMT) is an internally managed hybrid mortgage REIT that acquires and manages primarily real estate related assets. These assets include: Agency ARMs, Agency Fixed Rate RMBS, Agency IOs (interest only) including TBAs, CMBS, distressed residential loans, residential securitized loans, and CLOs (collateralized loan obligations). NYMT employs RiverBanc, The Midway Group, and Headlands Asset Management to provide investment management services expertise for certain specific asset classes.
In Q1 2013 when many of the other mortgage REITs lost book value, NYMT actually gained a small amount of book value. This makes it a leader in its industry. It means its diversified hybrid structure is working well. NYMT earned $15.4 million, or $0.31 per common share, in Q1 2013 versus $5.8 million or $0.42 per common share in Q1 2012. Admittedly, on a per share basis the Q1 2013 number is a lower number. However, the net interest spread has fallen dramatically in the last year. In this light, the lower result is still a good result. Plus, the Q1 result was an improvement over the Q4 2012 result. NYMT's portfolio net interest margin in Q1 2013 was 348 bps, which was 15 bps higher than the Q4 2012 net interest margin. This was far below the NYMT portfolio's 658 bps of net interest margin in Q1 2012. However, the relatively strong result (about -26% in net income year over year) given the approximately -47% decrease in the net interest margin year over year is a tribute to NYMT's good management. In Q1 2013 NYMT increased its book value from $6.50 at the end of Q4 2012 to $6.55 per share (or about + 0.77% per share).
NYMT says the increase in net interest margin from Q4 2012 to Q1 2013 was due to its investments in credit assets. It says the decrease in net interest margin from Q1 2012 to Q1 2013 was mostly due to NYMT's decreased emphasis in Agency IOs as a percentage of its invested capital and its increased percentage investment in its levered Agency RMBS strategy (and increases in other investment percentages). NYMT doesn't really mention the fact that the net interest spreads for Agency RMBS decreased dramatically from Q1 2012 to Q1 2013. However, this was the case. NYMT managed around this well -- better than most. It sounds like management regrets that it did not invest in more Agency IOs -- an effective hedge against interest rate increases; but even a well run company will make some missteps.
The table below shows how this compares to other top mortgage REITs' performances in Q1 2013.
| | | |
| --- | --- | --- |
| Stock | Book Value Gain or Loss in Q1 2013 | Percentage Book Value Gain or Loss in Q1 20132 |
| NYMT | | +0.77% |
| Apollo Residential Mortgage (NYSE:AMTG) | | -3.42% |
| Two Harbors Investment Corp. (NYSE:TWO) | | -3.03% |
| Western Asset Mortgage Capital Corp. (NYSE:WMC) | | -10.38% |
| American Capital Agency Corp. (NASDAQ:AGNC) | | -8.57% |
All of these companies have low CPR Agency fixed rate RMBS investments. However, NYMT also has significant Agency ARM and Agency IO investments that have high CPRs. When interest rates and mortgage rates go up as they did in Q1 2013, this usually leads to decreased CPRs. If you have special RMBS with low CPRs, this can lead to a loss of premium due to "specialness" and also due to the mortgage rate increases. The special RMBS' CPRs hardly move, while high CPR RMBS can gain some value due to significantly lower CPRs. Further, the Agency ARM RMBS will be less affected as ARMs will eventually reset to a higher rate. The Agency IOs also benefit from the lower CPRs. The table below describes NYMT's portfolio as of March 31, 2013.

The above table shows that a significant portion of NYMT's investments are in CMBS (apartment houses). Apartment houses have been particularly profitable in recent years in which many people have lost or sold their houses. Many of these now live in apartments. The increase in income includes a $5 million increase in net unrealized gains in NYMT's multi-family loans and debt held in securitization trusts. NYMT also had unrealized gains of $3.3 million on its hedges. However, these latter two gains were partially offset by a $4.2 million realized hedging loss primarily on its Agency IO portfolio. In other words, the Agency IOs may have done well, but their hedges did not. Still, overall, NYMT's performance has to be the envy of the industry.
On May 3, NYMT closed another equity offering. It raised about $94.5 million. It expects to invest $41 million in a first loss K-series deal (apartments again). This includes both PO (principal only) and IO (interest only) securities. It plans to invest the rest in distressed residential loans or other multi-family credit-sensitive assets. In other words it sees the non-Agency or troubled MBS doing better in a coming rising interest rate environment; and it is positioning itself for this. This seems to be an excellent strategy. We are getting closer to the approximately mid-2015 date on which the Fed estimates it will start raising all time low interest rates. I am impressed with NYMT's overall performance and its overall strategy. It should continue to do well, and it should be a good longer term holding. It is a buy.
The two year chart of NYMT provides some technical direction for this trade.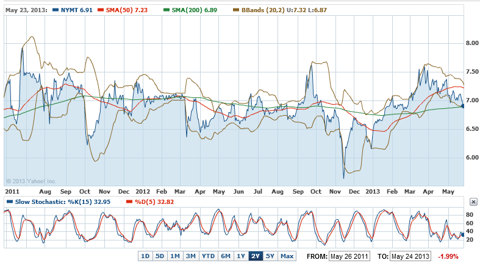 The slow stochastic sub chart shows that NYMT is near oversold levels. The main chart shows that NYMT is near the lower Bollinger Band (oversold). The price line has pushed through the 50-day SMA; and it is now at the 200-day SMA. It could well bounce from this point. The stock price does not seem to be making much headway upward longer term, but the stock does pay a great 15.6% dividend. A lot of people will want to own the stock for this reason alone, especially since NYMT has formed a long term consolidation pattern over the last two years. 15.6% is a far higher yield than any but the junkiest of junk bonds. NYMT is a far better investment than such junk bonds. It is a buy. It has an average analysts' recommendation of 1.8 (a strongish buy). It has a four star CAPS rating (a buy).
There is only one caveat. If the still overbought overall market continues to go down, it will probably take NYMT with it. The SPY (as a proxy for the overall market) has not touched or gone below its 200-day SMA since November 2012. The S&P 500 is normally a cyclical index. One would normally expect it to cycle downward to its 200-day SMA within this period of time. We may be about to see that happen. If this does happen, NYMT should bounce back quickly from a sympathetic move downward. There do not appear to be any large fundamental reasons for NYMT to fall, although its sector performed badly overall in Q1 2013. With this situation in mind, a good strategy might be to average in. If you average in over the year, you will tend to negate any possible negative economic events. With the situation in the EU worsening, such events are becoming more probable.
NOTE: Some of the fundamental financial data above is from Yahoo Finance.
Good Luck Trading.
Disclosure: I have no positions in any stocks mentioned, but may initiate a long position in NYMT over the next 72 hours. I wrote this article myself, and it expresses my own opinions. I am not receiving compensation for it (other than from Seeking Alpha). I have no business relationship with any company whose stock is mentioned in this article.