Gold's fall from $1,800 to $1,400 has prompted calls to buy the dip. This is usually done in conjunction with citing the "buying opportunity" in 2008, when gold prices fell from $1,000 to $800, as well as demand by foreign central banks and jewelry in places such as India.
This ignores two key facts.
It is not 2008.
Gold's price is not driven by industrial demand.
With regards to fact number 1, Doug Short's Big Four Indicators chart does an excellent job visually representing the improvements in the economy since 2008.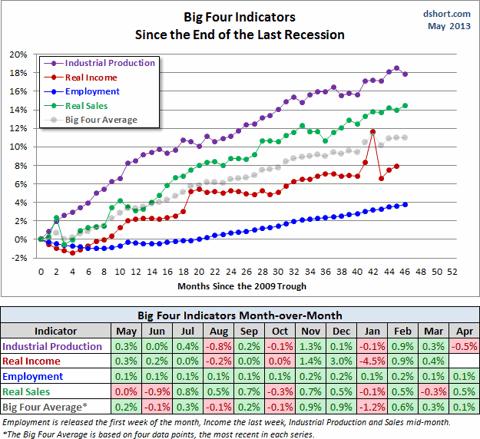 There have been real improvements in the economy since 2008. Granted, these have been in the midst of accommodative monetary policy, but that doesn't negate the fact that industrial production, real income, employment and real sales have risen. Regardless of whether interest rates are 0% or 4%, more humans and machines are being utilized every day.
With regards to fact number two, the World Gold Council's Q1 2013 report broke out the demand of gold per category.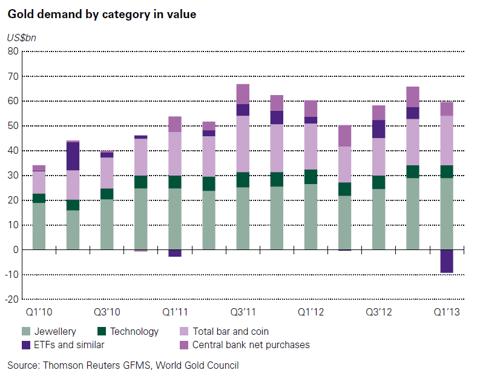 Of the close to $60 billion USD in gold demand per quarter, a little over $30 billion is made up of technology and jewellery, with technology being a tiny portion of this. The other $30 billion is sitting in safes somewhere doing absolutely nothing. In fact, you could put jewelry in with the gold sitting in safes, as it is doing slightly more than nothing by assisting in mating rituals.
This technological demand equates to about 100 tonnes of gold per quarter. Production is over 1,000 tonnes of gold per quarter.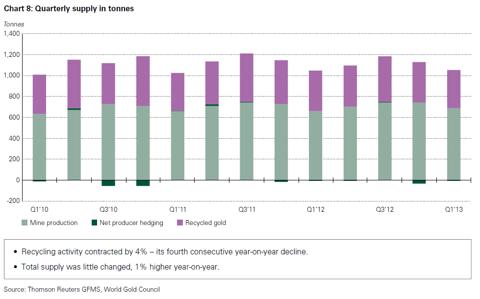 If humans were to get over their fascination with gold, the technological use is all that would be left to drive demand, of which there is ample supply for. This wouldn't support $1,400 gold prices, more like $140 gold prices.
So the question becomes, how best to value gold? My answer would be in terms of a currency, as the only real value of gold is what it can be exchanged for. Even adamant gold bugs would agree that the only reason they hold gold is to one day exchange it for food, clothing and shelter. Ideally more food, clothing and shelter in the future than what they could get with gold today.
This can be measured in a number of ways. Taking the long term view first, I've compiled the data on the S&P500 to gold ratio dating from December 29th, 1978 to May 17th, 2013. The S&P500 is made up of companies that provide food, clothing and shelter acting as a useful proxy, and going back to 1979 captures the last spike in gold prices in 1980, when interest rates and inflation were in double digits.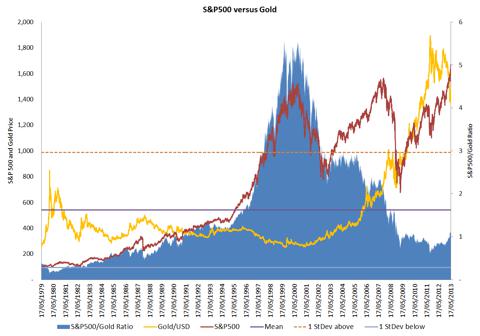 The purple line is the mean or average ratio, with the dashed line above and below 1 standard deviation from the average.
A number of facts I find informative from this chart.
First, the recent run-up in gold prices puts to shame the run up in the 1980s, both in terms of nominal increase and duration of the run-up.
Second, during Alan Greenspan's tenure from 1987 to 2006, he essentially adopted a gold standard, although not explicitly. If he had of kept with it by raising interest rates faster in 2004, or not kept interest rates so low for so long from 2002 to 2004, gold may not have broken out of its range and the size of the housing market collapse wouldn't have been as catastrophic.
Finally, and most importantly, gold in terms of what it can be exchanged for is still well above its long term average. The S&P500/Gold Ratio's historical average is 1.62, and it is currently at 1.22 even after the 17% increase in the S&P500 this year. Of course, this can be corrected in two ways, with either the S&P500 rallying or gold falling, both of which do not support a long gold investment thesis.
There are other ways of examining gold's exchangeable value to determine if now is the time to buy the dip. One way is via ETFs made up of a variety of different economic inputs. I've compiled data from October 26th, 2007 to May 24th, 2013 on the following ETFs to price against the Gold ETF (NYSEARCA:GLD).
I created a ratio of each of these with gold as the denominator, and then created an index for each with October 26th, 2007 equal to 100. The first chart is the nominal results, the second is the indexed results.


The indexed chart clearly shows that even with gold's recent drop, gold is still expensive in terms of its exchangeable value. In many cases, it is dramatically more expensive, such as with oil. Silver is the best performer, and even that reads below the starting index value at 88.81. For agricultural products and copper, useful goods, the latest uptick in the indices barely register when examined over the past 5 years, and both exchange for half of the gold they could have been exchanged for in 2007.
The Bottom Line
Gold's exchangeable value being above historical norms doesn't necessarily point to a high probability that gold will fall in price. This data could also be signaling that agricultural products, oil, copper and the S&P500 are cheap and will rise in price. Perhaps the S&P500's rally is just getting started.
The difficulty with that hypothesis is that many of these good's prices are subject to actual supply and demand constraints. Oil, copper and agricultural products can only rise in value so much before demand decreases. In particular, in the case of oil, once prices rise to a certain level economic activity decreases which acts as a ceiling on prices.
This is in contrast to gold, tulip bulbs, or any other speculative item. Gold can rise by a factor of 10 and still won't affect economic activity. There isn't much of a ceiling on its price, which means there isn't much of a floor either.
Even with the recent fall in gold prices, gold is still expensive. Do not buy the dip, sell it.
Disclosure: I am short USO, GLD. I am actively trading FOREX and CFDs and may be either long or short the instruments discussed at the time of this article's publication. To see a complete list of my open trades in real time, visit mcnultycapitalmanagement.com. I wrote this article myself, and it expresses my own opinions. I am not receiving compensation for it (other than from Seeking Alpha). I have no business relationship with any company whose stock is mentioned in this article.