As is well-known right now, Steve Cohen's SAC Capital Advisors stands in the cross-sights of a large insider trading investigation by the SEC. This in turn has led to rumors that Steve Cohen might turn SAC into a family office, closing it to outside investors. Along with these rumors, the investigation is already leading to the departure of large investors, such as the recently announced move by Blackstone to remove $550 million from SAC's management.
Given SAC's size, estimated at $15 billion, this event is bound to have an impact. At least when it comes to the relatively larger positions held by the fund.
This article will serve to qualify the stocks which are most at risk from SAC liquidation. I'll do this from two angles: the percentage of the outstanding stock which SAC holds, and the relative size of SAC's position when compared to the 3-month average daily volume. I'll draw these conclusions from the 30 largest positions in the fund.
Percentage of outstanding stock held by SAC
SAC's 30 largest positions, ordered by the percentage of outstanding stock held, are as follows: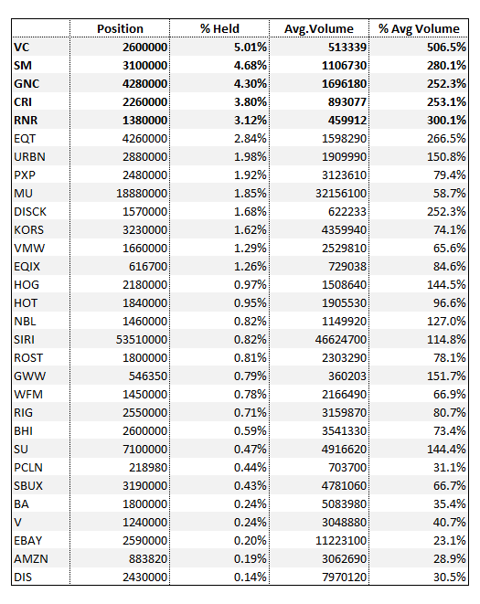 Click to enlargeFrom this, we can see that the most vulnerable stocks according to this perspective are:
In each of these stocks SAC held from around 3% to 5% of the shares outstanding.
Size of position versus average daily liquidity
SAC's 30 largest positions, ordered by the percentage SAC's position represents when divided by the average daily volume of the last 3 months: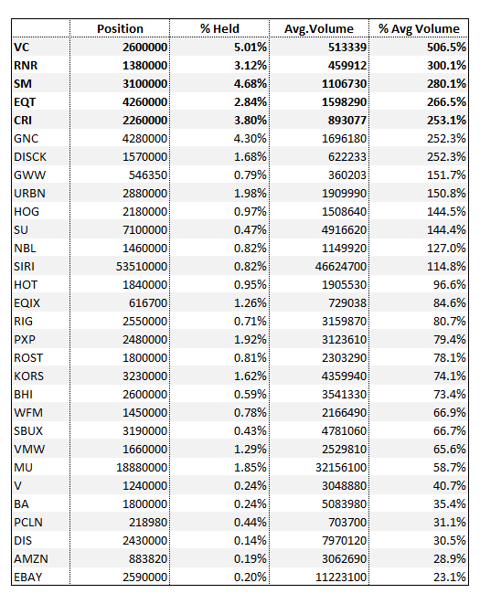 Click to enlargeAlthough not on the same order, nearly the same stocks show up as most exposed to a SAC liquidation:
Visteon
Renaissance Re Holdings
SM Energy Company
EQT Corporation (NYSE:EQT)
Carter's
The exception was EQT Corporation, but still two different criteria are yielding about the same stocks.
Conclusion
With the SEC insider trading investigation circling around SAC Capital Advisors, there's a good chance that investor redemptions will force selling of the fund's positions. While this liquidation might not be total, as the fund might survive in the form of a family office, it can still be substantial given the fund's size.
This article identified several stocks which, due to the fund's position size relatively to shares outstanding or to the shares' liquidity, are at higher risk of being pressured downward by such unwinding. This analysis exposed the most at-risk stocks as being Visteon, Renaissance Re Holdings, SM Energy Company, EQT Corporation, Carter's and GNC Holdings.
Disclosure: I have no positions in any stocks mentioned, and no plans to initiate any positions within the next 72 hours. I wrote this article myself, and it expresses my own opinions. I am not receiving compensation for it (other than from Seeking Alpha). I have no business relationship with any company whose stock is mentioned in this article.