A couple of weeks ago, Greenlight Capital released its Q1 letter to its investors. As usual it leaked to the press and we were able to take a look at what Mr. Einhorn is doing with his portfolio. One thing that caught my attention is that he closed his long position in Xerox (NYSE:XRX).
This is Mr. Einhorn's related comment:

Xerox Corporation (NYSE:) did not perform as well as we had hoped. We bought the shares based on expectations that synergies from its acquisition of Affiliated Computer Services would lead to revenue growth and margin improvement. Unfortunately, the company did not deliver. Despite this, we sold the shares for a modest gain.
I am a big fan of Mr. Einhorn and have tremendous respect for him and his investing abilities but in this case I believe that either he made a mistake or there are more reasons than that behind his move.
The truth is that after the ACS acquisition, Xerox is slowly but steadily changing its business model from a shrinking printer company to a growing services one. However, while its Services segment is steadily increasing its revenue, the Document Technology segment is losing revenue quickly enough to negate somewhat the positive effect. Furthermore, margins are indeed declining both in the Services segment and the overall company for the last two years.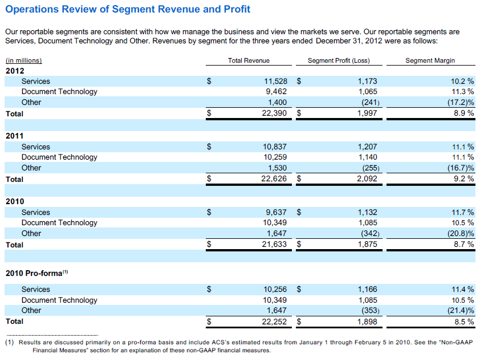 Click to enlarge(Source: Xerox's 2012 10-K)
Despite the fact that what Mr. Einhorn says is true, it is only half the story about Xerox. 2012 was the first year that the Services segment of Xerox surpassed the Document Technology segment and generated significantly more than 50% of the company's revenue and profits. This year, its share of revenue will become even greater and will continue to grow until either the Document Technology segment closes or stabilizes.
What this means is that from this year on Xerox will grow faster and faster until the company's growth rate matches the growth rate of its Services segment. Here is what Xerox's CEO had to say on this at the company's annual shareholder's meeting.
Ursula M. Burns - Chairman and Chief Executive Officer

The newest part of our business, we continue to accelerate growth in Services by diversifying our offerings and expanding globally. 55% of our total revenue now comes from Services, and it's growing at a steady pace. In 2012, revenue from Services grew 6%. And in the first quarter of the year, it was up 4%. We signed new contracts during 2012 worth more than $2 billion in annual revenue. And in the first quarter of the year, signings were up 64%. Solid growth, stable margins and great signings, all in the face of a tough and competitive economic environment.
The take away is that Xerox will continue to accelerate its growth and given its management's stated goal to raise Services margins at 10% to 12% I believe the company has the potential to surprise to the upside.
While Mr. Einhorn wasn't convinced about the company's growth prospects and therefore sold out, I choose to take a different approach. I believe that even if the company's plans don't pan out, the company is still significantly undervalued.
Management expects earnings for 2013 to be between $1.09 and $1.15 per share and analysts expect them between $1.08 and $1.12. Even when using the lowest estimate, the stock trades for just 8 times its expected 2013 earnings.
With the Services segment growing at 6% and the economy improving, I think that Xerox is worth at least 10 times the midpoint of the analysts estimate which is $1.10 per share. That $11 fair value is 20% higher than the current price and provides significant margin of safety for the case that the company fails to improve its margins in the following years.
That's why investors should keep their positions in Xerox despite Mr. Einhorn's departure from the stock. At least I'm keeping mine until either it reaches $11 (or more) or I find something else way more safe and compelling to invest into.
Disclosure: I am long XRX. I wrote this article myself, and it expresses my own opinions. I am not receiving compensation for it (other than from Seeking Alpha). I have no business relationship with any company whose stock is mentioned in this article.