Playing the Reflation Rally
Monetary and fiscal stimulus have ignited a reflation rally and a liquidity boom, and this explains most of the recent movements in stocks, bonds, commodities and precious metals. I believe that playing reflation correctly is the key to investment performance for the rest of 2009. Reflation is bullish for stocks, which will benefit from rising corporate earnings (in nominal terms) and reflation is generally bearish for bonds (due to maturity risk), though hi-yield will benefit as reflation reduces defaults and credit risk.
What's the Right Inflation Hedge?
I also believe that inflation relief won't last, so I have been bullish on oil, gold, and TIPS. Nevertheless, I've reconsidered my motives for owning gold, since its price doesn't track inflation; instead, it tracks fear of financial collapse. The chart below tracks Gold against the S&P 500 (IVV).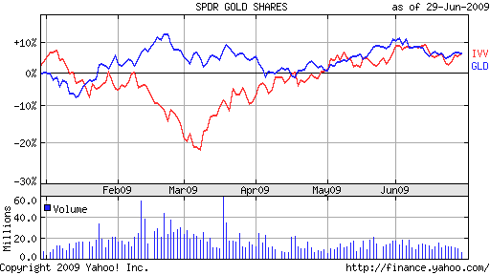 Gold Hasn't Been Tracking Inflation
Gold was negatively correlated with stocks from November through March, when investors feared the world was coming to an end. Gold was serving as a store of value, and it was not hurt by deflation fears. (If gold is an inflation hedge, it should have collapsed when deflation was all the rage.) In March, a reflation rally for stocks was ignited by positive economic surprises and huge amounts of monetary stimulus. Gold gave back its gains after March, and since then it has been positively correlated with stocks. It's odd that gold has held steady in spite of the obvious possiblity that reflation will morph into inflation: Why isn't gold rising faster? I believe that it's because gold is not acting as an inflation hedge; rather, it has become a hedge against financial catastrophe. That is a good reason to have a little gold in your portfolio, and not necessarily because of its inflation-hedging properties.
Oil Benefits from Reflation or Inflation
Over the last six months, oil has tracked U.S. equities, though it has fallen and risen more sharply. I believe that oil will be the key beneficiary of global reflation, and I owned it from March through early June. I sold my position earlier this month because I thought that oil prices had gotten ahead of economic reality. Since then, and I've been waiting for a pullback, or for improved fundamentals to buy. Oil has been holding up better than I expected, so I may have misjudged how much global liquidity is available. In any case, the monetary stimulus must convert into global demand relatively soon, or the excess inventories of oil will overwhelm the long-term bull case for energy.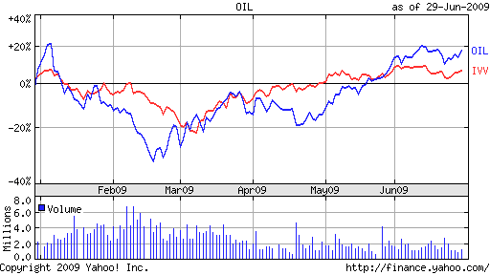 TIPS Are Working
Treasury Inflation Protected Securities (GM:TIPS) have been successfully tracking expectations of both deflation and inflation since late last year. (The underperformance of TIPS in 2008 was an anomoly caused by depression fears.) In 2009, TIPS are up about 5% compared to a 4% loss in Treasuries, according to this article today on Yahoo Finance, originally in the Wall Street Journal. Moreover, TIPS are still fundamentally attractive, since they assume only 1% inflation over 5 years and 2.5% inflation over 10 years. For tax reasons, TIPS are best in 401(k)s and IRAs, but I still think they are the best form of pure inflation insurance.
Rebalance After the Green Shoots Wither
I plan to rebalance my positions as economic optimism fades. I believe second-quarter earnings guidance will be disappointing, causing stocks and oil prices to retrace their gains, and inflation concerns to temporarily fade. This pullback should provide an opportunity to add to stocks, TIPS, and USO. The slump in fundamentals may also provide the opportunity to trim gold if depression fears boost the price. In the meantime, I still own a little gold, just in case my assumptions are all wrong and financial catashtrophe is lurking just around the corner.
Disclosure: Long GLD, IVV, TIP; waiting for a pullback on USO.